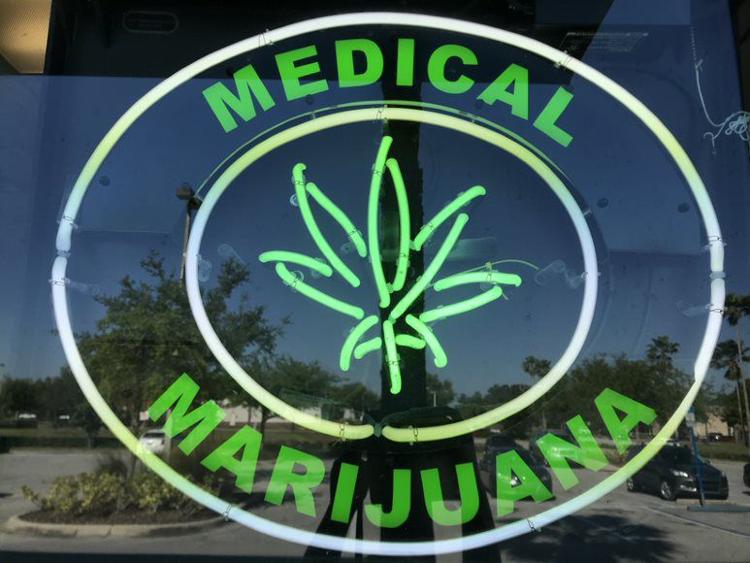 UCF senior and licensed medical marijuana user, retired Staff Sgt. Mike Bryant, said he is excited that Florida is progressively moving toward accepting cannabis use.
Pursuing a bachelor's in social work, Bryant is 35 years old and a retired veteran. After four deployments for the U.S. Army, he said he sustained "wear and tear" injuries from wearing a combat load during his 10 years of service. Rated at 100 percent disability through the Veterans Benefits Administration, Bryant said all of his joints and his back are "shot".
"Now I'm able to have smokable cannabis," Bryant said. "It's a medicine, and 72 percent [according to Florida Election Watch] of the state wanted [medicinal] cannabis legalized. Politicians are just messing around. It's just one of those things where a bunch of people who don't use cannabis are trying to make rules for it."
Monday, Florida Gov. Ron DeSantis signed Senate Bill 182, repealing the state's ban on smoking smokable medical marijuana that former Gov. Rick Scot signed in 2016 despite Florida voters' majority approval of medical marijuana.
So far, Bryant said it looks like DeSantis is heading in the right direction because he signed this bill to help patients get cannabis in less potent forms. He said concentrates and extracts that are meant to be vaped are harsh on the throat compared to smoking the original flower form of cannabis. 
Bryant said he received a medical cannabis card in June 2017. He said he smokes cannabis because pharmaceuticals, such as psychotropic medications and opioids, almost killed him at the medical retirement unit in Fort Knox, Kentucky in 2013.
"Those medicines do horrible things," Bryant said. "I put on a lot of weight, my testosterone went down. It was doing really weird things inside of my head, as far as how I was thinking. My appendix even went out on me that year. When I got off those medicines, everything went back to normal."
Located less than a mile from UCF's main campus, the Orlando Marijuana Doctor office is a medical marijuana evaluation clinic. Mia Olmeda is the clinic's office manager, and she said the law has changed to allow ounces instead of milligrams of marijuana.
Senate Bill 182 signed off on the following:
Up to 2.5 ounces of marijuana in a form for smoking in a 35-day span
Or, up to 4 ounces of marijuana in a form for smoking in a 70-day span
"I think it was a good thing that smokable wasn't allowed before, because it allowed the dispensaries to explore different areas of consuming cannabis," Olmeda said. "Not everyone is comfortable with smoking of the flower, but we feel like it's the younger crowd who is very excited about smokable [becoming legal]."
According to the Florida Department of Health, a qualified physician may only order medical marijuana for patients with these qualifying conditions:
Cancer
Epilepsy
Glaucoma
HIV/AIDS
Post-traumatic stress disorder
Amyotrophic lateral sclerosis
Crohn's disease
Parkinson's disease
Multiple sclerosis
Medical conditions comparable to those above
A terminal condition diagnosed by a physician other than the qualified physician issuing the physician certification
Chronic nonmalignant pain caused by a qualifying medical condition or that originates from a qualifying medical condition and persists beyond the usual course of that qualifying medical condition
Bryant said he suffers from PTSD and intense back pain, but a lot of college students might try to get a card for conditions such as anxiety or depression. 
The National Organization for the Reform of Marijuana Laws at UCF has been around for 18 years. Bryant is one of 46 members on a mission to create awareness about marijuana laws and their relation to constitutional rights of UCF students, said Tyler Wall president of NORML at UCF, and senior interdisciplinary studies majoring in public affairs and commerce.
As president of NORML, he said that he doesn't condone the illegal use of marijuana, and that most UCF students are unaware of the laws placed in the state of Florida. 
"You can go online and find [UCF] students subleasing their apartments for The Verge or The Retreat [apartment complexes] that will say '420 friendly' as an attraction to get students to take their sublease," Wall said. "Nothing is 420 friendly [recreationally] in the state of Florida, at the moment.  Your lease can be terminated. You can be kicked out. You can lose your opportunity of being at UCF and put on academic probation if you get caught smoking [marijuana] on campus."
Within the next few years, Bryant said recreational marijuana will be addressed by the state senate because a pair of proposed bills, HB 1117 and 1119, are seeking to legalize recreational marijuana throughout the state.
For now, college students should be cautious that the law has only legalized smoking medical marijuana — not recreational.