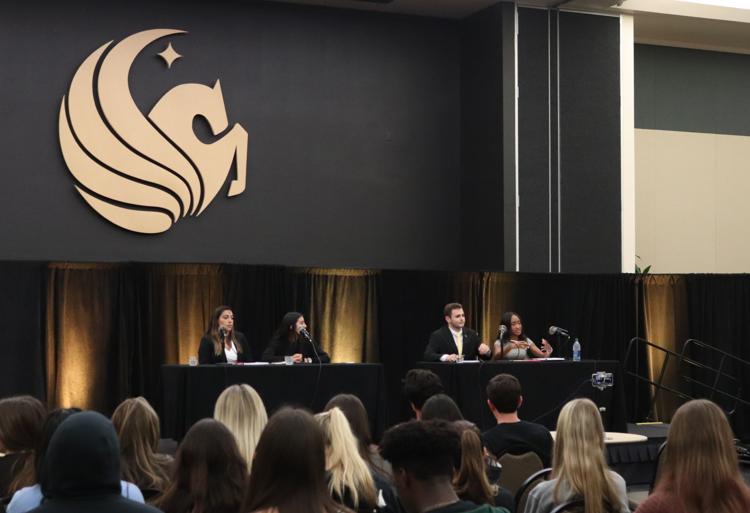 The students hollered as both tickets answered their questions, but none were much louder than Sabrina La Rosa's sorority sisters.
"We were really excited that our sorority sisters showed up and showed out for us today," La Rosa said. "We're really blessed for that, their support has been absolutely incredible."
No more than 100 students, a subsection of the roughly 10,000 that NSM Today reports are expected to vote, gathered in the Pegasus ballroom on Wednesday night to get the specifics from each candidates' platform in their first and only debate.
In next week's Student Government Association presidential election, SGA Deputy Chief of Staff La Rosa will go head-to-head with SGA Governmental Affairs Coordinator Zak Myers, vying for a seat in the big chair of an organization that oversees a budget in excess of 20 million dollars, according to the latest SGA budget figures.
Both tickets support a number of similar policies, such as initiatives to support hungry and homeless students, student safety and mental health, access to feminine hygiene and trauma medical assistance, and minor issues concerning student comfort, according to Myers' and La Rosa's campaign submissions.
While either candidate promises to tackle identical issues, albeit with slightly different approaches, Student Body President Kyler Gray says that this is to be expected.
"Ultimately it comes down to their talent level, they are all very experienced individuals that have shown a demonstrated history of service to the students," Gray said.
One policy unique to La Rosa's platform drew the most of her sisters' cheering that night, a plan to implement an "innocent until proven guilty" standard within the Office of Student Involvement as listed in La Rosa's campaign submission, but left out of their website. As the former president of Alpha Epsilon Phi, La Rosa expressed a personal connection to the issue as related to Greek Life.
"I think [that the implementation of an "innocent until proven guilty" standard is] our biggest passion, as we did Greek life, and just seeing all these chapters be under suspension, we want to better that experience," La Rosa said.
The suspension of UCF Greek House Sigma Chi is the latest, extended through 2020 following allegations of hazing in October of last year, NSM Today reported.
Myers has no plan in place to implement a similar change to punitive measures in the Office of Student Involvement according to his platform, but he understands La Rosa, saying that Greek Life is often a motivator for students to do well in school.
"Kristina and I both know that, similar to an RSO, Greek chapters are oftentimes the vehicle by which students feel a sense of place and belonging with this university," Myers said. "We certainly want to see the success of Greek chapters and not leave any RSOs behind."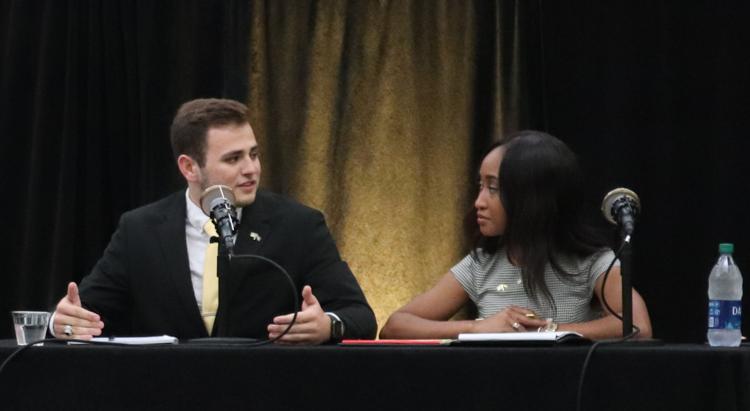 Myers and his running mate Kristina Lawrence, a communication graduate student, met in the SGA senate in 2018. Myers says that their experience is one of the key differences between his and La Rosa's tickets.
"Kristina and I both have mutually served in the student body senate, so when it comes to cross-branch relationships between the executive cabinet and the student body senate, that's something that we understand," Myers said.
Drawing from the tools of his current position as student body governmental affairs coordinator, Myers' promises to reach out and secure contracts to facilitate cheaper RSO and athletics airline travel, along with partnerships between student artists and businesses in need of murals, according to his platform.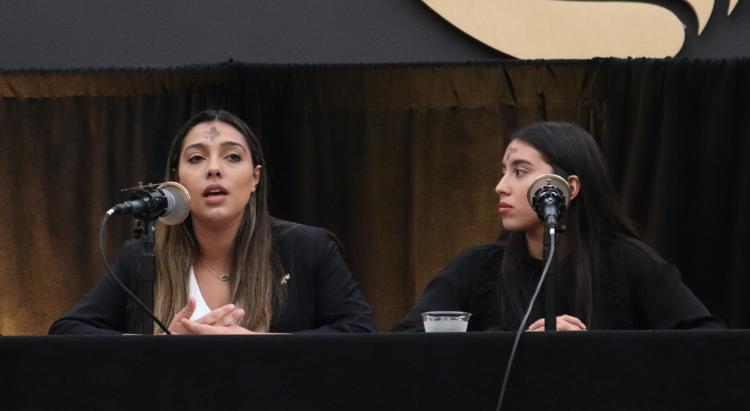 La Rosa's running mate Stephanie Blanco, the SGA director of student affairs, said that their campaign is one of passion.
"What differentiates us between the other candidates is our values," Blanco said. "Our values for passion, our values for caring for the student body, for the student body to see that we care and we truly want to accomplish things that better them in every way."
Gray said that in spite of slight differences, either candidate should do their job well.
"I would urge any student that is not yet informed of the election to seek out and dissect those platforms, but at the end of the day, whoever has to win this next Wednesday is going to do a phenomenal job, and I have full faith in them," Gray said.
Students may vote online from March 2 to March 4 by clicking the SGA logo next to the menu bar on the myUCF homepage.