With SGA elections underway, two pairs of candidates are in the midst of campaigning.
'Josh and Jad' and 'Nick and Cristina' are the candidates running for SGA President and Vice President.
Josh Bolona and Jad-Alexander Shalhoub, announced their 'Vote for Impact' platform last week which emphasizes transparency and accountability through monthly town hall meetings and advocating for programs that will enhance student pride.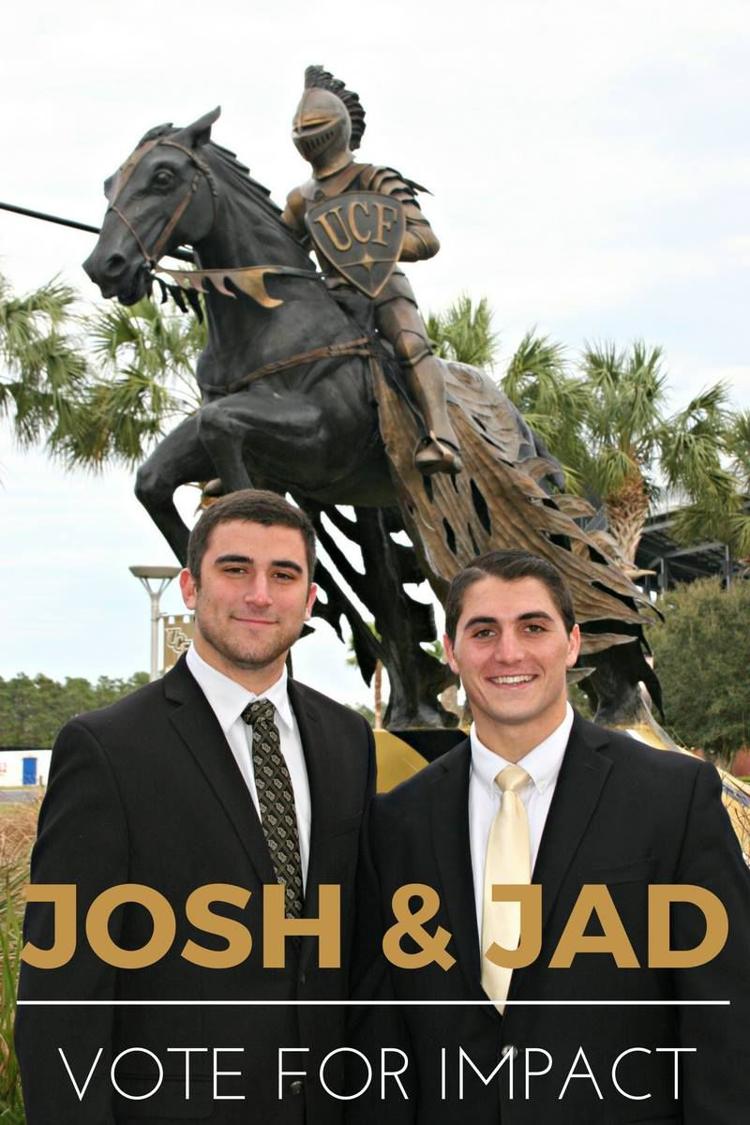 "Ever since I came to the school, I was upset that there is a lack of pride with the student body. It was something that really kind of confused me and I feel like students have a similar thought about that," Shalhoub said. "We want to utilize our power to our best ability and take it to the next level by communicating with the students. I feel like if students felt they knew what was going on, they would take more pride in the school."
Bolona is currently the Greek Council President, Senator of College of Engineering and first chair of the Student Body Advocacy Committee while Shalhoub served as the President of UCF Sigma Chi.
"I picked Jad because we know the amount of impact we have already made on the community and we want to continue to be a dynamic duo," Bolona said. "We don't always see eye to eye but we have a special ability to disagree sometimes but still see the bigger purpose or idea. At the end of the day, we hold each other accountable and constructive criticism we give each other helps us grow and at the end of the day, we come together and decide what will make the greatest and positive impact of the student body."
The running mates, Josh and Jad, are both junior industrial engineer majors. 
"We are both male and studying the same major. I know people might not think we are the most diverse running mates but it's what makes us strong," Shalhoub said. "Josh and I are two extensions of the same body. There are a lot of things that make us unique, we have different talents but we are a team and don't see each other as number one and number two."
The opposing candidates, Nicholas Larkins and Cristina Barreto, are focusing on a platform which brings students together and emphasizes the slogan #UKnightedAsOne. "Their only intentions behind this campaign are to make UCF a better place FOR ALL students to learn, live, and work and to humbly serve and represent all 63,000 of their fellow Knights," according to their website.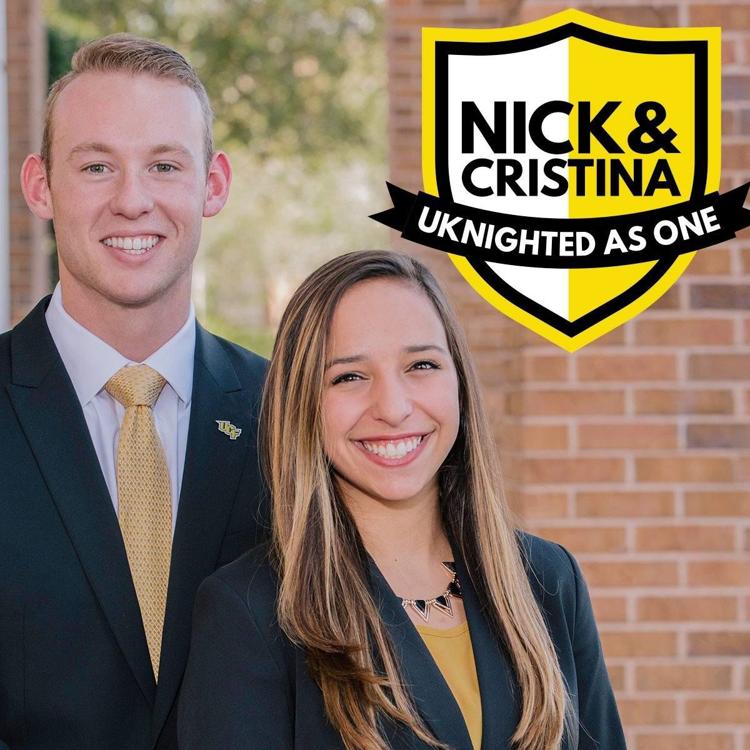 "If you ask the average Joe what SGA does, they would tell you that they give out free shirts and scantrons. We have the ability to address national issues like sanctuary campuses, guns on campus and even more," said Larkins, SGA Chief of Staff and junior health sciences major. "I would be on the Board of Trustees and represent the students which is a really unique opportunity that an actual student gets to make decisions like these. The idea is not about adding beer in the student section, it's about implementing real change."
Larkins decided to run because despite his involvement in SGA, he felt the organization wasn't living up to its full potential. Larkins has been active in SGA since his freshman year, previously serving as the Facilities Safety and Transportation coordinator and was a member of the Student Body President Advisory Council. 
"We have the capability and ability to do a lot more as SGA," said Larkins. "I felt like with my experience and my passion for bettering this campus, I could do this but the next step was finding someone to do it with."
This is where his running mate, Barreto, came into the picture. 
"Initially, I basically said no because I couldn't see myself in that position. I didn't see myself as qualified because I was external to SGA and I couldn't see it then," said Barreto, junior industrial engineering and management systems major. "Now, I have seen that I am an asset to SGA because I see things from a student perspective."
Barreto served on the Student Body President Advisory Council her freshman year but shifted gears from SGA and took her leadership skills to KnightThon. She is currently the Greek Engagement Captain and was previously the Partnership Director. 
Both candidates are also involved in Greek life. Barreto previously served as Recruitment Chair for Pi Beta Phi and Larkins previously served as secretary of Sigma Pi.
The candidates have been posting platform points on their Facebook page to further describe their plans if elected. Some of these include improving the Recreation and Wellness Center, bringing highly trained mental health counselors to campus and creating a scholarship that will allow UCF graduates to take advantage of the amenities offered by Career Services for up to one year.
"If you are facing an issue, we are going to be open-minded and our doors will be open. We will be there for students," Barreto said. "We want to change the atmosphere of SGA too. I would like to have a very open and positive environment that creativity can thrive in and make students feel like they can be involved."
The Presidential Debate will be March 24 at 6 p.m. in the Student Union, and the election will be March 27 through March 29.
Originally published March 2