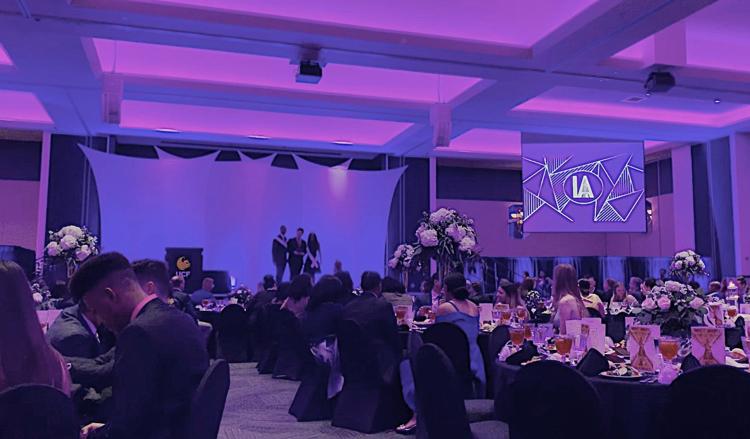 Former Student Body President Joshua Boloña and former Vice President Jad Shalhoub passed the gavel over to President Kyler L. Gray and Vice President Madeline Mills at the Impact Awards in the Student Union's Pegasus Ballroom Tuesday evening.
UCF's Knights of the Round Table and Student Government Association partnered together to present the very first Impact Awards to recognize achievements by Registered Student Organizations and members of SGA.
KoRT is a council provided by the Office of Student Involvement that helps connect students to RSOs, according to KoRT's website.
The ceremony was previously two separate events called Legacy Knight and Passing of the Gavel, but KoRT decided to merge them to "create an inclusive leadership ceremony for all student leaders on campus," said Aglaia Margaris, KoRT organization relations chair.
"We want people who make an impact to be recognized for their hard work," Margaris said. "This year, we are recognizing RSOs, agencies and SGA, but we are hoping to continue expanding this event to cover more leadership areas on campus."
Awards were presented by Mr. UCF 2019, Malachi Mullings, and Miss UCF 2019, Keyera Lyn.
"It's important to do this because it also helps future leaders see the opportunities that could come from them if they put in the work and the effort to help our community at UCF," said Lyn, communication graduate student.
Some of the awards presented included:
Organization of the Year, won by Multicultural Association of Pre-Health Students

Senator of the Year, won by Jesse Slomowitz

Agency of the Year, won by Knights of the Round Table

Service Organization of the Year, won by Love Your Melon

Cabinet Member of the Year, won by Emily Nole

Director of the Year, won by Abigail Newsome
Following the award ceremony, Gray and Mills took the stage for the Passing of the Gavel.
Gray and Mills received more than 50% of the 8,341 total votes in the election last month against opposing candidate teams of Antione Fields and Darbi Welbaum and Ashley Stewart and Darwin Olcima.
"Although this is mission accomplished, another journey has just started," Boloña said. 
Boloña and Shalhoub reflected on their goals and achievements from the past year before passing the gavel over to Gray and Mills.
"Together, we made promises to the student body and delivered on every single one," Shalhoub said. "And looking back on it all, I wouldn't change a single thing."