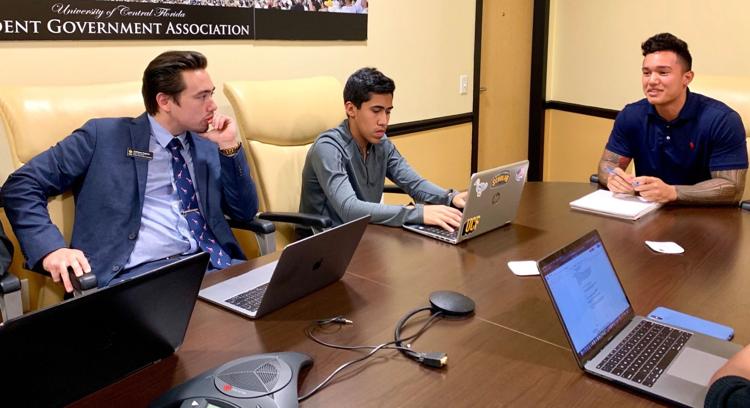 The SGA judicial branch welcomed a new leader this Thursday. The student government senate confirmed Phil Balikowski as the new chief justice at this week's senate meeting.
Kyler Gray, student government president, said he appointed Balikowski because he has the values that are needed for someone in this position.
"I believe with his skill set, he will not only be able to showcase the prestige of the branch, but he will be able to form a strategic plan for years to come on how to increase awareness of what the judicial branch does," Gray said.
The judicial branch of SGA is comprised of students who work to protect the rights of the student body as outlined in the student body constitution. The constitution outlines the duties of each branch in student government and how they should conduct business to best serve students.
The judicial branch sits on committees such as parking appeals, student conduct board cases, eligibility appeals, and are the appeals court for any election violations or impeachments that happen in any branches of student government.
Some of the responsibilities of the chief justice include ensuring all elected and confirmed officials in SGA are given the "oath of office" and scheduling and chairing parking appeals. The chief justice also has the authority to reverse and remand any decisions made by the Election Commission in regards to a campaign violation. 
Balikowski started his career in SGA by joining the Executive Leadership Council his freshman year. He then went on to become an associate justice and served as internal assistant chief justice last year overseeing the Judicial Leadership Council.
"One of my biggest concerns going into SGA was preserving the rights of students and making sure they were being upheld," Balikowski said. "When I was an associate justice, I was pretty much in the office every day. It wasn't because I had to be there, it was because I genuinely cared."
Following his appointment from Gray, Balikowski was then seen by the SGA Elections and Appointments Committee. He told the committee of his ideas and goals for when he is confirmed as chief justice.
"Something I would like to do as chief justice is to increase delegation," Balikowski said. "I noticed in our constitution we are supposed to have committee meetings which we have not had since I've been a justice. I have been speaking to President Gray on creating a judicial advisory council that every member of the judicial council will sit on along with students."
Sierra Scott, 21, elections and appointments chair, said Balikowski has grown and improved as a leader during his time in SGA and he will do a good job as chief justice. Balikowski passed 6-0-0 in the Elections and Appointments Committee.
He was next seen on the senate floor on Thursday night where he answered questions on his past work in the judicial branch and what he will be working toward in the future.
"Last year was really foundational," Balikowski said. "We found out our internal rules had not been updated since 2003, so we were able to increase our internal rules from 3 pages to 25 and include things we have been doing for years that weren't noted anywhere."
Despite senators on the floor speaking in his favor, a Rosen College of Hospitality senator, Michael Interlicchhio, questioned Balikowski's tangible goals.
"I am a little on the fence of this appointment," Interlicchhio said. "There isn't a goal sheet or plan on how we are going to redevelop the judicial branch. I just don't see actual goals that are outlined and thoroughly flushed out."
Anthony Pagano, College of Undergrduate Studies Senator, who also sits on the Elections and Appointments Committee, countered Interlicchhio's points of contention.
"I had the pleasure of seeing this individual earlier in E&A and there were several initiatives and goals that he did speak on contrary to what some of you may be thinking," Pagano said. "He spoke about committee meetings and he came in very prepared and qualified with his experience in the judicial branch."
Balikowski passed on the senate floor with a vote count of 24-1-3. The 52nd session of the student government senate will have its first meeting on October 10.