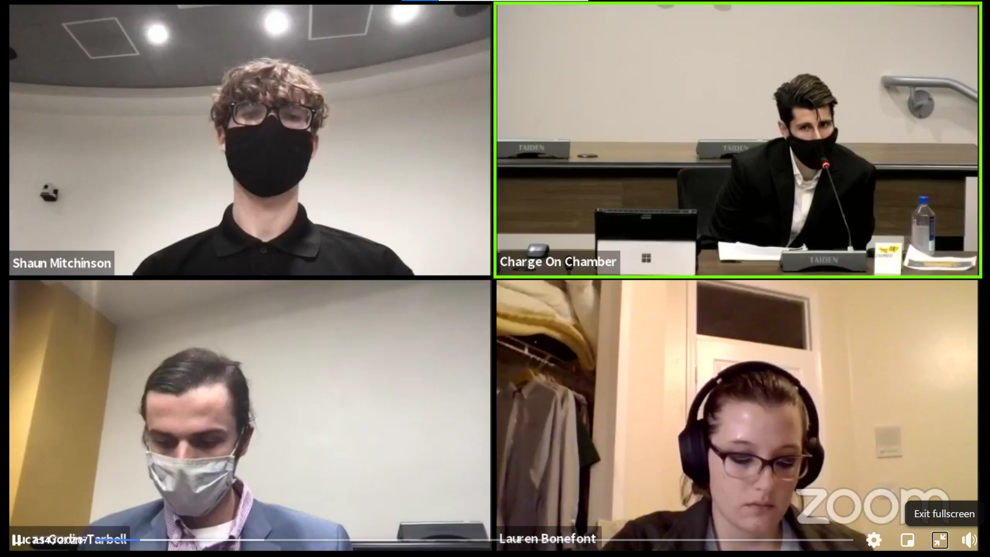 A UCF Student Government senator is facing two separate conduct cases by UCF Student Conduct and Academic Integrity after two separate incidents involving the UCF Police Department.
SG Senator Jordan Feld, a senior majoring in Latin American studies and sociology, said that he received a letter from Student Conduct on Jan. 27 stating that he will be suspended for violating the UCF Golden Rule with "harmful behavior" for an incident that took place in September.
Student Conduct is also charging him with disruptive conduct and failure to comply after an incident in November in which he filmed a UCFPD traffic stop, Feld said. A preliminary hearing is scheduled for Feb. 25, Feld said.
Feld and his attorney Matthew Ferry sent an appeal on Feb. 5 after Student Conduct made the decision to suspend him for the first incident that occurred, but Feld does not think that the appeal will be accepted.
"We feel that based off my academic background, myself as a person, my involvement in the community and my aspirations for academics, that such a sanction isn't appropriate and capricious," Feld said.
Ferry has not yet responded to a request for comment.
Feld said that he is being unfairly targeted and that he will not be silenced.
"I will not hesitate to file a lawsuit against this institution for breaching the very agreement to not only me but our entire student body that is integrity, fairness and equity you promised all of us," Feld said during an SG meeting held through Zoom on Feb. 4.
UCF Public Information Officer Courtney Gilmartin said in an email that UCF's Office of Student Conduct cannot comment on individual student conduct cases due to the Family Educational Rights and Privacy Act.
The first student conduct case refers to an incident that occurred on Sept. 26 during a political demonstration in favor of former President Donald Trump on the corners of University Boulevard and North Alafaya Trail. 
During an interaction between Feld and the demonstrators, Feld held up a can of pepper spray only after an individual who was recording a video got close to his car and reached in through an open window, Feld said. It is unclear if or when Feld started spraying.
"The individual burglarized my vehicle, placing me in a state of reasonable fear, allowing me to respond with self-defense," Feld said in an SG meeting on Feb. 4.
The video was uploaded to YouTube by Paint the Trump - a group that participated in the demonstrations - but is no longer available.
A report was made to the Orange County Sheriff's Office on Sept. 28 by a demonstrator whom Feld interacted with on Sept. 26. Feld's offense was listed as aggravated battery.
According to Chapter 784 of Florida Statutes Title XLVI. Crimes, aggravated battery is a second degree felony committed when an individual uses a deadly weapon or "intentionally or knowingly causes great bodily harm, permanent disability, or permanent disfigurement."
After watching the video, Feld noted that the man did not seem to be in any pain and said that UCFPD is using an edited YouTube video to make deductions about him.
"There's no apparent evidence that he was hurt," Feld said. "I completely fail to see how aggravated battery applies to this case at all."
UCFPD obtained the incident report by the OCSO and sent it to the Student Conduct office.
During the SG meeting on Feb. 4, UCF Deputy Chief David Zambri said that after watching the YouTube video, he saw the subject driving the vehicle, stopping and engaging with the crowd.
"I did not see an attack nor did I see a burglary of the vehicle," Zambri said. "What I did see was a can of pepper spray in the driver's lap. The individual who drove up, apparently they had a premeditation to use that pepper spray."
Zambri said that UCFPD and the OCSO work together and that if students violate the UCF Golden Rule off campus, student affairs referrals may still be issued.
The second student conduct case regards an incident in which Feld started filming a traffic stop that UCF Corporal Frank Imparato was conducting on Nov. 15 in Garage H, according to the incident report. Imparato filed the report as "resisting officer without violence."
Throughout the recorded interaction, Feld repeated that he has a right to record and that his distance is fine while Imparato told him that he could record but must move to the other end of the garage.
"This doesn't make any sense because he's saying that my presence there is causing like if I'm literally forcing him to look at me," Feld said. "As you can see, I don't ever touch him, I'm like actually very distant from him."
Private citizens have the right to record video and audio of police officers performing their duties in public spaces, according to the United States Court of Appeals for the First Circuit's Simon Glik v. John Cunniffe case from 2011.
NSM Today could not contact Imparato for comment.
"We have worked hard to maintain a professional reputation and be transparent with our community, however given the recent threat of litigation, we cannot participate in interviews or address specifics regarding our agency's interaction with this individual [Feld]," UCF PIO Gilmartin said in an email.
Both Feld and Zambri said during the SG meeting that Feld did eventually comply with Imparato's orders, but Zambri said that Feld took too long and officers do not want people who act concerningly to linger close to traffic stops because of safety. 
"The officer's responsibility on the traffic stop is to keep themselves safe, the people they stopped safe and even that individual who rolls up on them, like Mr. Feld did, safe," Zambri said.
Student Conduct sent an email to Feld stating he was charged with "disruptive conduct/failure to comply," Feld said. An arrest affidavit was also filed by UCFPD, but Feld said he was never arrested.
A threat assessment was filed against Feld in regards to the filming incident with Imparato. Feld was labeled as a medium level of concern.
The report states that Feld is a person of concern because of concerning behaviors, escalating actions and grievance towards law enforcement.
"Never once in this report do they specify any particular action I did both directly and indirectly that would consider me a threat," Feld said. "I still don't know exactly what it was that I did besides filming the officer that would consider me a medium level threat."
Feld said during the SG meeting that if the UCF administration, UCFPD, and UCF Student Conduct do not come forward and put an end to this, the facts will. He said he feels that there are many irregularities in this process and that fairness of these incidents is being violated.
"I felt I had an obligation as somebody who wants to serve the community and as somebody who serves the student body in the senate, that our students and the public has the right to know what's happening inside our institution, and I also feel that UCF is violating the rights of our students," Feld said.
Feld said that despite these issues, he wants to continue to be a student. He said a university cultivates learning, exploring and developing and that to take that away from someone is a disservice to the student body.
"I put in four and a half years of work to my studies, and it's not just for credentials or a degree," Feld said. "It's because I want to do something for our social world. I want to help our social world. I want to help people, and I want to contribute."