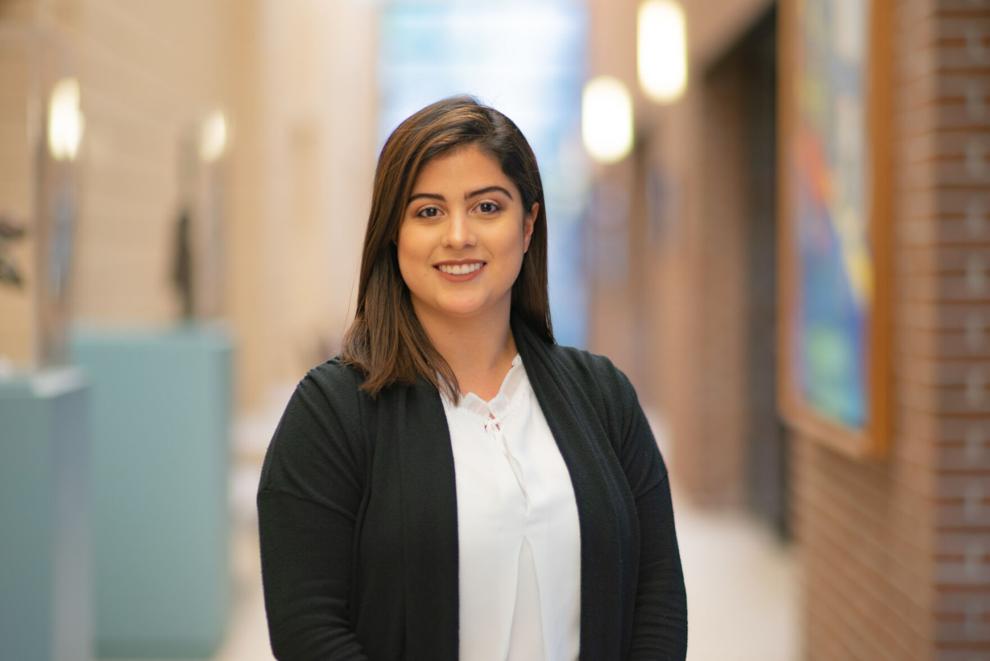 The Student Government Senate President Pro-Tempore resigned ahead of a no-confidence vote during Thursday night's senate meeting. A new president pro-tempore was elected immediately following the resignation.
Former president pro-tempore Natalia Correa-Ferro announced her resignation and walked out of the meeting ahead of the scheduled no-confidence vote, also resigning as a senator of the Nicholson School of Communication and Media. Following Correa-Ferro's resignation, Senator Chinyere Anunobi was elected as president pro-tempore.
Correa-Ferro faced allegations of leveraging her position to help former senator Jordan Feld. The president pro-tempore acts as the senate vice president, presiding over the senate in the absence of the senate president. 
"I am not perfect," Correa-Ferro said during the meeting. "I was not meant to be perfect in this world, and tonight, my integrity is being called into question."
Upon Correa-Ferro's resignation, SG Coordinator Brodie Taylor said that since Correa-Ferro resigned and was not subject to a no-confidence vote, her position would have to be immediately filled. 
Chinyere Anunobi received the majority vote among four senators nominated, becoming president pro-tempore for the remainder of the 52nd legislative session.
Senator Matthew Bonachea said that Correa-Ferro had attempted to help Feld from facing suspension due to two student conduct cases in fall 2020. Correa-Ferro had written a letter to the UCF Student Conduct Board on official SG letterhead in support of Feld, he said. A copy of the letter could not be obtained. 
During the senate meeting on Feb. 11, Bonachea made a motion for a vote of no confidence on Correa-Ferro. Correa-Ferro's actions were unethical and posed a conflict of interest due to her dating relationship with Feld, Bonachea said.
"As the Senate Pro Tempore of the Student Senate Legislative Body, I am writing this letter to express my profound support of fellow UCF Senator, and student, Jordan Feld," Bonachea said Correa-Ferro wrote in the letter. "A severe disciplinary sanction against Mr. Feld would not only be an inappropriate and nefarious response, but a disservice toward our academic community."
Senate President Emma Custis announced earlier during the meeting that Jordan Feld had also resigned from the senate. 
Bonachea said that Correa-Ferro had violated SG Statute 1100.1 - Conflict of Interest, and Statute 1100.2 - Unethical Benefit. 
"Regardless of relationship, we haven't seen the pro-tempore advocating for another student on such a scale," Bonachea said. "The fact that they were in a relationship and the fact that she said these things were unethical. There is rooted unethical behavior in advocating for your significant other and saying 'I am the president pro-tempore' in that letter."
In an impassioned speech, Correa-Ferro said that she holds pride in going out of her way in standing up for students, and that she would have done the same for any student regardless of her relationship with them.
"I didn't speak up for Feld because he is my boyfriend, I spoke up for him because he is a student," Correa-Ferro said. "You could not like me, and I will still speak up for students who deserve justice."
Bonachea also said that Correa-Ferro had other questionable behaviors linked to her position, including speaking on behalf of Feld during the senate roll call, with no evidence of Feld actually being present. Correa-Ferro said that Feld would have technical difficulties joining the meeting but he would be nearby, allowing her to confirm his presence. 
Senator Nico Bonaduce said that during the summer, Correa-Ferro had asked him to resign as vice chair of both the Financial Allocations for Organizations Committee and the Legislative, Judicial and Rules Committee. Correa-Ferro had told Bonaduce that other SG committees supported his resignation, but Bonaduce spoke to the committees and confirmed that wasn't true, he said. 
"I ended up having to resign in the fall, but you said, and I quote, 'I'm not asking, I'm telling you as the pro-tempore,'" Bonaduce said, speaking directly to Correa-Ferro. 
Senator Lauren Bonefont said that while she believes pro-tempore Correa-Ferro has good intentions to help students, that does not necessarily result in the impact intended.
"It's an important precedent that maybe there's not a terrible fallout from this particular incident," Bonefont said. "But there's a potential that similar actions could have worse consequences, and I think it's important for us to set that precedent." 
Senator Khayaht Peters said that the senate should have been informed about the potential conflict of interest the letter sent to the Student Conduct Board posed.
"To allow this precedent to stand would be an injustice to the body and to the students we serve," Peters said.