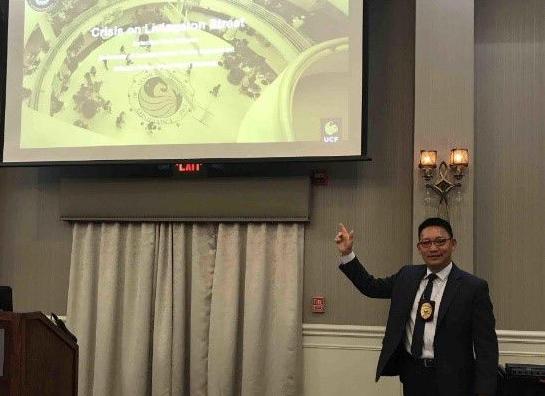 There were six sexual assault reports on campus from September to early November this year, which according to the UCF Police Department is lower than previous semesters.
A study published on Econofact says reports of rape for women between the ages of 17 to 24 increase during football games by an average of 28 percent.
Fall semester is football season at UCF, which suggests that the number of sexual assault reports should be higher. However, the National Sexual Violence Resource Center found that more than 90 percent of sexual assault victims on college campuses do not report the assault.
One of these unreported incidents happened to Kiara Lopez-Hernandez, a junior film major.
"There was a man serving me drinks," Lopez-Hernandez said. "I know the typical serving of alcohol should be two ounces full of hard liquor, but I was drinking two cups of hard liquor."
The man's use of alcohol to gain an advantage over Lopez-Hernandez is quite common, according to UCFPD detective Rick Salcedo.
Salcedo said more than 50 of his cases are affected by alcohol. This estimate aligned with a National Institute on Alcohol Abuse and Alcoholism study which states that approximately half of sexual assault cases involve alcohol.
Lopez-Hernandez was at a party when the older man tried to take advantage of her, she said. He brought her to his room claiming he was "trying to get to know her better." According to Lopez-Hernandez, she tried to push him away, but he persisted and attempted to take off her clothes.
"At that point in the party I was too heavily intoxicated to even speak, let alone attempt to argue with this man," Lopez-Hernandez said.
The perpetrator stopped attempting to undress Lopez-Hernandez when she "projectile vomited" on him as a result of her heavy intoxication.
"We don't see GHB or Ecstasy anymore — that's a misconception," Salcedo said. "If we could take alcohol out of the equation, we would have a lot less rapes."
Yet assault isn't always by a stranger. Beatriz Oliviera, junior journalism major, said it can even be someone the victim is close to.
"Assault isn't always violent," Oliviera said. "Sometimes it's just the person doesn't really want to, but their partner pressures them."
One such incident occurred to one of Oliviera's friends, who gave permission for Oliviera to talk about her incident but felt uncomfortable talking about it herself.
"I have a friend that was pressured into it," Oliviera said. "She didn't want to, but she felt trapped."
When this happens, UCF Counseling and Psychological Services counselor Jorge Lopez said the victim may display symptoms of trauma without understanding why.
"It is pretty common," Lopez said. "Some people just don't see a connection between the two. That's usually when we have to say it counts [as trauma] and this is why."
Occurrences such as the ones Oliviera suggested can lead to under-reporting because the victim may not even acknowledge that anything wrong happened. Sometimes this results in someone not getting the help they need.
"Even if they deal with the symptoms, if they don't deal with the trauma then the symptoms will keep coming back," Lopez said.
Seeking help is an important step to recovery, especially because 81 percent of women and 35 percent of men report significant short or long-term impacts such as PTSD, according to the National Sexual Violence Statistics Center. 
UCF CAPS and the UCF Health Center offer counseling and medication for those that need it and CAPS offers assistance in finding an outpatient provider.
CAPS would suggest outpatient therapy as the best solution for cases such as PTSD, which can require more in-depth therapy than CAPS' short-term model can provide.
In both Oliviera's friend's and Lopez-Hernandez's cases, official reports were not filed with law enforcement.
There are a long list of reasons for why some people may not report. Sometimes they are scared of reprisal, they don't think it was important or they think it's private.
"I didn't want to report because I was drinking underage and I didn't want to get in trouble," Lopez-Hernandez said.
Oliviera's friend also did not report the incident. Oliviera said her friend "didn't think anything was wrong at the time."
In order to combat low reporting statistics, UCFPD has attempted to make the investigation easier on victims and lower the amount of trauma they experience through use of a "soft room," which resembles a therapist's office, and a victims' advocate.
"We don't want them to feel like they're being interrogated," Salcedo said. "All we're really trying to do is gather information as best we can."