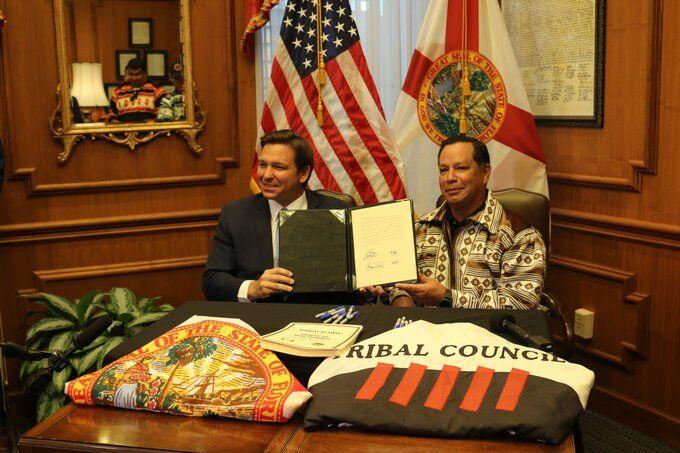 Members of the Seminole Tribe of Florida canvassed at UCF last week to garner support for their casinos' expansion to sports gambling.
The canvassers were gathering signatures in response to a lawsuit filed by Magic City Casino and Bonita Springs Poker Room on July 2, which has blocked the gaming compact Gov. Ron DeSantis signed on April 23, according to documents from the U.S. District Court for the Northern District of Florida. 
The tribe has followed suit by filing documents on Aug. 16 to win the appeal. The canvassers said they sought the signatures of UCF students to demonstrate to the federal court that there is public support, in hopes of bypassing the lawsuit.
This tribal-state gaming compact will be the largest in history, according to a press release from DeSantis' office. It would generate at minimum $2.5 billion for the state of Florida over a five-year period. The tribe is not paying any revenue to the state at the moment. 
Grace Ray, a game design sophomore, said the gambling expansion should be viewed as reparations for the Seminole Tribe.
"I am not sure if there is anything we can do to repay the pain we caused them, but I think this is a start," Ray said.
The compact would allow the tribe to have sports gambling in their casinos, but the July lawsuit would prevent this from happening. The South Florida casinos do not want the tribe to inadvertently conduct gambling off their tribal land by entering the mobile sports gambling market.
Evan Snow, a senior restaurant and food services management major, said it is not fair to section off sports gambling to one group, while punishing the tribe for wanting to participate. He said that at the end of the day, gambling should be in the hands of gamblers.
"I believe if you're old enough to buy a drink or have a smoke, you are old enough to throw your money away," Snow said.
The South Florida casinos are given 60% of the difference between the tribal casinos' net wins and any expenses the tribe incurs while hosting sporting gamblers virtually, according to the gaming compact. Sophomore mechanical engineering major Harry Whitemore said he does not want to see the tribe be taken advantage of.
"They have been f---ed over countless times by America," Whitemore said. "It is just rich, old white men trying to make money off of them."  
Compacts are used as a form of revenue for the tribe in order to support programs like health care, housing, sewer and water projects, education and other governmental services, according to the Seminole Tribal Gaming Code.
Freshman mathematics major India Isree said she chose to sign the petition because the history courses she has taken have taught her how the tribes have been treated poorly.
"They are rated as one of the lowest demographics in terms of finances today," Isree said. "If there is anything I can do to help them, I feel like that is my job."