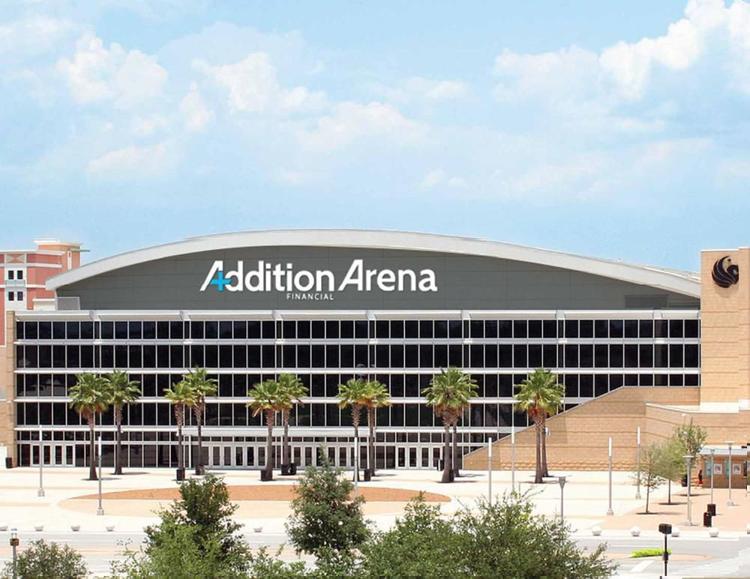 CFE Arena is getting a new name on May 1: Addition Financial Arena.
The change comes after CFE Federal Credit Union, which holds naming rights, announced it is undergoing an overhaul. It is in the process of rebranding to Addition Financial and transitioning from a federal charter to a state one, which will allow it to "expand to new counties and open more convenient branches," according to a press release.
A charter is a license that allows credit unions to operate. Federal and state charters have some differences in their governing rules.
"Our new name will better encompass our mission to bring financial success and education to everyone," Kevin Miller, the union's president and CEO, said in the release.
The arena hosts graduations, political rallies, concerts and more each year. It is also home to March Madness contenders — both the UCF men's and women's basketball teams.
Updated signage for the arena will begin to go up by the end of March and completed by the end of April, said Valerie Moses, CFE Federal Credit Union spokeswoman.
Moses said the credit union sent out letters to members in January announcing the rebranding plans and that new credit cards will be sent out this summer. 
Some UCF students were indifferent about the rebranding project as they felt the arena name change was not significant enough to warrant strong opinion.
"I don't really care all that much about the name change," said Tanner Braun, sophomore political science major. "When they start calling it the Thunderdome, they'll have my attention."
Isabella Bustamante, junior creative writing and philosophy double major, said she was unaware of the name change.
"I didn't know [the name change] was happening," Bustamante said. "The new name is lame, but I'm like, 'Meh, it's just a name.'"
Diane Lieu, instructional design and technology graduate student, called the name change "insignificant," and said that "students will still call it 'the arena.'"
The 18-month-long rebranding project that will see changes to signs, stationery and apparel will cost an estimated $4.7 million, Moses said. She also said the large sum wouldn't hurt the credit union financially.
"We have planned for this change in the charter and have set aside the necessary funds," Moses said. "Our net worth is more than $200 million, so the cost will have little impact on our capital."
The arena's name change has already been approved by the UCF Convocation Corporation — the body that makes decisions on potential name changes — according to a document presented to the Board of Trustees Thursday.
The first scheduled events at Addition Financial Arena are the UCF spring semester graduation ceremonies at the beginning of May.