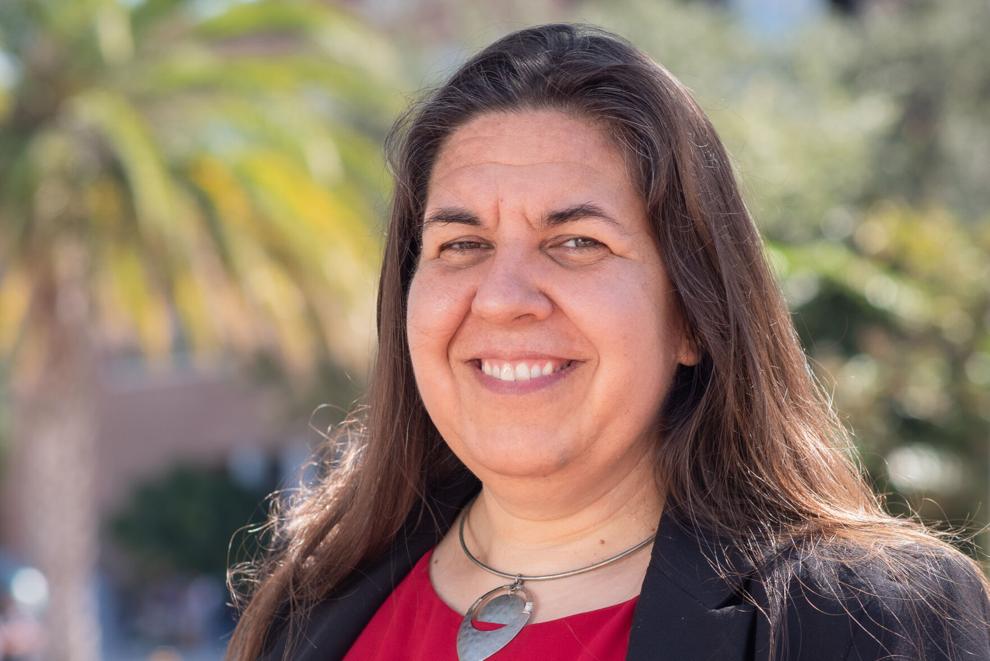 The UCF College of Sciences officially opened its doors to Maggy Tomova as its new dean Monday.
Tomova comes to the position after previously serving as associate dean for the Natural, Mathematical and Social Sciences at the University of Iowa.
"I'm very excited about the position," Tomova said. "I think that it's going to be great." 
Tomova said that as an associate dean at UI, she was responsible for making sure the faculty had everything they needed to be successful, both in research and as teachers. She said in her role at UCF, she wants to continue the trajectory of excellence the university has created for itself.
"I'm looking forward to making sure we're fully utilizing all the synergies that you can get out of having such diverse departments all in the same college," Tomova said.
Tomova's former colleague Roland Racevskis, associate dean for the arts and humanities at UI, said Tomova is "well positioned" to take on being dean of the COS.
"It's right at her level," Racevskis said. "I think she's going to provide meaningful leadership."
Racevskis said he's worked with Tomova since early 2020 and that it has been an "around-the-clock job."
"She's really tireless in the work that she does," Racevskis said. "You can't do these associate dean jobs if you're not at it all the time and available to folks all the time, and she's used to that."
About 53.6% of the UCF student body is made up of students from diverse multicultural backgrounds, according to the UCF website. Tomova said one of the things that attracted her to UCF was the diversity of the student body. 
"I really want to work toward matching that diversity in the student body with diversity in faculty and staff, where we don't have quite as much diversity," Tomova said. "Research will be a very big focus of my work. Research at UCF has been growing really rapidly, and I definitely want to maintain that momentum."
Tomova also said the combination of the university's diversity and strong orientation toward research was another factor that drew her to the school.
"I've done lots of work on diversity ... and I feel like at UCF, that work will be valued and welcomed," she said. "There's sufficient diversity in the students, and I'm sure that's something that they're interested in seeing being promoted."
One of the things she intends to do as dean of the COS, she said, is prioritize the input of the student body before making any big changes.
"I'm sure there (are) lots of things that we can do to make UCF a better place for students, and I think the best people to tell us what those things are are the students," Tomova said.
Tomova doesn't have an agenda for what she's going to do for the student body because she wants students' views to guide her, she said. She wants to hear the voices of multiple students, she said, and not just the ones in formal positions of student involvement.
"I want to talk to the students who are too busy to participate in Student Government — the students who have other challenges that they're dealing with and really understand what the challenges are and how we can help them overcome them," Tomova said.
Racevskis said that although it's sad to see Tomova leave UI, he thinks she's ready for deanship.
"Your gain, our loss," Racevskis said of Tomova's transfer to UCF. "But I'm so happy for her as a colleague and a friend, and I'm glad she's got an appreciative community that's there to welcome her."
Interim Provost Michael D. Johnson said in an email that Tomova's experience will bring a leadership that's capable of taking on whatever the future of the university holds.
"Dr. Tomova brings experience facilitating faculty research and a passion for recruiting and supporting faculty, staff and students with diverse backgrounds," Johnson said. "She will bring a collaborative leadership style and strategic thinking to bear on the opportunities and issues that future years bring."