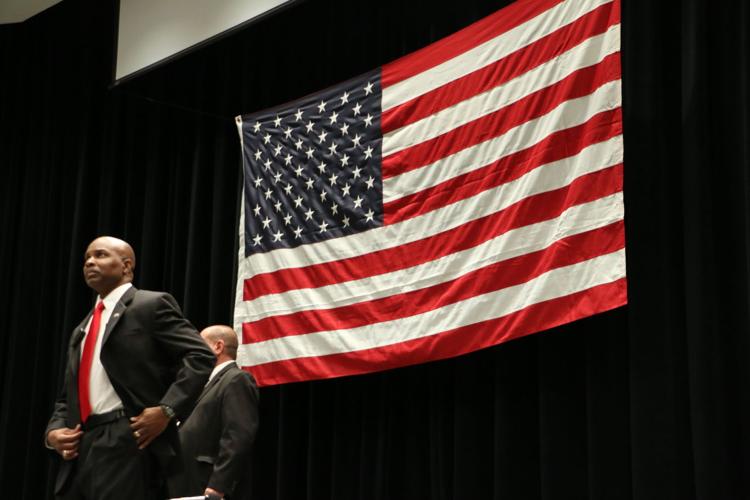 Two Republican candidates vying for Marco Rubio's Senate seat said that, although college tuition is too expensive, Sen. Bernie Sanders' plans for tuition-free college don't add up.
"As much as I respect Mr. Sanders … I think if he's going to offer free tuition, something is wrong with that idea," said Senate candidate Dwight Young, Pinellas County sheriff's deputy. "I don't see where we are going to get the money to afford it."
The University of Central Florida's College Republicans invited all Republican candidates to debate on Monday in the Nicholson School of Communication, but Young and Howard Knepper, Miami businessman, were the only two who accepted.
Elaine Sarlo, UCF College Republicans chairwoman and moderator of the debate, said she tailored her questions to issues that college students care about.
Knepper said he agreed with his opponent that a solution for more affordable college is needed.
"I don't want you to have a debt around your neck when you graduate," Knepper said.
Knepper added that he would take $100,000 of his $175,000 senatorial paycheck each year and start a fund that feeds into the Florida school system.
Young said those who agreed to serve their country for six years should have their college education paid for by the government.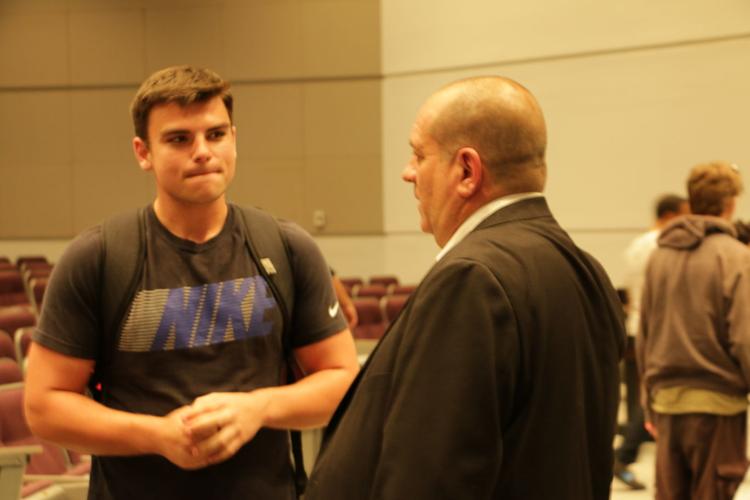 Both candidates were strongly opposed to Republican presidential candidate Donald Trump's proposed temporary ban on Muslims entering the country.
Young elaborated that those entering from Muslim countries need to provide verification because "most Muslim countries do hate America," but there are plenty of Muslims working for the government and a ban is discriminatory to them.
Knepper agreed, saying that banning Muslims is ridiculous and not something the American people would support.
"That's a really simple answer. I wouldn't ban them yesterday, I wouldn't ban them today and I wouldn't ban them tomorrow," Knepper said. "You start with Muslims, who's next?"
But Knepper did agree with Trump's proposed wall to secure the Mexican border.
"The wall should be built. I'm going to go for the wall and a lot more than the wall," Knepper said, citing the need to prevent drugs from entering the country.
Young disagreed, saying that though stricter borders are needed, building a wall would be a waste of money.
"Do you know that there are children in the state going to school without shoes? How do we look them in the face and tell them, you know what, we're gonna build a wall. But you know what? Go to school without shoes," Young said.
Knepper and Young agreed with the new North Carolina law that bans transgender individuals from using restrooms not aligned with the sex on their birth certificate.
"I am welcome to everyone, but what matters to me is if someone gets hurt," Young said. "I do not want to go down that road."
But Knepper said he is less sure of his stance after speaking with a student in the audience who told him that transgender people are statistically more likely to be the victims of attacks.
Now he said he is leaning toward a third unisex bathroom option required by law or creating a card with a doctor's signature saying that the person is transitioning and can use the bathroom of his or her choice.
For state issues, Knepper will continue to fight Florida's black bear hunt, which he said was not supported by the people. He will also work to fix the state's infrastructure through federal funding.
Young said he will work to build more transportation options, saying Florida Gov. Rick Scott was wrong to refuse federal funding for a Tampa-Orlando bullet train in 2011.
"We missed a chance there," he said.
Going against the rhetoric of many front-runners in the Republican Party, Knepper defended President Obama, though he said he has a terrible history on foreign policy.
"I believe that President Obama has been discriminated against by my party," Knepper said.
He said he was a proud Republican, but members of both parties need to work on crossing the aisle to get things done.
Chris Hart, host of American Adversaries on AM 660, and Dr. Kenneth Vehec, professor of psychology at UCF, moderated the debate alongside Sarlo.
Sarlo said she surveyed her peers beforehand to see which issues were most important to them, and hopes to make the debate the first of many targeting millennial voters.
"We try to make it geared more toward our generation—issues that our generation cares about, so that's why we call it 'the Millennial Debate Series,'" Sarlo said.
"Right now, people at UCF have the opportunity to come and listen and potentially hear what their next senator has to say," she added.
Shane Barnes, freshman nursing major and registered Republican, said he attended the debate for extra credit in his psychology class, but walked away with an interest in learning more about senate elections.
"I expected it to be me just sitting here, but I actually find it pretty interesting," Barnes said.
Monica Green, freshman health sciences major and democrat, said that she disagreed with most of the candidate's views, but was glad to learn more about where they stand.
"Even though I don't agree with their standpoints, now I know what they advocate for. So I know what I don't want as a candidate for senate for Florida," Green said.
Nikki Mariutto, president of the College Democrats at UCF, said it is important for college students to get more involved in the senatorial elections.
"It is super important to know your senatorial candidates because they will be the ones representing you and your state in the federal government," she said.
Despite an extensive list of candidates, Dr. Aubrey Jewett, associate professor of political science, said there are three Republican front-runners in the race for Rubio's seat, including Tampa congressman David Jolly, Florida Lt. Gov. Carlos Lopez-Cantera and congressman Ron DeSantis.
Florida congressmen Alan Grayson and Patrick Murphy lead the democratic side, with Murphy being the establishment's pick, Jewett said.
The seat is highly contested because this could shift control of the closely divided Senate, which is especially important in a presidential election year.
"Control of the Senate is certainly up for grabs," Jewett said. "Florida is one of probably about 12 states that could flip."
The primary election will be held Aug. 30.
Story originally published on April 25, 2016.