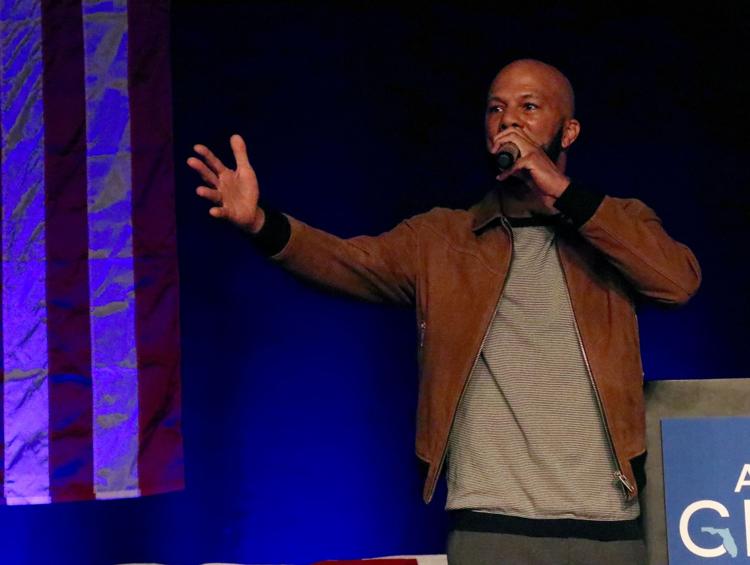 Grammy Award-winning artist Common took the stage Saturday morning at The Venue at UCF to encourage people to vote for Florida Democratic gubernatorial nominee Andrew Gillum on Election Day.
Lonnie Rashid Lynn, an actor and rapper who goes by the stage name of Common, endorsed the gubernatorial candidate through a different approach than others — freestyle. 
"So many things to handle, gotta give respect for my people from Orlando but yo, this is what we doin' from the dome — my man Andrew Gillum said he's going to 'Bring it Home,'" Lynn rapped. 
About 200 people attended the event to listen to Gillum, other state candidates and celebrities give speeches.
The rally happened one day after news broke of a fatal shooting in Tallahassee, Florida, where Gillum currently holds office as mayor. The Tallahassee shooting at a yoga studio left three dead and five injured on Friday.
Fighting gun violence was one of the major points addressed by almost every speaker at the rally. 
State Rep. Carlos Guillermo Smith, U.S. Rep. Stephanie Murphy and Sen. Bill Nelson, who are all up for re-election, attended the Saturday rally along with Florida House District 47 Democratic nominee Anna Eskamani. Actor Jussie Smollett from Fox's TV series "Empire" also attended to endorse Gillum.
"When prayers and positive thoughts are not enough, consider a governor who will fight gun violence head on," Smith said.
Gillum said he visited the hospital where the victims of the shooting were being treated and spoke to some of them. He said the victims were in surprisingly encouraging spirits. 
"There was one of them in particular who pulled me in close and said, 'I'm expecting you to do something about it, this gun violence,'" Gillum said. 
Photos: Rapper Common, local politicians address gun violence at Gillum rally
He told the crowd he is more "agitated and activated" than ever to fight for gun control after hearing the news of another Florida shooting so close to home.
UCF alumnus Blake Summerlin, a volunteer for the Gillum campaign, said issues like gun violence are what inspired him to volunteer.
"[I'm] trying to do my part to end the hatred that's plaguing our communities like the gun violence issues and the setback women are facing that weren't there before our current president and Congress," Summerlin said.
Other popular topics discussed included affordable health care and education, helping students with loan debt and paying teachers higher salaries.  
Wileshia Williams, a student at Seminole State College, said this was her first political rally. She said the midterm election marks the first time she has ever voted, so she decided to attend to hear what Gillum had to say.
"I had to get it together and vote," Williams said. "Some people don't have this voice."
When Lynn closed out the event, he addressed the crowd and spoke about his close ties to Florida and why the state is special to him. He said he attended Florida A&M University in Tallahassee as a business administration major for two years and has family living in Pembroke Pines, Florida.
"With so much divisiveness now, we need a leader who leads with love," Lynn said to the crowd.