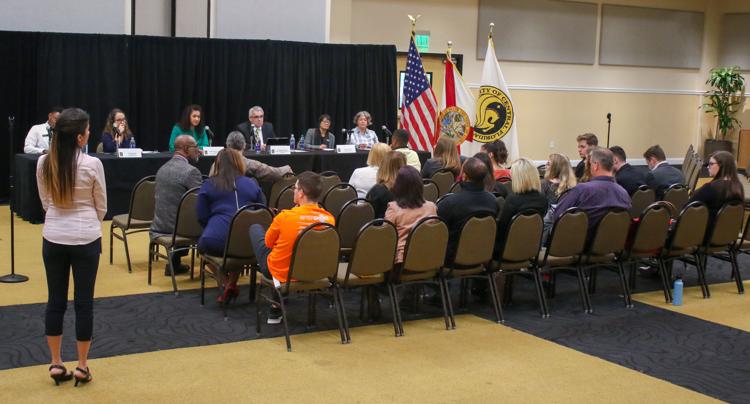 The Presidential Search Committee held two open forums on Thursday to hear the community's input as they continue on with the search for the next UCF president.
The forums took place at 11 a.m. then at 2:30 p.m. in the Cape Florida Ballroom. Both forums were mediated by Managing Partner Alberto Pimentel of search firm Storbeck/Pimentel and associates.
The forums gave individuals the freedom to discuss the importance of a university president's relationship with faculty and students.
"This is supposed to be your search," Pimentel said. "We're just the vehicle to get you there."
At the first forum, one shared sentiment was the importance of having a president who knows how to effectively allocate the university's resources and is capable of increasing these to match the growth of the institution.
"We certainly want this new president to be strategic in thinking about how we can provide the resources for the growth we have at this institution," said Edwanna Andrews, the Director of Social Justice and Advocacy at UCF. "We haven't really focused much on growing resources."
Andrews went on to add the fact that money is getting slim and it is getting harder to hire new faculty because of the salary ranges available. Students will be affected as resources could begin to get cut.
Many forum attendees agreed on the importance of a president who has a strong awareness on contemporary issues of the world — such as sustainability and the rise of sex trafficking — and is willing to speak up about them.
In the forum that took place in the afternoon, attendees compared the potential presidential search to former ones.
"When Dale Whittaker came, the whole vibe and everything changed of the university," said Lauren Phillips, senior integrated business major. "We had someone that was involved, someone that represented us and was involved in what we were doing as students, academia-wise and just for social stuff. I think that boosted a lot of morale in the university just as a student."
Students and faculty voiced that for diversity to continue on campus, all areas of the workforce must be acknowledged.
Pegasus Professor award winner Lisa Diecker said that supporting and hiring individuals with disabilities will allow for that presence.
"We have gender-neutral bathrooms, we have wheelchair accessible bathrooms, but do we really have the mindset for gender diversity and disability diversity in everything we do, or is it 'oh if somebody points it out they do it'?" Dieker said. "I think that's where we're trying to go as a country and I think UCF is so open to that."
Pimentel rounded out the forum with the mention of an online survey, also available in Spanish, that allows the community to send feedback to the committee and aid in their presidential search.
The search for the next president will continue with another meeting in December.