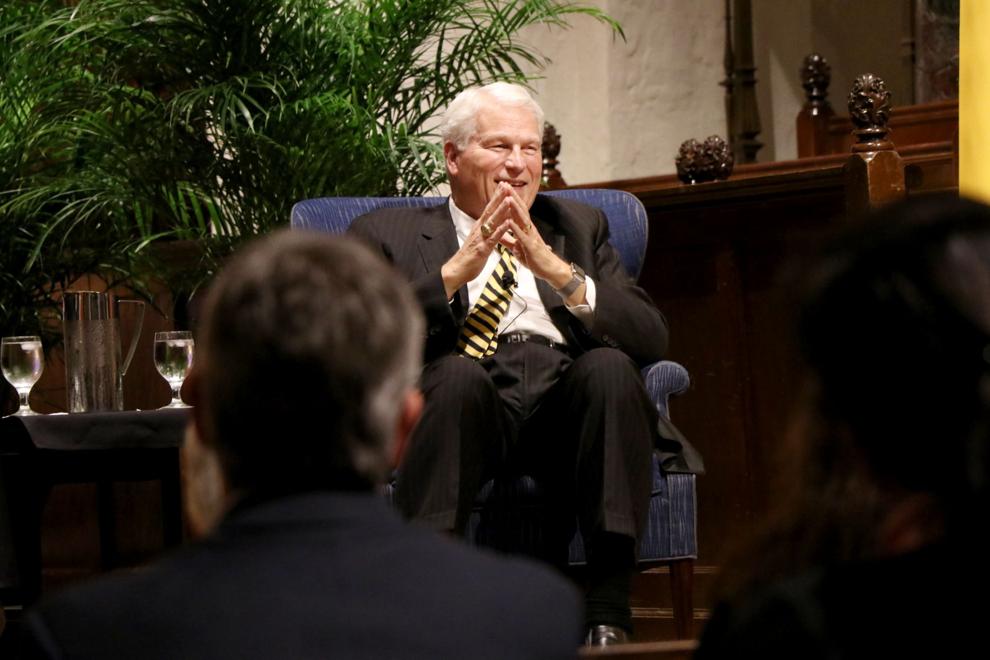 UCF President John Hitt sat down Thursday with Rollins College President Grant Cornwell for a conversation on what it took to be the leader of one of the largest universities in the country and where he's headed next.
After 25 years at UCF and being named one of Orlando's 50 most powerful people, Hitt shared his greatest accomplishments and advice to an audience of board members at the Knowles Memorial Chapel at Rollins College.
Both presidents bonded on the advice that other leaders should follow, like being able to accept the criticism that comes your way, be it hilarious, harsh or a lesson in humility.
"One thing you learn early on as president is you really better have some thick skin and broad shoulders. You will get criticism; some of it, if you're fair and honest with yourself, is well-directed," Hitt said. "Some of it is a reflection of what you [Cornwell] were pointing out, where faculty really is trained in criticism."
But Hitt told the audience that being honest and focused on your mission is what makes a leader the most successful.
"If you know where you're trying to go, it's a lot easier if you think there's something out there you may bump into that will be good," he said. "The reliance on a true self-knowledge and a commitment to articulated values is very important in functioning as a leader."
Cornwell said dealing with the humility fights against the weak moments of being in office.
"I've watched leaders that I've admired and their great qualities, but I've watched some fail and I guess my touch on leadership is grounded in the commitment to the mission," Cornwell said. "Leaders need to be kind and compassionate, and to do this work you have to have a sense of humor every day."
While the topic of leadership steered the conversation, Hitt shared his biggest accomplishment — opening the medical school in 2006. It was even more important to him after suffering from a heart attack at age 66 that year near the university.
"When we started to attempt to get a medical school, people thought we were crazy," Hitt said. "People laughed out loud when they heard the proposition."
During Hitt's presidency, UCF saw significant demographic changes due in part to Orlando's growth. Cornwell was quick to note when Hitt entered the university, the percentage of underrepresented students was at 15 percent. Now it's 45 percent.
"You want a student body, you want a faculty, you want a staff that looks like the community you're in," Hitt said. "That's hard to achieve in many places, but it's not so hard right here in Orlando."
After Hitt finishes his last year, he told the audience that he and his wife are packing their bags and heading for Wisconsin to live in the area near their children.
"It's tough to give up a job I've loved as much as this, but it is time," he said. "I'm going to try to remember what it's like to not set an alarm."