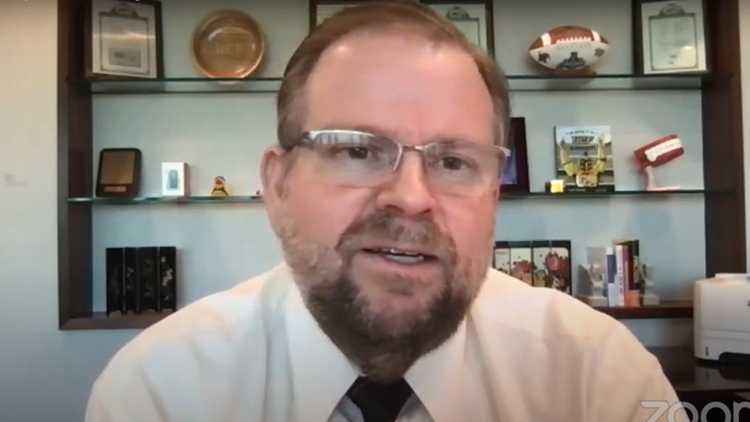 UCF plans to reflect on the semester in a virtual open forum, UCF President Alexander Cartwright said during Thursday's Faculty Senate meeting.
Cartwright said the forum will feature members of campus leadership and focus on insights gained during the fall semester, as well as highlight issues to be focused on. Apart from campus leadership, Cartwright also wants the forum to capture the perspectives of UCF faculty, staff and students.
"I want to reflect on what we've learned so far, discuss the progress and talk about our next steps," Cartwright said. "And again, hear from faculty, staff and students about what they feel we should be doing again in the future."
Sabrina La Rosa, 21, currently serves as president of UCF's Student Government. La Rosa said the planned forum is "an incredible idea" and that a diversity of perspectives will help expand the university's overall progress moving forward.
"When you hear more voices, you get more accomplished," La Rosa said. "The more student feedback we get, the more faculty and staff feedback we get, the better we're going to program and the better we're going to build UCF."
Michael Terry, an associate instructor at the Rosen College of Hospitality Management, said the forum is "an unprecedented undertaking," due to the magnitude of bringing together so many people, even if only on a virtual level. 
"When you go out to the crowds, you open yourself up to lots of positive and negative and all kinds of other feedback that come from all different levels, and you don't know what's coming at you," Terry said. "Not too many people can handle that."
La Rosa said that if she were to participate in the forum, she would stress the unity of the UCF community and how crucial this has been during the pandemic.
"We are a UCF family and just reflecting on how much we've relied on one another during these times and how much we've collaborated and come together as a community," La Rosa said.
Terry said that if he were to participate in the forum, he would emphasize the importance of widespread communication within the UCF community. 
"This sets an example," Terry said. "It sets an example for deans, department heads, staff – 70,000 people that he's setting an example for – and it affects the culture. It could affect the future, one way or the other, for years and years to come."
Terry said a critical topic that deserves further discussion is the idea of "reimagining tomorrow," which means pushing for UCF's innovation as an educational institution as much as possible.
"Let's be contemporary and, beyond contemporary, let's future think and create the future for much of the rest of the country when it comes to communication and action," Terry said.
La Rosa said a topic she would like to see addressed is the process of making UCF a more inclusive and diverse environment. La Rosa said it's always important to "push the conversation of diversity and inclusion."
The end-of-semester open forum is tentatively planned for Dec. 4. Cartwright said that a message with details on the forum's official date and time will be sent out to the UCF community early next week.