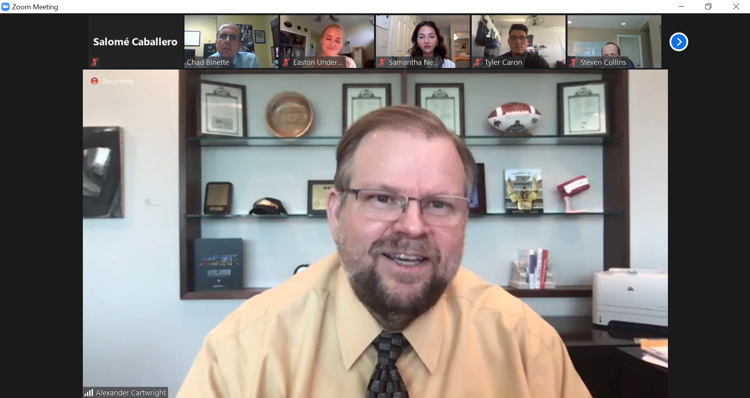 UCF President Alexander Cartwright addressed student concerns in a press conference with student media on Wednesday.
Cartwright started off the conference with answering a question about the CARES Act and the second round of funding. On June 24, UCF announced the second round of CARES aid. 
"We're hopeful that there would be an additional round of funding that would come and that was a lot of discussion at the federal level that there would be additional funding through programs for stimulus packages," Cartwright said. "I hope if that does come through, that we would then be able to do something."
When asked about what UCF was doing to address the digital divide within the university regarding students who do not have access to Wi-Fi or computers, Cartwright said that this situation weighed heavily on him while making decisions about the fall semester.
"It is a huge challenge, and it is unfair in many ways," Cartwright said. "I worry about this because if you're someone who can't afford the highest speed internet or anything like that, then how do you actually have access in a way that allows you to be able to be on the same level in terms of having access to information as the other students."
Cartwright said that UCF has a program in place to allow students and faculty access to check out different types of equipment when they need it. He also said that students have access to all the facilities UCF has available to help them.
Cartwright said, regarding the 2020 football season, the health impacts of COVID-19 have been discussed and UCF has been working with Orlando Health and UCF'S own medical professionals to combat them.
"We are putting in place a protocol where people are going to be tested a lot," Cartwright said. "Looking at how can we even do additional testing so that if there is anybody who gets a positive, that we are able to isolate and help make sure the spread doesn't occur among our athletes."
Cartwright said that the university has discussed stadium capacity and decided to minimize the number of people allowed in the stadium to only 25% and the number of people allowed on the fields during games.
Cartwright also said that there will be a protocol in place if student athletes test positive a few days or a week before a game. If an athlete does test positive for the virus, he said UCF will look into whether the student has attended practices with teammates.
"If people are seen as close contact, then you have a number of people we have to isolate and the length of isolation is 7-14 days," Cartwright said. "If that happens, then those people won't be able to play."
He said the reason why the university has decided to open up the Bounce House during games but has not announced any in-person commencement ceremonies was because they saw issues with compliance in the stadium and risks with multiple students walking across the stage to receive their diplomas.
Cartwright said he didn't see how they could manage it easily.
"We talked about how do we give the ceremony that people deserve to have in the future,'" Cartwright said. "And we are still committed to doing that at some point for those who didn't have that in-person graduation."
As for what would it take for UCF to end up going fully remote, Cartwright said factors, such as data trends and monitoring the amount of positive cases, would need to be addressed before making that decision. UCF is in the position to switch if need be, he said. 
Positive cases are reported on the UCF COVID-19 dashboard weekly rather than daily. Cartwright said that weekly reporting of positive cases reduces the number of blips in data and that he saw no immediate public health response that would change if UCF did daily reporting of positive cases.  
Cartwright also said while UCF would not use the UCF Alerts when warning students of clusters, they would be notifying people of increased cases in certain areas.  
Cartwright said that while the university might not be able to test everyone, UCF is looking into large-pool systems, like testing sewage water from buildings to track high-risk areas.
Cartwright said that, in regards to complaints of large groups of students congregating on campus, UCF needs to be following up with those who are not practicing social distancing and addressing it.
"We need everyone to follow the policy," Cartwright said. "It has to be that we social distance and we do need mask wearing."