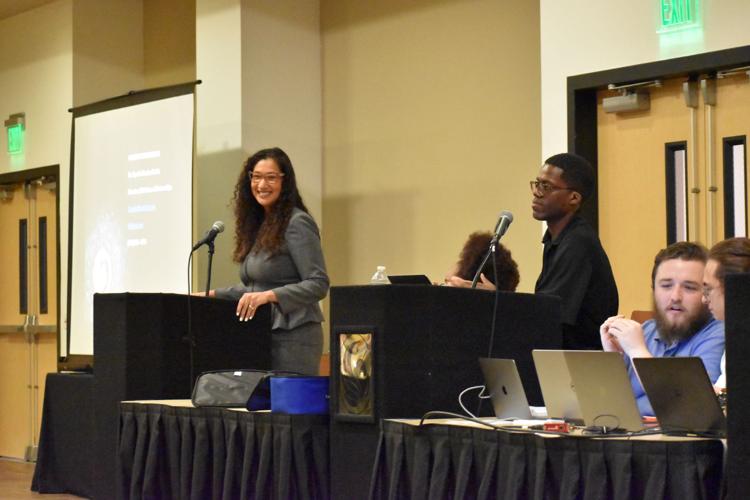 Student input was requested by the Office of Diversity and Inclusion for a new federal grant proposal at the Student Government Senate meeting on Thursday.
The Developing Hispanic-Serving Institutions Program grant brought to attention at the meeting is awarded by the Department of Education to Hispanic Serving Institutions. UCF was formally recognized as an HSI last January because over 25% of the university's students are Hispanic or Latino.
Cyndia Muñiz, director of HSI Culture and Partnerships at UCF, said the grant would help strengthen the entire university, with a particular focus on career readiness programs. These programs would help all UCF students, not just those that are Hispanic or Latino, according to UCF's official HSI website.
"Our goal is to be a national model of what it means to have an inclusive HSI culture," Muñiz said.
UCF SG Senator Michael O'Blenis said he wanted to know exactly how far the grant extended towards helping all students.
"I'm just curious how this will assist graduate minority students in applying for UCF as well as staying active at UCF as a graduate student," O'Blenis said. "Will any of these funds actually assist graduate minority students due to the fact that historically minority students do not reach the higher level of education in grad school?"
Deputy Pro Tempore of Legislative Affairs Giorgi Beruashvili recalled when Muñiz last spoke to the SG Senate of the goals she wished to achieve once UCF became an HSI. He said he was impressed at how quickly those goals have been accomplished.
"I feel proud of being a Knight and I feel accomplished that UCF is doing such great things," Beruashvili said.
The mention in Muñiz's presentation about a psychology professor who had received funding as a result of UCF's HSI status hit close to home for Kenzie Dye, a first year Ph.D. student in the industrial and organizational psychology program.
"I think also one of the perks of being at such a large university, like I was a little daunted by how big it was because my undergrad was a lot smaller," Dye said. "But I've seen that they're trying to fund not only the Hispanic population, but build up UCF as a whole because we're all one."
The grant proposal is due Feb. 10.
"Our HSI identity is an additional aspect of who we are," Muñiz said. "It's not only, but also."