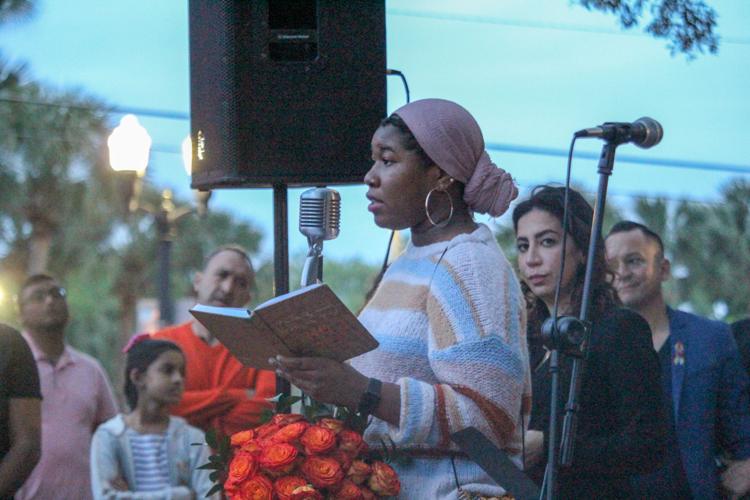 Brandon J. Wolf remembers not being able to leave his house after surviving the Pulse nightclub shooting in Orlando in June 2016.
He said he built up the courage to attend a vigil at the Dr. Phillips Center for the Performing Arts in downtown Orlando on June 13, 2016, one day after the shooting.
He described the despair he felt as he left the vigil and saw pictures of his friends smiling on display. He said he broke down and sobbed in front of the pictures of his friends, and he "thought [this pain] might kill [him]."
Now, three years later, Wolf said he understands the pain and agony of those affected by the shooting inside two mosques in Christchurch, New Zealand. 50 people died and 50 were injured in an attack on the Linwood and Al Noor mosques on Friday.
"While I was sitting there and sobbing, two arms wrapped around me, and I suddenly felt peace," he said at the vigil. "They whispered in my ear over and over again, 'You are loved.' When I finally looked at the stranger behind me, it was a Muslim woman wrapped in a hijab. [She] looked different than me, had a different belief system than me but had the same intense love in her heart."
About 200 people attended the "From New Zealand to Orlando: A Healing Circle" vigil at Lake Eola Park in downtown Orlando on Saturday.
Co-organizers Rasha Mubarak and Nuren Haider created the event to show support and solidarity for the shooting in New Zealand and to remember the 50 lives lost who were praying at their mosques, they said at the vigil. 
"We [are doing] this for the 49 of Orlando to the [50] of New Zealand, and all marginalized communities who were taken at the hands of senselessness and bigotry," Mubarak said. 
Various speakers from the Central Florida community gathered Saturday, including Orlando Mayor Buddy Dyer, State Attorney Aramis Donell Ayala and Orange County Democrats Chairman Wes Hodge.
UCF junior sociology major Alaia Chaisen, 21, said she went to the vigil alone but felt comforted being with so many other members of the Muslim community.
"I feel much more at home than I thought I would," she said. "When things happen like this, especially when it happens so often now, it's hard to find a sense of peace. Being with others helps more than anything."
Chaisen said this is the third vigil she has attended since moving to Orlando — her first being the one for the Pulse shooting in June 2016 and second being a vigil for the Tree of Life synagogue shooting in Pittsburgh in October 2018. 
"I don't know why it's taking [politicians] so long to realize that guns are a big part of the reason this keeps happening to us," she said. "How many more lives need to be lost or impacted before we enact change?"
Christine Leinonen also spoke of the impact of gun culture and gun violence when speaking about the Pulse shooting where she lost her son, Drew. 
"I hope no mother or parent feels the same way I have felt every day since June 12, 2016," she said. "But I know all too well that I am not alone, and I am a part of a growing group of parents losing children to gun violence." 
Sophomore undeclared major Rasheen Tariq said being around her fellow Muslim brothers and sisters made her realize the strength in the Orlando community. 
"It still hurts, and I think it will always hurt," she said. "But being here and seeing the people supporting — it comforts me."
Following the speakers, Nick Massoni and Mark Pierpont led the attendees in a rendition of "Amazing Grace."
Attendees then formed a "healing circle" in the corner of the park. Hand-in-hand, the circle of nearly 200 people encompassed the northeast patch of Lake Eola Park. 
Mubarak and Haider led the group with a final message of strength and solidarity.
"If you look around, we are all here for the same purpose — to comfort others and understand our grief today," Mubarak said. "We can only continue to fight by staying together. We cannot forget that we are so much stronger together than apart."