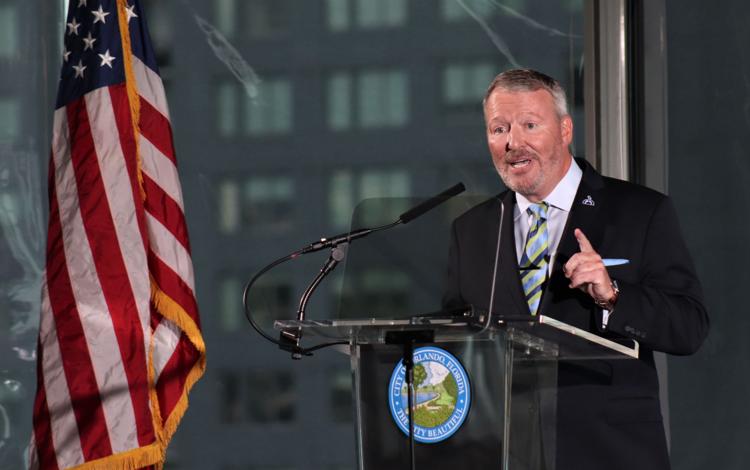 Mayor Buddy Dyer emphasized the inclusion of low-income community members in the technological and economical development of Downtown Orlando. 
"In our town we don't leave our neighbors behind," Dyer said. 
The statement came after announcing his vision to make Downtown Orlando the city's tech hub for innovation, arts, education and creativity at his annual State of Downtown address. The event took place at the Seaside Plaza in the Creative Village on Wednesday afternoon and had a little over 400 attendees.
With the announcement of Electronic Arts relocating their headquarters in Downtown Orlando, Dyer said jobs and opportunities for investors and growth are expected. Yet he said these developments should be for "every person that lives, works, and learns here."
Dyer called on furthering affordable housing plans and said the Parramore Kidz Zone program was one of Orlando's proudest achievements. The program is aimed at leveling the playing field for underprivileged children to reach college and career advancement.
Rep. Anna Eskamani, District 47, said she appreciated the mayor's celebration of accomplishments but also his recognition of the need for improvement in certain areas, like expanding affordable housing.
"Affordable housing is key," Eskamani said. "I don't want our community members, especially in areas like Parramore, to not benefit from some of these exciting advancements because they can't afford rent."
Another major announcement was the expansion of transit and connectivity in the city beautiful. This includes extending SunRail and the Virgin Trains network, direct connections to the airport, and even bike-sharing and e-scooter programs.
"Transit options will be really important," Eskamani said. "It will be key to downtown Orlando's success."