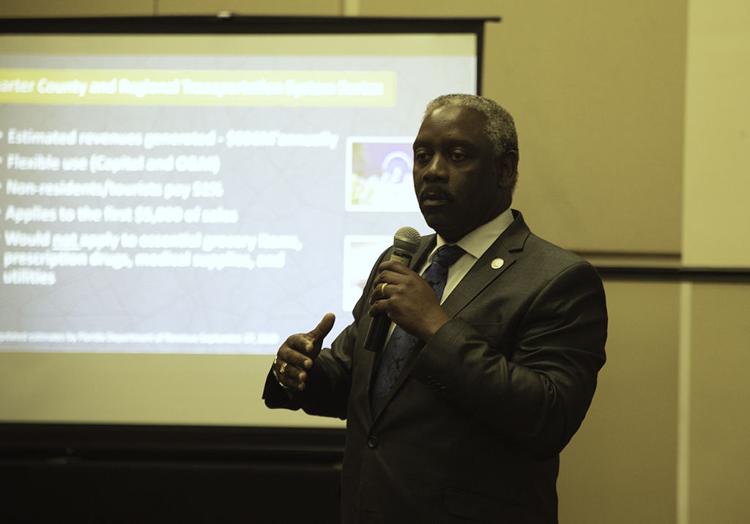 Orange County Mayor Jerry Demings hosted a listening session at the Student Union on Wednesday where he was supposed to engage UCF students in a conversation on public transportation, but instead it turned into a discussion of the 1-cent sales tax policy.
Deming's 1-cent sales tax policy was announced last May to be pushed out November 2020. The tax is intended to provide the funding to develop transportation in Orange County with more and more people staying here.
In the process of developing public transportation, UCF plays a pivotal role in the process of developing transportation, Demings said.
He said Orange County's two bus companies, Lynx and SunRail, would be improved once sale taxes are used to fund public transportation, easily linking UCF to other areas, such as Downtown Orlando.
"We will work potentially in partnership with the University of Central Florida to make that cause something that the students can afford," he said.
Austin Wilson, a junior majoring in political science, attended the session and said he expected the 1-cent sales tax to fund mass transit. 
"[I'm] coming here to see what's the situation with mass transit and what new innovative ideas that the mayor in the county can bring to the mass transit," Wilson said. "I'm happy that the county and the mayor are doing this kind of sessions, because I definitely feel like it's important to get the public input."
At the session, Wilson asked the mayor what kind of strategies that may fall in line with the tax as well about how to encourage more people to use mass transit and see the benefits.
"In order for people to really use mass transit, it has to be convenient for them," Demings said. "The frequency [of using mass transit] has to be improved, and the means of connectivity has to be there."
According to the 2019 State of the County address, communities are growing within Orange County by about 1,000 new residents each week. Tourism is growing as 50 million passengers come through the airport on an annual basis, bringing in a record number of 75 million people visiting the county.
Demings said Orange County's transportation, however, is at the bottom of the undeveloped public transportation systems in the country, even though it has more people now. It does not have local, dedicated funding sources that support transit and transportation like other metropolitan areas.
"I just believe that the best methodology that we have is the sales tax," Demings said. "The sales tax is the only methodology that we have research that will produce billions of dollars all the time. One penny sales tax will produce nearly $600 million in annual revenue."
Acting Assistant Director of Orange County Government Carla Bell Johnson attended the listening session and told attendees why the county would like to push the sales taxes policy on funding to mass transit.
"Property taxes, gas taxes and sales taxes have been historically the traditional funding sources for transportation," Johnson said. "But they have increasingly not been able to meet our needs, so we've had to really more on property taxes and sales taxes to support our transportation needs."