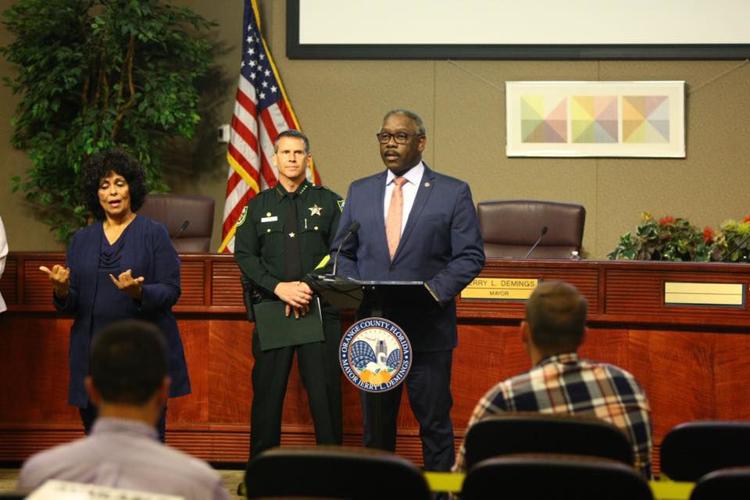 Orange County Mayor Jerry Demings signed a stay-at-home order Tuesday that prohibits residents from leaving their homes except to conduct necessary activities amid the COVID-19 pandemic.
The order will go into effect Thursday at 11 p.m. and continue through April 9 at 11 p.m.
The order was put in place to reduce contact between people and protect members of the community. As of Tuesday, there have been 1,412 positive cases of the coronavirus in Florida and 50 positive cases in Orange County, according to the Florida Department of Health.
"I do not take signing this order lightly, before coming to the conclusion that a stay-at-home order was necessary," Demings said during a press conference on Tuesday. "I had a conference call with all the elected mayors here within Orange County to hear their thoughts. Every mayor was deeply concerned with the welfare of residents here within Orange County."
During the stay-at-home order, a list of activities was given stating what residents can and cannot do. Here is the full list, according to the order:
Permitted:
• Going to the grocery store or pharmacy to purchase food and essential items.
• Going to medical appointments.
• Going to restaurants for takeout.
• Caring for a family member or loved one.
• Taking a walk, riding a bike, jogging and be outside for exercise but keeping at least six feet of space between people.
Not permitted:
• Going to work unless an individual is providing essential service defined by the order.
• Visiting friends and family if there is no urgent need.
• Maintain less than six feet of space between an individual and others while out.
Penalties for anyone who violates this emergency executive order include a fine of up to $500, imprisonment in the County Jail for a period not exceeding 60 days, or by both, according to the order.
Also at the press conference was Orlando Mayor Buddy Dyer, who said that, as a city, with our partners here in Orange County, we have a lot of difficult decisions we have to take to stop the spread.
"The longer we wait to take additional measures, the longer it is that we're going to battle with this virus," Dyer said. "So, we know that these decisions that we make, we don't take them lightly. They have economical consequences, they have emotional consequences, but we have to continue to act now if we are going to save lives."