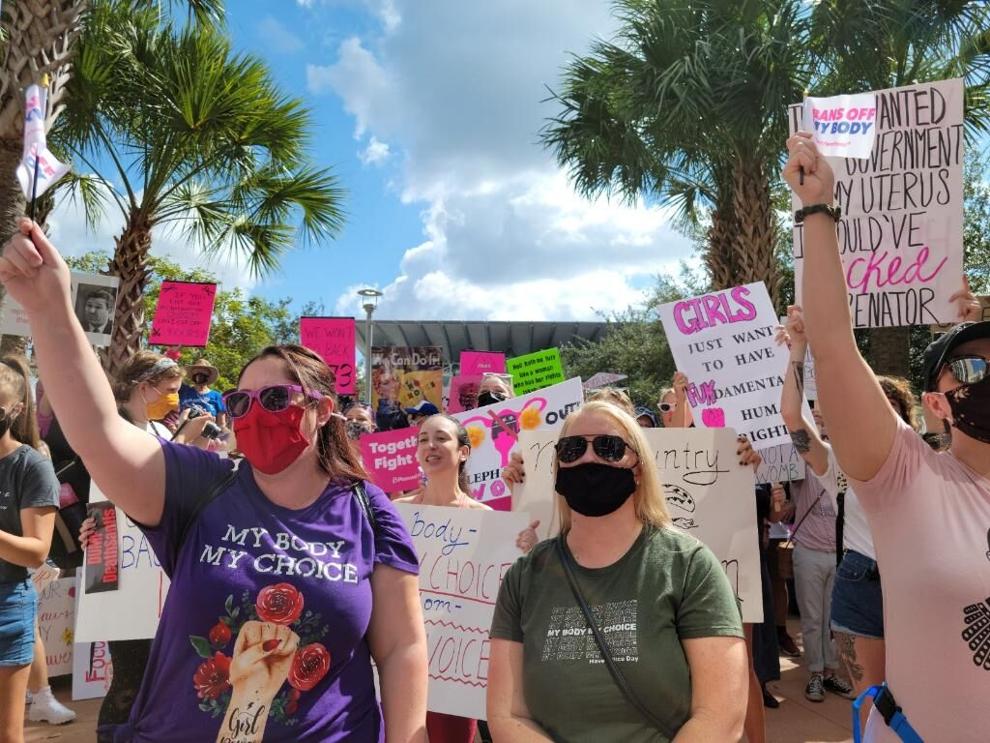 Thousands of people rallied in downtown Orlando in front of City Hall Saturday as part of a response to abortion access coming under attack in Florida and throughout the country. 
This rally comes after a bill in Texas known as SB 8, which bans abortion once a fetal heartbeat is detectable, went into effect in early September, as well as the filing of a similar bill in in the Florida House of Representatives, HB 167, on Sept. 22.
People Power for Florida, a political committee founded by Rep. Anna V. Eskamani, D-District 47, hosted the march, which included guest speakers such as political science major Ciné Julien, who appeared with the Florida Access Network. 
Eskamani, a UCF alumna and former Planned Parenthood director, said the march Saturday was part of a national call to action to host rallies and marches for abortion access. 
"This day is actually picked because it is the week where the Supreme Court of the United States begins to hear the 15-week abortion ban out of Mississippi," Eskamani said. "So, that bill is already moving through the Supreme Court and (the Supreme Court has) agreed to hear it actually on Dec. 1, but October is when SCOTUS decision will begin to be heard." 
Eskamani said this was not only a response to what is happening in Texas, but it is also a response to the national efforts of anti-abortion extremists who have been pursuing the ban of abortions. She said Central Floridians, through their participation in the rally, are speaking to the U.S. Supreme Court, communicating that abortion access is a constitutional right that must be protected. 
"(Central Floridians) are also sending a message to the state lawmakers to say 'no bans on my body' and to stop supporting new restrictions on abortion access here in the United States," Eskamani said.  
As the crowd gathered on the steps of City Hall, people held signs with various slogans, such as "My body, my choice," and wore pink T-shirts that read, "Planned Parenthood in Solidarity." 
Julien spoke to the cheering crowd and said he is a Black, transgender and queer UCF student, who uses he/they pronouns, and proudly works as a reproductive justice organizer for Florida Access Network. 
"I represent the trans and queer folks who are constantly left out of the reproductive rights and justice conversation," Julien said. "Trans people need abortions too. Reproductive justice is a human right to maintain personal bodily autonomy, have children or not have children and parent the children (people) have in a safe and sustainable community." 
Julien said as a trans person, he deserves the right to create his family the way he envisions. 
"I deserve access to abortion; I deserve affordable fertility options," he said. "I deserve the right to adopt children without facing discrimination, and I deserve gender-affirming health care without government interference." 
Julien said the same lawmakers who want to prevent people like him from having gender-affirming health care also want to restrict abortion, so people must always advocate for abortion justice and trans justice. He said this is something that resonates with Florida Access Network's mission statement and values. 
"(Florida Access Network) values reproductive justice a lot," Julien said. "That's what (it) does every day: providing stipends and funds for folks who need help getting to their abortion, access to resources and things like that." 
Among the many people who showed up to the rally and marched throughout downtown Orlando, chanting slogans such as "abortion is health care," were also men.
Dylan Hall, president of the College Democrats at UCF, said a lot of the solidarity, particularly with men, comes from the understanding that men need to stand together with all those who are directly impacted by abortion access. Hall said abortion access, when looked at with a 21st-century perspective, is not solely a women's issue: It also includes LGBTQ+ and nonbinary people. He said men's solidarity with the fight for abortion access is important because it's a fight "that requires as many allies as possible." 
"It helps push the overall message regarding the need to have access to abortion services," Hall said. "In general, it's something that is extremely important and something I encourage all people, regardless of their gender, to maintain an active presence and be advocates for the people around them."