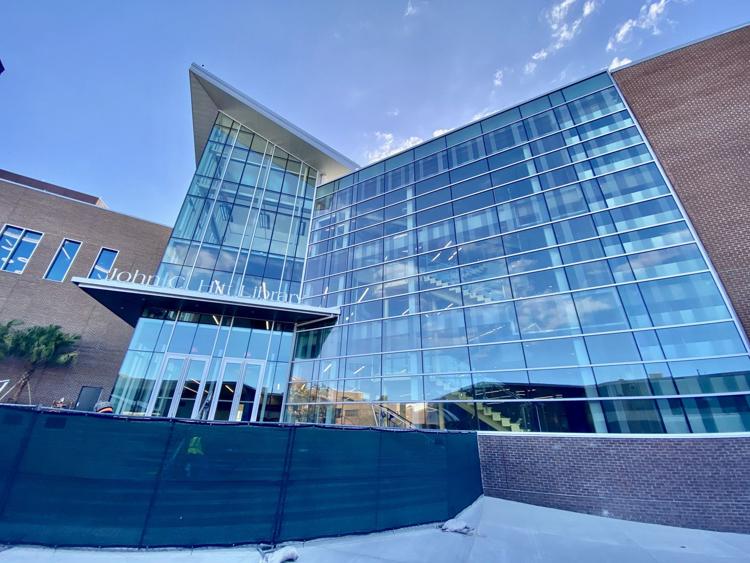 A 21st century-style expansion of UCF's John C. Hitt Library, Phase 1A, is set to open to students no later than April 2020 after being under construction since May 2018. 
The new space is essentially complete, according to Frank Allen, senior associate director of UCF Administrative Services. 
"The university is working through safety and building code inspections in order to be able to open the space," Allen said.
Phase 1A of the library will include 1,055 new public seats and additional study spaces, both individual and collaborative.
Part of the expansion efforts also include a new fourth floor "Reading Room," 84 computer stations, an art display, a new outdoor plaza and a larger entrance that merges the Student Union and John T. Washington Center together.
Allen said he believes the renovation is beneficial for students because of how busy the existing library already is — with the help of the new space, students will be able to find more study locations with charging ports at arm's reach. 
"It is hoped that this will provide an enhanced atmosphere for study, learning, collaboration and research," Allen said. 
Senior finance major Amily Abraham said she believes the expansion will allow more students to study and use the library to their advantage because it will provide more space with a less crowded environment.
"I believe expanding the library was necessary because looking for a place to study is always a challenge," Abraham said. 
Library administration said there will be future renovation phases that will include a study area on the first floor. This study area will be open Monday through Friday for 24-hour student access with its own after-hours entrance. 
The future phases will also introduce a dedicated graduate student study area, study alcoves, and a bigger space for the Student Academic Resource Center and Writing Center.
Junior psychology major Heba Akbar said she is eager to see the library renovation after a long wait.
"I think I will use it because the extra space is much-needed," Akbar said. "I'd like to sit in a new place and be able to have some space while studying." 
The library is the oldest building on UCF's main campus. According to Allen, the library is aging and it is important to continue to improve it by renewing the space. A majority of the furniture in the building is approximately 20 years old and the number of physical seats is low compared to the main campus enrollment. 
Allen said that Phase 1A, and the furniture chosen for it, were carefully thought-out over the past several years by using input from students and architects who have extensive experience planning academic and library spaces.
"It is hoped that with this added space with brand new furnishings, new service areas, additional group study spaces and new quiet study areas on the fourth floor, students will have a more pleasant and expansive environment in which to study, collaborate and conduct research," Allen said.