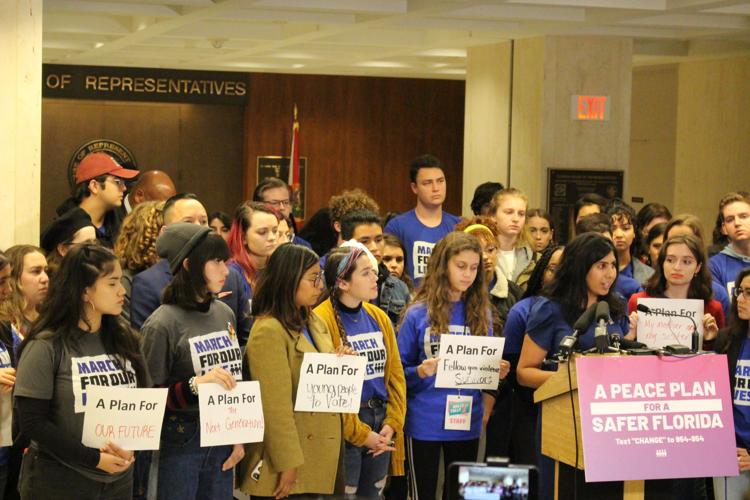 UCF students who are members of March for Our Lives Florida gathered with students from other universities and high schools to confront house representatives and senators in Tallahassee about their anti-gun violence peace plan Thursday. 
March for Our Lives is a student life organization dedicated to ending gun violence in the country and the state, according to UCF student and state director for MFOLFL Serena Rodriguez. 
After a long bus ride of strategizing and preparing speeches, MFOLFL entered the state capital, to announce their policies to reduce gun violence in a press conference held in the capital.
MFOLFL set up this press conference in order to propose its peace plan. Sen. Gary Farmer, UCF alumni and state representatives Anna Eskamani, and Carlos G. Smith were present.
"Our plan has six steps that are summed up in 'C.H.A.N.G.E,'" Rodriguez said.
March for Our Lives uses the acronym C.H.A.N.G.E. to refer to its set of initiatives. It stands for: change the standards for gun ownership, halve the rate of gun deaths in 10 years, accountability for the gun lobbying industry, name a director for gun violence prevention, generate a community-based solution and empower the next generation.
"We know that gun violence is an epidemic that not only takes place in this state but also this country," Rodriguez said. "Even on our trip up here we saw how gun violence impacted the community of Santa Clarita."
Earlier that day at a high school in Santa Clarita, Calif., two students were killed by a school shooter who used a handgun in the attack. 
"America knows this pain and knows this outrage and to the community of Santa Clarita we stand with you," Rodriguez said. "While mass shootings are a tragedy, we know that gun violence is an everyday reality in communities across the states."
The podium was yielded to representative Eskamani who discussed the impact of changing gun control laws. She expressed her gratitude for the students and described how inspired she was being surrounded by young people.
"Y'all are the future and we're fighting for you every damn day," Eskamani said.
She began her speech by introducing Farmer, who also acknowledged the dedication of the students in attendance. Farmer said that assault weapons have a sole purpose: to kill a large number of human beings.
"There is no need for an assault weapon today," Farmer said. "If you are a private citizen or you want to defend your home, you can do that without an assault weapon."
Students applauded as Eskamani made her way back to the stand to speak about domestic violence and gun use. She said one of the bills she sponsored alongside Sen. Lori Burman focuses on keeping guns out of the hands of domestic abusers. The bill itself states that a firearm can be removed from a home when there is domestic violence in the relationship.
After Eskamani presented, Smith, gave detail to what MFOL's peace plan entailed through Bill 627 which would initiate a ban on military-style weapons and large capacity magazines.
"The reason that we are re-introducing this legislation is we understand that military style assault weapons and large capacity magazines are weapons of war. They are made for war and they do not belong in civilian hands," Smith said. "They are the gold standard for mass murders and mass shootings."
An additional initiative supported by MFOLFL is to increase voter turnout, especially among a younger demographic.
Karen Caudillo, a UCF student also representing MFOLFL, spoke about part of their peace plan to empower the next generation.
"We've registered thousands of voters," Caudillo said. "Our coalition met at 4 a.m. on Election Day and dropped off election reminders [for] young people to six student housing buildings at UCF including the largest student housing community the country."
At the conclusion of the press conference, a few students belonging to MFOLFL made their way to Gov. Ron DeSantis' office to deliver their initiative.
Students gathered around the lobby of the capital afterward and took a moment to recognize the students lost in the Parkland shooting by standing with 17 pairs of empty shoes among them.
They pridefully chanted, "We have come too far. We won't turn around. We'll flood the streets with justice. We are freedom bound."