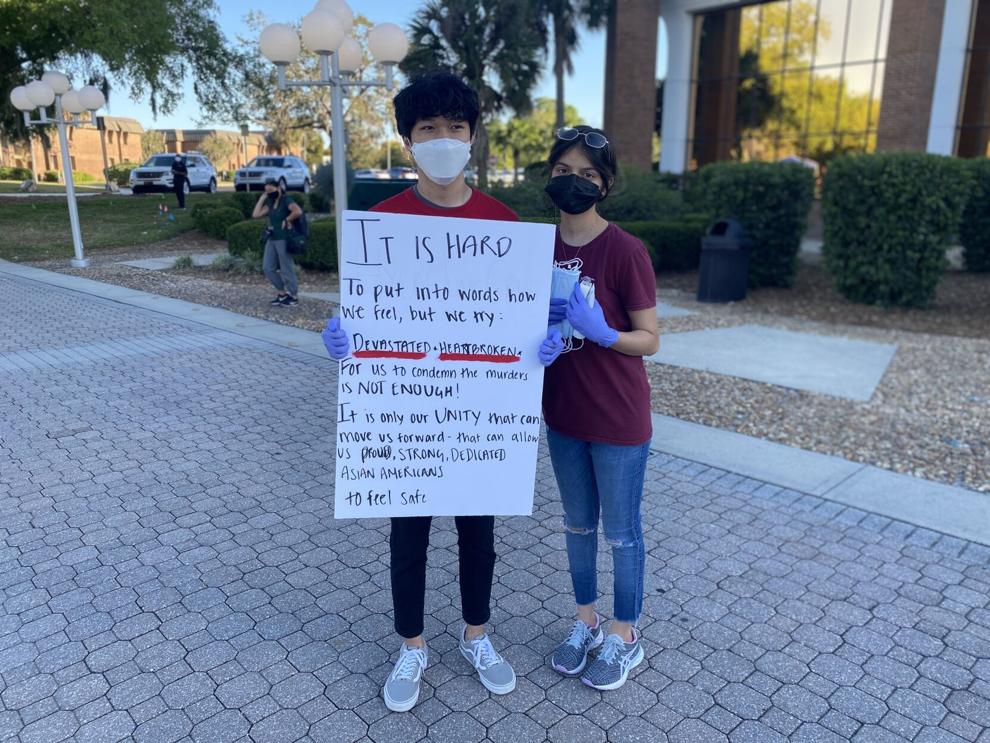 The Asian Pacific American Coalition, Student Government and the Social Justice and Advocacy Department hosted an in-person vigil Tuesday evening at UCF to honor victims of anti-Asian hate crimes.
The vigil, named "Moving Mountains," featured calls to action, prayers, song and a lantern ceremony at the Reflection Pond. Speakers included UCF staff members, student leaders and Orlando community activists. 
Adrian Lee, senior international and global studies major and the president of APAC, said that the Atlanta shooting frustrated but didn't surprise her because of the rising hate crimes against Asian Americans since the pandemic started. 
On March 16, a gunman opened fire at three separate massage parlors in Atlanta, killing 8 people. Six of the victims were of Asian descent.
"There is a history of hate crimes and how gas-lit the minority community is," Lee said. "Our fight for Asian American activism is wanting to investigate what it is that dehumanizes people so that they're viewed as objects of mass shooting."
Lee said that she had reached out to the UCF administration for recognition of anti-Asian hate crimes and racialization, but only one statement was issued by Interim Chief Equity, Inclusion and Diversity Officer S. Kent Butler on March 17. She decided to focus her efforts on the vigil being a grieving space but also a place for calls to action.
"It was performative," Lee said. "One line is not enough to console students who were devastated at the news, shocked and afraid. They're not giving the attention that the tragedy deserves."
Mimi Chan, UCF alumna and chief instructor of the Wah Lum Kung Fu and Tai Chi Temple, said at the vigil that hate can spread as quickly as the coronavirus has, if allowed. 
"The entire world was impacted by the pandemic in 2020," Chan said. "However, the Asian American community has been fighting two viruses this past year: COVID-19 and hate. Hate is a virus."
The nonprofit organization Stop AAPI Hate received almost 3,800 reports of hate-related incidents against Asian Americans since the beginning of the pandemic, Chan said. 
SG Senate President Emma Custis said that a severe lack of resources is the reason that Asian American student enrollment is so low, including the lack of an Asian American faculty and staff association. 
"As knights we should speak up for one another," Custis said. "Faculty and administration need to speak up for students by means of action. There are resources for mental health but zero mention of any program implemented to create a more diverse campus community."