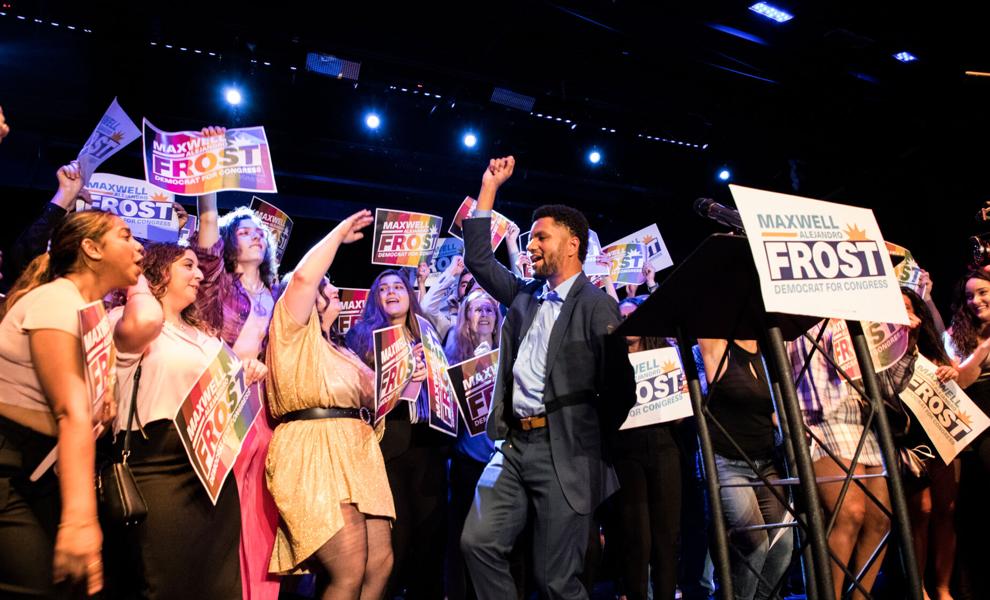 On election night, UCF students danced and cried at the midterm outcome as Republicans secured a majority in Florida.
"I feel like this midterm is crucial for seeing the direction of the country in terms of issues like immigration, abortion rights and even like voter suppression and stuff like that," sophomore theatre major Izzie McKenzie said. "It's a pivotal moment. "
UCF students attended watch parties all across Orlando. Some gathered in a small theater downtown, while others were at a chain restaurant or home with their friends, checking their phones minute by minute on Tuesday night. While Gov. Ron DeSantis and Sen. Marco Rubio were re-elected, the 37th District that covers UCF will receive a new state representative: Susan Plasencia, who defeated Rep. Carlos Guillermo Smith in a close race, according to the Associated Press. Maxwell Frost, a 25-year-old first-time candidate, won his seat in the 10th Congressional District, becoming the first in Generation Z to make it to Congress. 
Republican Susan Plasencia wins District 37 in Florida House of Representatives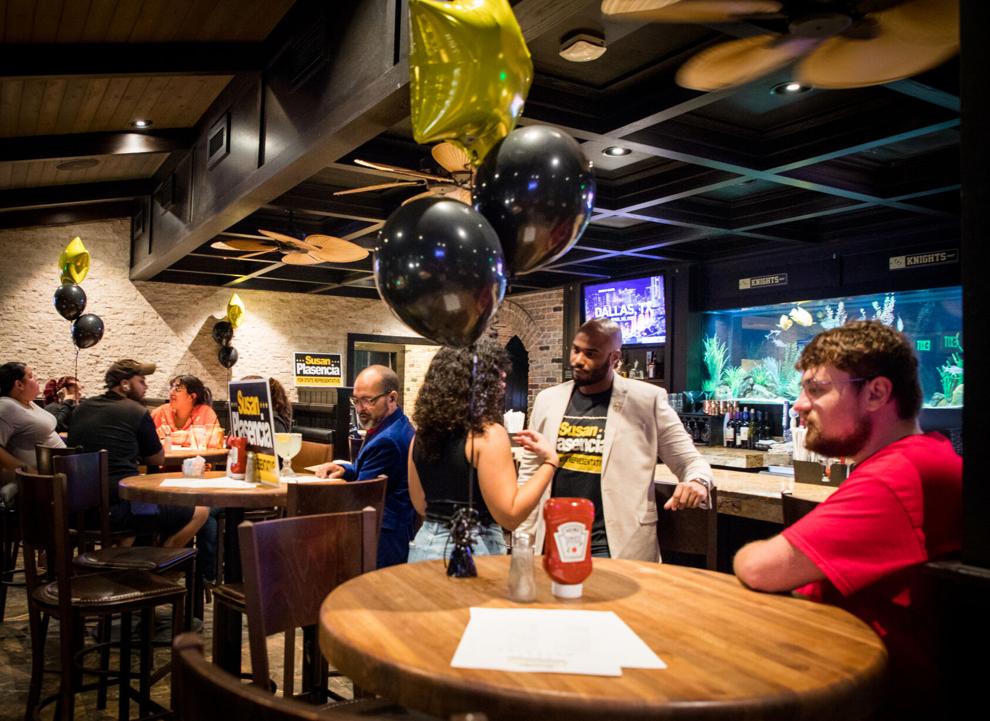 At Cheddar's Scratch Kitchen off of East Colonial Drive, Plasencia and her supporters celebrated winning the Florida House District 37, which covers the UCF campus and surrounding neighborhoods. One of her supporters, Kevin Schiffli, a senior in informative technology, was hopeful of voter turnout despite heavy storms in Orlando on Tuesday. For him, having a smaller government was an important topic during the midterm election.
"I think it's important that we have a government that will listen to what we're saying and will let people make their own decisions," Schiffli said.
Plasencia is a daughter of a Puerto Rican mother and a Cuban immigrant father, according to her campaign website. She said she has never run for office before, but she was unhappy with the representation in the district. When the Parental Rights in Education bill, also known as the "Don't Say Gay" bill, was introduced, Plasencia said she found the community was supportive of the bill despite Rep. Carlos Guillermo Smith's opposition to the bill, then she decided to run for office. 
"I found that it was out of touch with the people who were here," Plasencia said. "And that's when I said, 'OK, so that's it. I'm not waiting, and I'm not waiting; I'm going for it.'"
Across town at the Abbey, Smith, a UCF alumnus, promised he was not going anywhere after serving the Orlando and UCF communities for six years during his concession speech in a packed room of supporters. Some supporters cried while Smith said his goodbye as a representative. Smith became the state's first openly gay Latino lawmaker when he was first elected into office in 2016.
"It was a tough night," Smith said to NSM Today. "It was a very difficult night. But we'll bounce back from this, and we'll keep doing the work for the people."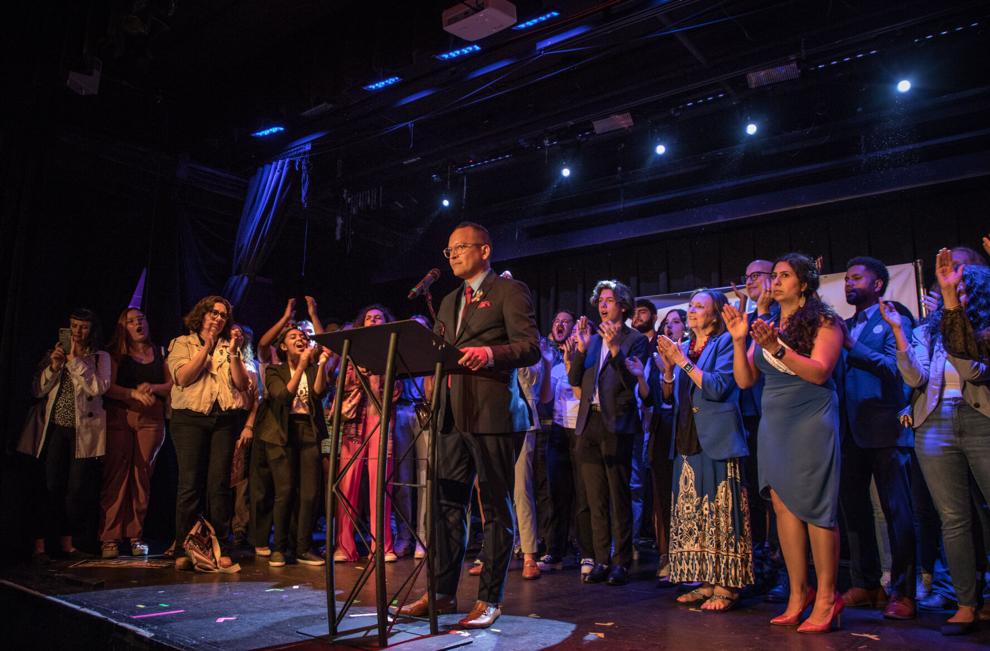 During his speech, Smith said his opponent was bought by, what he calls, the "DeSantis Machine." Plasencia's top donors include Florida House Republican Campaign Committee and the Republican Party of Florida, which donated a total of $129,865, according to Transparency USA. 
McKenzie helped with Smith's campaign throughout the election season, knocking on doors and educating students, but McKenzie cannot vote in the United States because she is from England. Despite not being able to vote for Smith, she organized because her parents taught her how important democracy was. 
"And so, they always told us do what you can and not to be complacent just because you can't help in the traditional way," McKenzie said. 
In her organizing efforts, McKenzie helped host rallies downtown and found inspiration from the help of Smith. McKenzie said the current policies on abortion scare her and that she hopes to see better immigration policies.
During his concession speech, Smith said he believes women deserve their freedom, a nod toward supporting legal abortion.  
Plasencia's campaign promises include protecting parental rights in education, decreasing the cost of homeowners insurance and placing trained police officers in public schools for safety, according to her website. 
Democrat Maxwell Frost wins 10th Congressional District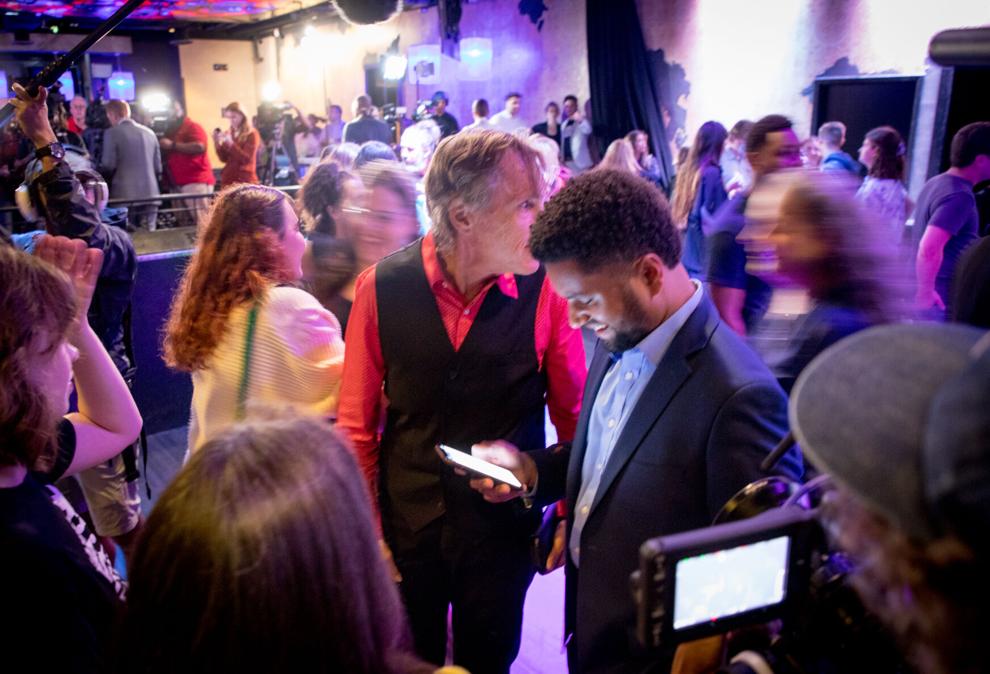 Earlier in the venue, the energy was amplified with "Alright" by Kendrick Lamar blasting through speakers as Frost and his supporters danced together after they found out he won the 10th Congressional District. Frost, an activist since he was 15, led his campaign on ending gun violence, advocating for affordable health care for everyone and tackling environmental injustice, according to his website. 
The district's incumbent, Val Demings, did not run for re-election, leaving the seat up for grabs for Maxwell Frost and Republican candidate Calvin Wimbish, according to Ballotpedia. Frost won the Democratic candidacy in a tight primary race with nine other politicians on Aug. 23.
Melissa Saucedo, a senior in political science, said she is mourning losses of races like Smith's but celebrated Frost winning. Saucedo's support for Frost is sentimental because of Frost's intentions for gun reform.
"And that means a lot to me as a survivor of gun violence," Saucedo said. "To have someone who knows what that's like — who knows what's at stake and who's really going to advocate for that in legislation."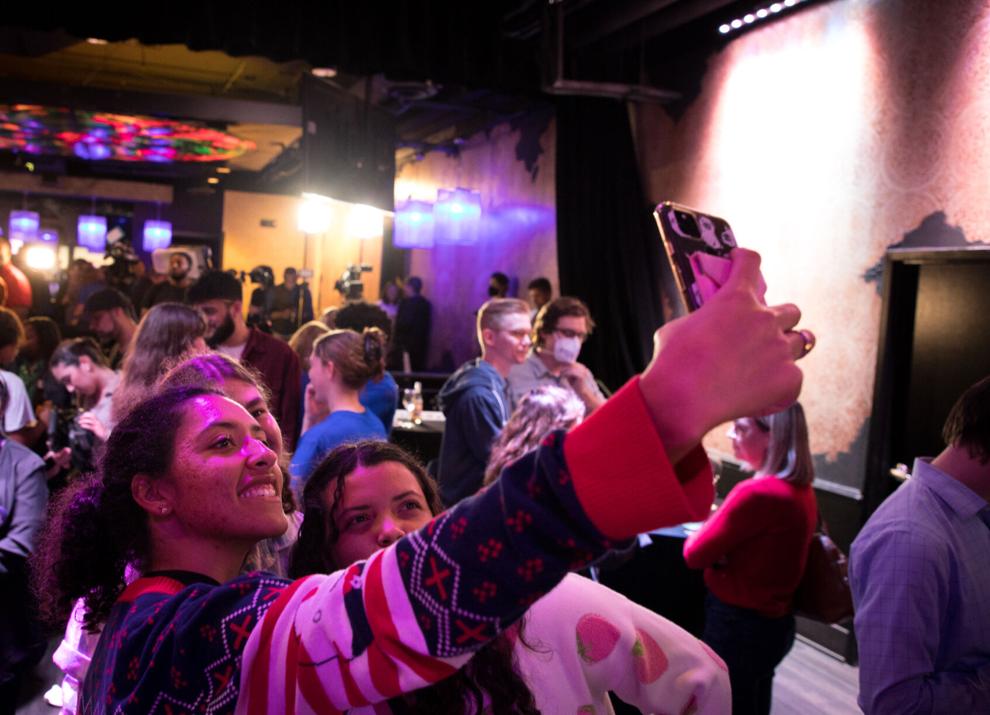 Saucedo survived the 2018 Parkland shooting at Marjory Stoneman Douglas High School, where a gunman killed 17 students and faculty members on Valentine's Day. Before his campaign, Frost worked for March For Our Lives, a gun reform advocacy group. Frost said he started his organizing journey and became involved in gun reform after the Sandy Hook Shooting in Connecticut. 
"I want people to see me as an organizer, right, who went to Congress and had an office that actually provided for people but was also ambitious, and talking about the North Stars that we deserve," Frost said. "Medicare for all, the North Star that we deserve, ensuring that we're combating the climate crisis, ensuring that we're fighting for these bold, transformational policies that we need right now. It's not a question of just being aspirational. 
"These are things we need because people are suffering."
In his speech, Frost noted loving someone means wanting them to have nice things, and for him, that includes ensuring everyone has access to health care, freedom from gun violence in churches and schools and the ability to start a small business. 
Anna Eskamani re-elected in Florida House of Representatives for District 42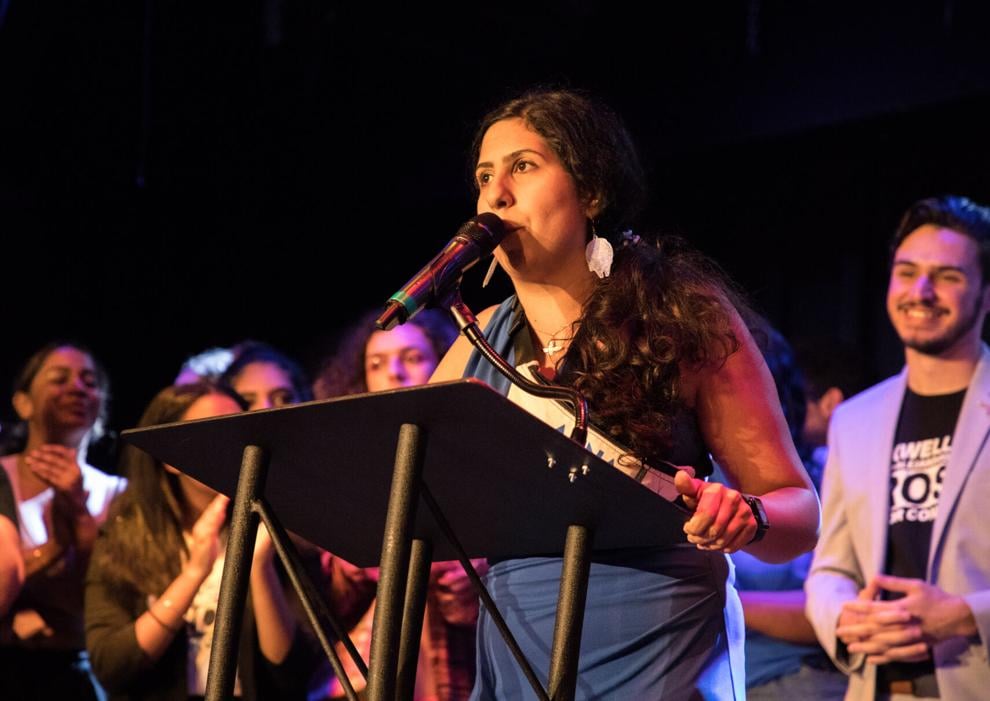 Eskamani, a Ph.D. student in public affairs, won the seat by 12% against Republican candidate Bonnie Jackson, according to Ballotpedia. Eskamani, an Orlando native, was first elected into office in 2018 and has advocated for affordable health care, fair wages and support for small businesses, and improvement in public schools. 
Eskamani was met with a round applause after winning and although her professors are waiting for her homework that is due, she said she is not slowing down after what she considered a rough election night for Democrats in Florida.
"And it just tells me that we need to keep going," Eskamani said. "We can't slow down and that we're doing what our community wants us to do. And that's focused on the needs of everyday people, go beyond partisanship and the talking points, focus on solving problems for people and proving to our community that we are worthy of your support."
Gov. Ron DeSantis and Sen. Marco Rubio re-elected in office
DeSantis defeated his Democratic opponent Charlie Crist, a former Republican governor, while Rubio defeated Rep. Val Demings of the 10th Congressional District, according to AP. At her friend's house, Gabriela Martinez, a senior in political science, streamed the election results. Martinez is the president of UCF's Turning Point USA and although she has been disappointed in the national leadership, she believes Florida is doing pretty well. 
Martinez is troubled by issues like homelessness, the opioid crisis and immigration policies. Martinez said she values conservative and American principles. 
"I think that it's important to elect people who are acknowledging these problems." Martinez said. "I think voting for people who believe in those things, I think to me personally, I believe that that's the way forward in this country, bringing the power back to the people."
One of DeSantis' efforts he has pushed while in office is fixing immigration policies. In June, he announced a three-part action to protect Floridans from any illegal activities from the U.S. borders. DeSantis signed the Immigration Enforcement bill, and he filed a petition with the Florida Supreme Court to summon a grand jury to investigate international human smuggling networks. 
Rubio secured his third term in the Senate with his victory Tuesday night. Rubio raised nearly $46 million in fundraising while Demings out-fundraised him with $72 million, according to fundraising data. Rubio has supported legislation such as the 15-week abortion ban and securing the southern border. 
"After tonight, the Republican party will never be the same, and that's a great thing for America and a great thing for Republicans," Rubio said during his Miami watch party. "It will never be the same because this is a party made up of people of every color, every race, every ethnicity, man and woman."
As of Wednesday, the balance of the U.S. Senate is a close race while the balance of the U.S. House remains unclear as some ballots are still being counted for, according to data from AP. Florida's legislative session will begin on March 7, 2023, with a Republican majority in the House and Senate. 
"You know, that's what Election Day is about," Martinez said. "It's very important to recognize those problems because we're never going to be perfect, but we definitely should have our voices heard and make sure that the country is going the direction that we want it to go in."