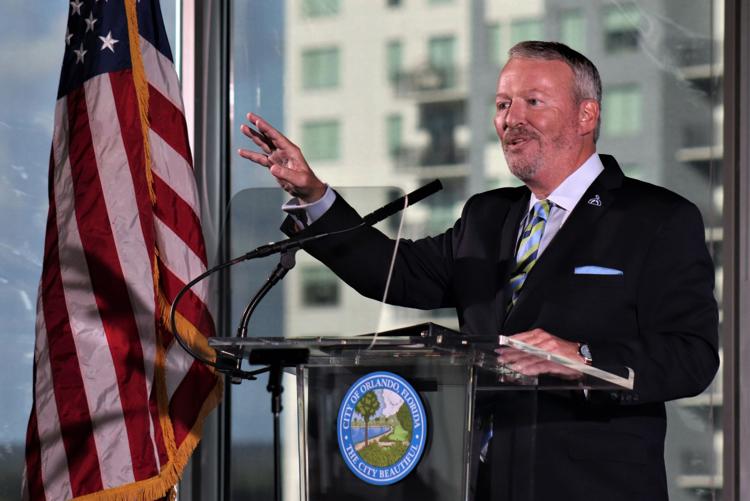 Orlando Mayor Buddy Dyer faces two opposing candidates both determined to take his seat on Tuesday's upcoming election.
Early voting is open Monday from 8 a.m. to 5 p.m., and the hours are the same on election day on Tuesday. Election results will be released Tuesday night.
The incumbent John Hugh "Buddy" Dyer first won the seat in 2003, making him the longest sitting mayor in the history of Orlando, with 16 years serving. He served in the Florida Senate as a Democrat for 10 years prior to that.
He is a Brown University civil engineering graduate and has a law degree from the University of Florida Levin College of Law. Before becoming an elected public official, Dyer worked as an environmental engineer and practiced law for more than 20 years.
Most recently, Dyer said he has been realizing his 2014 vision to transform the city of Orlando into "a world-class city" through the development of the Creative Village in downtown Orlando, the opening of the new UCF-Valencia Downtown campus, and in finalizing a 16-year project in collaboration with UCF to bring the Electronic Arts headquarters to downtown Orlando as well.
For his 2019 campaign, Dyer said during his State of Downtown address that he will use his "momentum" to continue turning the city into a tech-hub for economic growth and development.
He said he will focus his fifth term on affordable housing, repairing, innovating and expanding transportation, bridging education to high-tech careers with emphasis on low-income Orlando youth, and more green alternatives for engineering and living.
During his time as mayor, Dyer saw the city through the unexpected Pulse shooting on June 12, where 49 people lost their lives. The Orlando native has received an endorsement from the Equality Florida Action PAC as a result of his support.
"Mayor Buddy Dyer has been among the most vocal champions for the LGBTQ community in Florida," said Joe Saunders, senior political director for Equality Florida, as quoted in the Equality Florida website.
Only two other candidates qualified to appear on the Nov. 5 ballot against Dyer. 
One is Commissioner Samuels B. Ings, District 6, who represents over 43,000 residents in his district.
Ings retired as captain from the Orlando Police Department after 30 years of service, and was the first black officer in Orlando to graduate from the FBI National Academy in the 171st session.
The commissioner has several degrees, including two Master of Science degrees, one in business administration from Orlando College and the other in criminal justice from Rollins College. He was elected into city council in 2006, having served the community for 13 years.
Born and raised in Orlando, he is the son of Charles R. Ings, the city's first black detective.
Having benefited from public housing and ties to public service early in his life, he regularly attends community events, neighborhoods, and organizations, engaging directly with his constituents and discussing matters of his hometown.
In his current position, Ings has strategized his focus – and now his campaign – mainly on five key areas, which are public safety, economic development, roads and infrastructure, affordable housing, and multicultural inclusivity.
Ings spearheaded the development of a new fire station for the residents of Washington Shores, where he grew up, and a new police station in the Metro West Community in what was an "old vacant bank," according to his campaign website.
He oversees a highly touristic district, which holds theme parks and attractions like Universal Studios, Fun Spot, and I-Drive NASCAR, an area vital to Orlando's economy. Ings has led efforts that resulted in new stores and chain establishments, as well a new roads and sewers.
The other candidate is Aretha Simons, a retired U.S. Navy and Naval Reserves veteran. Simons served 10 years active duty during Desert Storm, and in operations Iraqi Freedom and Noble Eagle after the 9/11 attacks.
In a campaign video, Simons said she made history becoming the first veteran and the first African-American woman to qualify for Orlando City's mayoral race.
Currently, Simons is a nonprofit consultant and a grant writer for her company Multiplying Talents, which helps celebrities and organizations start and receive grant money for their nonprofits.
The grandmother of two was born in Florida and holds several degrees, including a bachelor's degree in business management from the University of Phoenix, and a master's degree in education from Nova Southeastern University, according to her LinkedIn.
Simons said she put in a lot of hours and work canvassing the city and knocking on doors. Counting on low voter turnout, she said she is attempting to win over and inspire typical non-voters.
She has publicly accused Dyer of voter suppression on her Twitter account and several public interviews. She has sharply criticized the current administration for investing in new developments while leaving behind neighboring low-income African-American communities in Orlando.
"Buddy Dyer will tell you that Orlando is a 'great place to live,' however, for many of Orlando's communities his administration continues the institutional failures, betrayals and hypocrisies that have been perpetuated since the city's founding in 1875 and now into the 21st century," Simons said on her website.
Her top campaign issues are quality of life, including reparations for what she said is "over a century of systemic racist oppression." Also, smarter and greener efficiency, solutions to mental health, child obesity, the opioid crisis, public safety issues, affordable housing, raising wages, and transportation, particularly improvements to the Lynx bus system.  
Like Ings, she said she believes four terms are enough for Dyer, and said she supports term limits for public officials.
Part of her campaign message has become one to call out for "a new voice" in Orlando. 
"Giving someone a fifth term in office is not progress, it is stagnation," Simons' internet flyer said.
Both Ings and Simons have also criticized Dyer's administration for a lack of transparency and having lost the intimate touch with the needs of the people and the city.
To check on voter status or for more information, visit the Orlando Supervisor of Elections website.