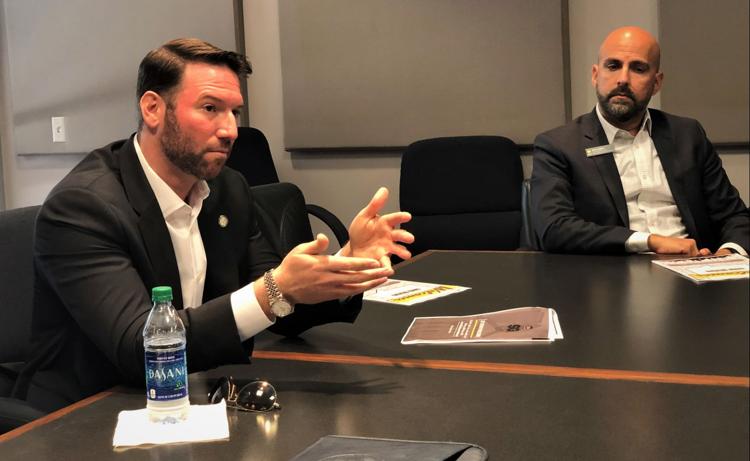 UCF students can now call in drug or alcohol overdose incidences, on or off campus, without fear of criminal repercussions.
This is extended to all Florida residents and protected under House Bill 595, titled the Alcohol or Drug Overdose Prosecutions bill, otherwise known as "medical amnesty" law.
UCF faculty, law enforcement officials and medical experts, as well as members of Student Government and representatives of the Greek community, joined Rep. David Silvers, District 87, at a roundtable inside the College of Arts and Humanities on Monday to discuss how the medical amnesty law will be implemented by UCF authorities.
"If you're calling to save a person's life, then you're not going to be arrested," Silvers said.
Silvers is traveling the state of Florida to visit all 12 universities under the Board of Governors to hold discussions like this one so students are aware of the changes being made to state law.
He said there is no point in having good legislation if nobody knows about it, and that he wants to make sure students who can save someone's life with a single phone call will not hesitate to do so out of fear of getting in trouble.
"He wanted to make sure that he could help students not only know about his bill, but help implement the legislation, because it's only good as long as students know about it and act on it to save lives," said Janet Owen, vice president for governmental relations at UCF. 
The discussion yielded several talking points. Most focused on the challenges that the bill is likely to face during a moment of emergency and how they could be best handled.
Brigitte Collado, president of the UCF Panhellenic Council, suggested that students often like to brag about how much they drink and how well they can take it. This culture not only celebrates dangerous drinking habits, but makes it hard for students to recognize when someone might need help.
"Even if they were to know this law is here for them, I just don't think students realize when they get to the point where they need medical attention," Collado said. "They think they can just take care of it on their own."
Another SG member Kevin Olsen, the director of community affairs, said he was not sure students would be so quick to believe the guaranteed protections under this law.
"My question is, how do we surpass the issue of trust," Olsen said. "Students don't trust that they're not going to be reprimanded by the university or lose their scholarships. They don't trust that they're not going to go to jail, because of the larger context of relations with police in general."
David Zambri, UCF deputy chief of police, said he was committed to building a trusted environment for students and spread the word on the implications of this new law.
"The most important thing is about savings lives," Zambri said. "We want to make sure we get the message out, and let students know that they have amnesty related to drugs and alcohol, so they stay safe, and that's really the long and short of it."
Kyler Gray, Student Government president, suggested the main efforts should be student-led and student-driven. He suggested adding educational modules for students that included bullet point details about the law, as well as key indicators to recognize possible alcohol poisoning symptoms.
"We need to ensure that students know about this, and students working at bars, whether it be through a university-wide module or an awareness campaign, everyone needs to be able to have these difficult conversations and learn how to address and identify them," Gray said.
To combat students' fears of parental consequences for their behavior, or over emergency or hospital bills, governmental affairs coordinator Zak Myers suggested the information should be disseminated on social media by students to build trust and include families.
"We have a UCF parents Facebook page that's got thousands of members and a lot of activity," Myers said. "We could start immediately by posting these points on there first."
Silvers said his attachment to this issue is personal. Little over 20 years ago, when he was a student at the University of Florida, a guy he knew drank excessively at a gathering. Silvers said that because everyone there was under 21 no one called the authorities for help, afraid to get into trouble. That student lost his life that day.
"It was very personal to me," Silvers said. "So, when the Board of Governors informed me that this was going to be their priority legislation, I told them I would make this my absolute mission."
The law will be promoted at UCF events, social media pages, organizations, and meetings, but special efforts will also be made to extend knowledge of this bill. While some of these can be addressed immediately, others will need to be revisited.
Silvers offered to return to UCF and speak to a larger group of students. Owen will be overseeing planning for this event coming soon. Silvers said these meetings, all of his efforts and traveling will prove worth it to him if even one life is saved.
"My goal is to save a person's life," Silvers said. "That's been the goal all along."