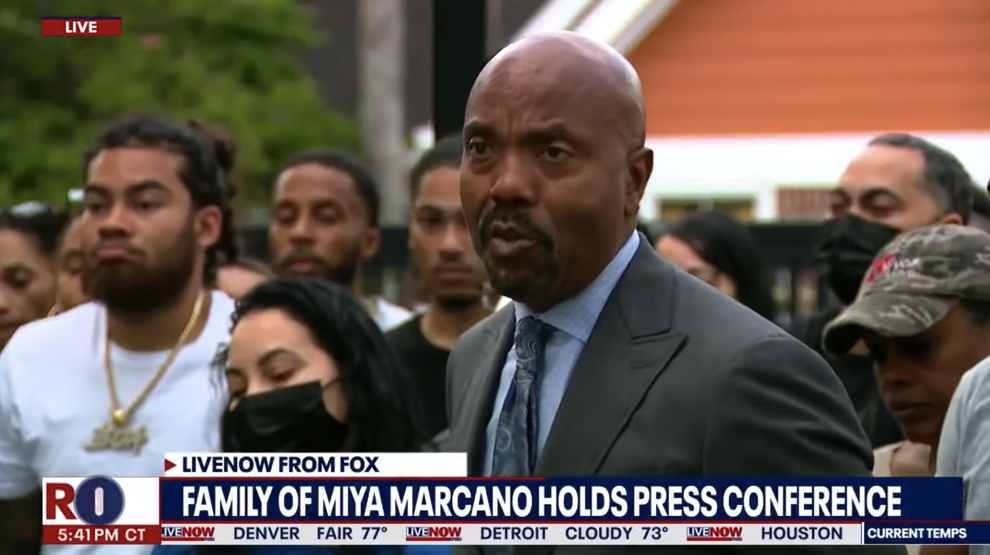 The disappearance and slaying of 19-year-old college student Miya Marcano inspired movements of activism and legal action.
Marcano's family lawyer, Daryl K. Washington, said he's representing the family to ensure all possible was done for the security and search of the young woman. 
"Miya was failed by officials who had the ability to protect her and act with a sense of urgency but did not view this incident as a priority," the statement said. 
According to court records, Marcano's family is now suing their late daughter's employer and residence, Arden Villas, and its management, Preiss Company, as well as the estate of deceased maintenance worker Armando Manuel Caballero, the only suspect in the case. The wrongful death lawsuit was filed Monday night.
Marcano was a resident and office staff member at Arden Villas apartments near UCF. The Valencia College student was last seen around 5 p.m. Sept. 24 after finishing her shift at the complex and heading back home. After an eight-day search that spanned three counties and several agencies, including the FBI, her body turned up in the wooded area near Tymber Skan apartments Oct. 2.
Caballero, 27, was a maintenance man at Arden Villas who used a master key fob to illicitly enter her apartment and lie in wait to attack her, Orange County Sheriff John Mina said. Caballero had expressed an interest in Marcano many times before but was rejected, the sheriff said. Caballero was found dead of apparent suicide on Sept. 27, three days after Marcano went missing.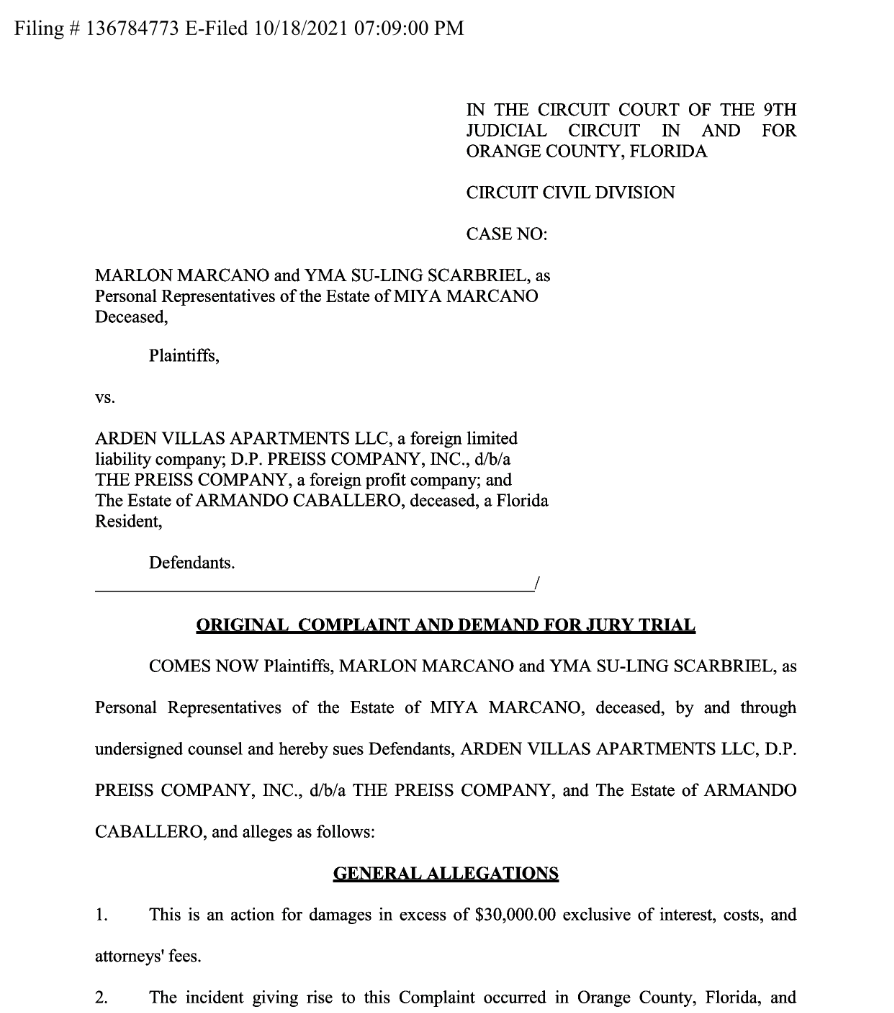 Yma Su-Ling Scarbriel and Marlon Marcano, her mother and father, are suing Arden Villas, their management company, and Caballero's estate for $30,000. The lawsuit specifically cited the management of Arden Villas and manager, Jessica Decker, for not taking the safety concerns from the "residents and employees seriously."
"Management at the Arden Villas had a reputation for ignoring the complaints made by both tenants and employees," the lawsuit stated.
According to the lawsuit, Marcano's family contacted Arden Villas the night of Marcano's disappearance but have yet to hear back from them to this day. The lawsuit stated Marcano's family made multiple attempts to reach management that night but no one responded, and voice messages have not been addressed. The statement said Caballero texted Decker, saying Marcano was missing, but no one from the Preiss Company, including Decker, came out to the complex to assist in locating her, even being a tenant and employee.
"At no time during the search for Miya did Decker or any of the Defendants attempt to reach out to Miya's parents," the lawsuit said. "Had Decker made an effort to immediately confirm if anyone had entered Miya's apartment, she could have possibly been found alive." 
The lawsuit stated Arden Villas failed its non-delegable duties to vet employees, provide adequate security for its tenants, monitor the actions of employees and have tighter control on what employees should have access to, like key fob devices.
A non-delegable duty is an obligation that cannot be outsourced to a third party according to the terms of the contract. 
In behalf of Marcano's family, Washington's law firm is also asking for the resignation of an Orange County deputy involved in their case.
Washington said in the statement a "heavily redacted" incident report released by the Orange County Sheriff's Office Friday left him "with even more questions" on inconsistencies he said contradict witness statements.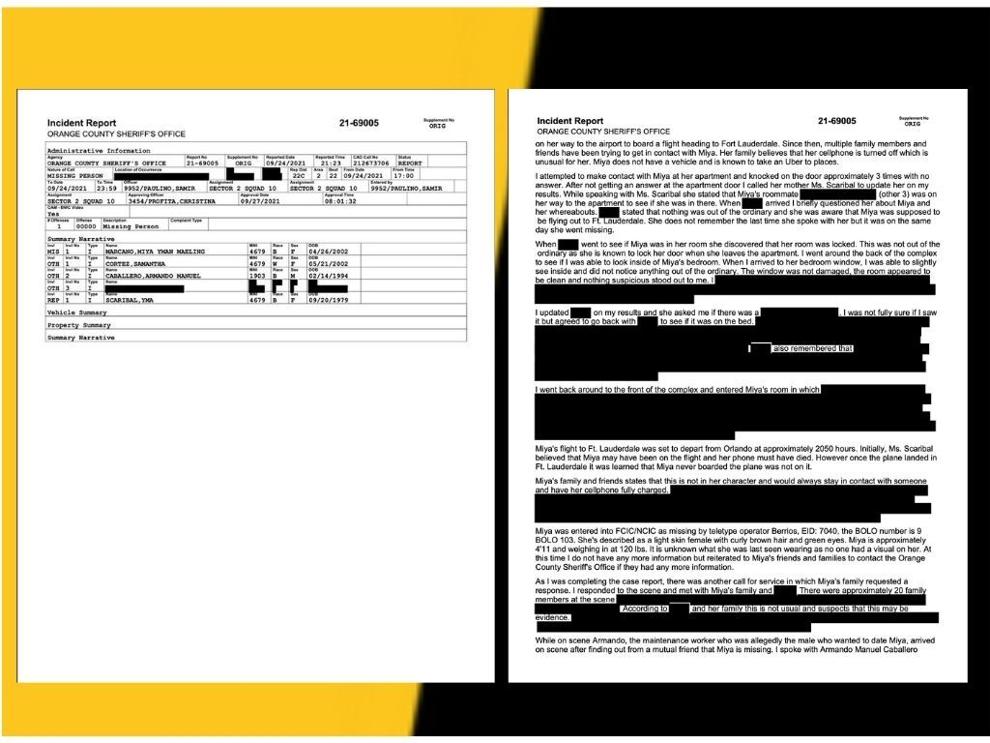 According to the OCSO incident report, after Marcano's mom first reported her missing, Deputy Samir Paulino was the officer who showed up at Marcano's apartment to check on her. The report stated he received no answer at the door, checked behind the building and through Marcano's window, spoke to a friend and noted nothing out of the ordinary. 
That night, the report stated, Marcano's family showed up to investigate and confront Caballero and had Paulino speak with the suspect, as they caught the encounter on video. Washington said Marcano's family and witnesses told the deputy Caballero made Marcano feel uncomfortable and harassed her, yet Paulino let Caballero drive away. 
"We believe that Deputy Paulino had more than enough evidence to detain Caballero," the statement said. 
The statement said Mina ratified Paulino's actions to allow Caballero to leave when he said "Paulino could not detain Caballero based on a hunch."
Mina said in a press conference everything possible to the department was done to find Marcano. 
"The person responsible for Miya's death is Armando Caballero," Mina said. "She was already left dead at Tymber Skan apartments before we were ever called." 
Washington's statement said it also holds Arden Villas' lack of security protocols responsible for Marcano's subsequent death. It said both the OCSO agency and the complex were slow to react. 
"The outcome may have been different," the statement said. "Sheriff Mina's assertion that the way the investigation was handled/mishandled would not have mattered because Miya was already dead is simply ridiculous, without support and a very insensitive statement."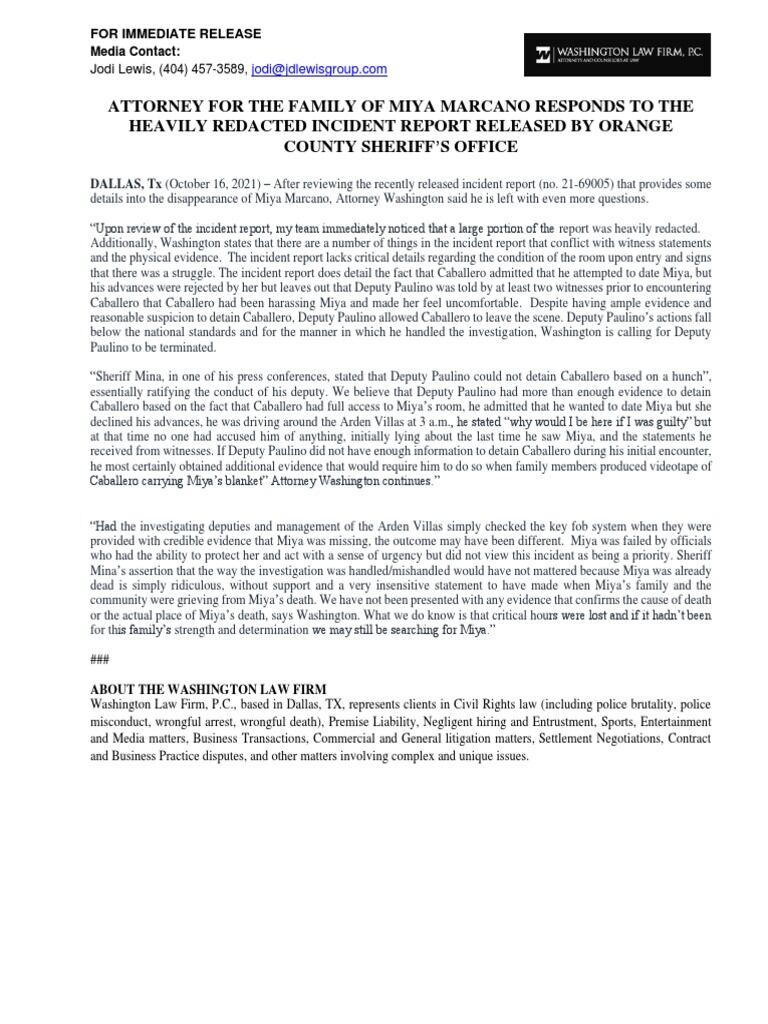 The sheriff said they're still waiting to learn Marcano's exact cause of death from the Medical Examiner's Office to avoid speculations. He said an investigation to find out more and give the family the answers they seek will continue, including if Caballero's attack was planned out. 
"I know as a parent myself I would feel so upset, and I would want answers, and I would want to place blame," Mina said. "We're going to look into every part of this investigation to make sure everything possible was done in our quest to find Miya." 
OCSO has made not yet made comment regarding the request for resignation.
This is a developing story. Check back with NSM Today for updates.