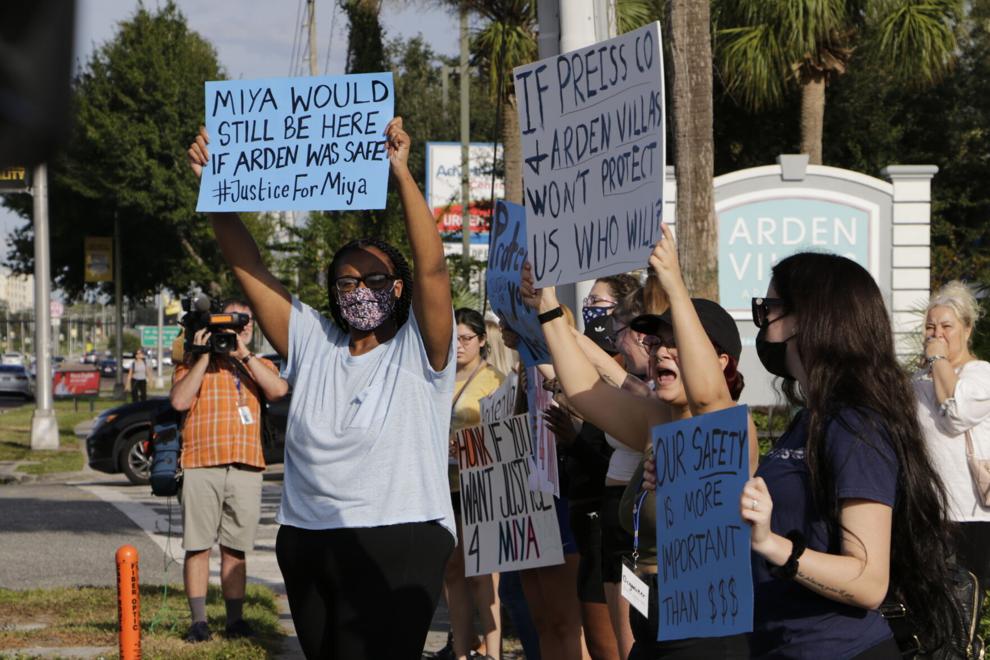 For nearly two weeks, just inside Arden Villas' metal gates, vigil candles and flowers were laid for slain teen Miya Marcano. On Wednesday afternoon, it was shouting residents and community members who stood there, protesting the apartment complex and "demanding answers." 
One of the event organizers, Eryn Rutherford, said she was protesting because Arden Villas refuses to listen to their concerns. 
"They ghosted us," Rutherford said. "They won't return our calls; their office is closed. We are in the dark."
Marcano was a 19-year-old Valencia College student, as well as a resident and office staff member at Arden Villas. She was last seen Sept. 24 around 5:00 p.m., leading to an eight-day search which ended when her body was found in the wooded area near the Tymber Skan apartment complex Oct. 2, Orange County Sheriff John Mina said. 
The only person of interest in Marcano's case was 27-year-old Armando Manuel Caballero, an Arden Villas maintenance worker, who made advances at Marcano, which she rejected repeatedly, Mina said. Caballero used the master maintenance key fob to let himself into Marcano's apartment about 30 minutes before she was last seen. 
Mina said an investigation determined "there is no doubt" Caballero lied in wait in Miya's apartment before killing her. Three days after Miya went missing, Caballero was found dead of an apparent suicide, Mina said. 
Wednesday's protest was against Arden Villas and The Preiss Company, one of the top 10 off-campus student housing providers in the nation, according to the company website. In light of Marcano's disappearance and death, some residents said they've felt uneasy living in the complex, which motivated residents like Rutherford and other UCF students to hold the protest.
With about 50 people in attendance, many held up their signs and chanted, "No justice, no peace, we can't get no sleep!" While others silently held their posters up in front of their faces.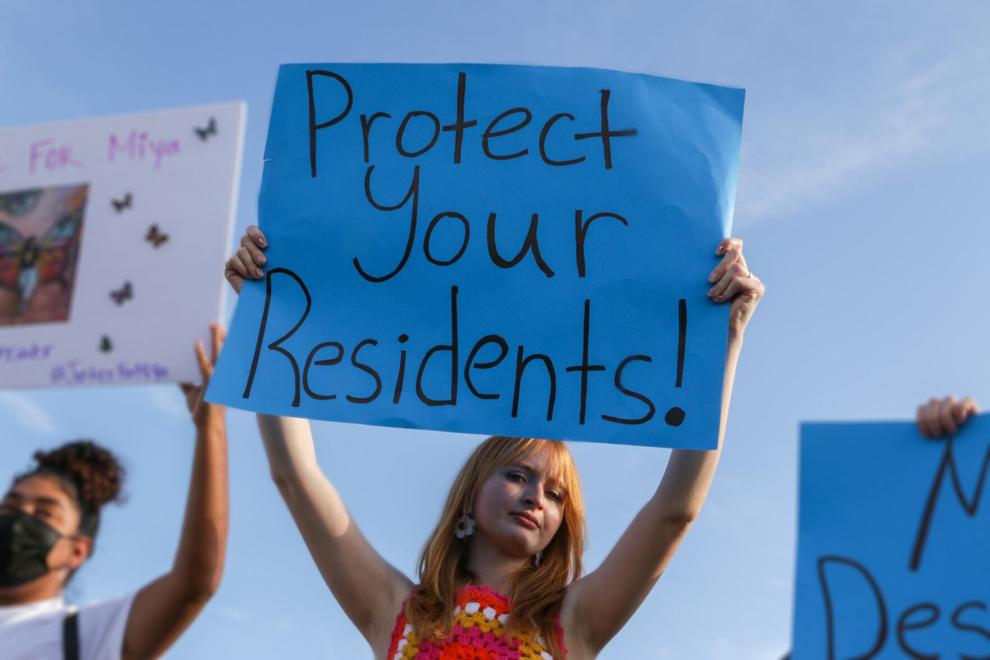 Arden Villas has only released three statements regarding Marcano on social media. According to the latest statement posted Wednesday morning, Arden Villas mourns Marcano's death and plans to respond the list of residents' demands submitted Oct. 2 "in the coming days." 
"Please be aware that it is our goal that every resident, guest and staff member feels as safe and secure as possible," the statement read.
Rutherford, along with seven other main organizers, also started a Change.org petition, which has a new goal of 50,000 signatures. The petition has surpassed its original goal of 35,000 signatures with over 42,000 collected, as of publication.
"They have said they will change the way maintenance is done, but they have made no statements about breaking our leases," the online petition states. "We are scared. We are angry."
Originally, The Preiss Company had a resident community page, on which many residents shared their concerns. After their pleas with the complex were generally ignored, the residents created a Discord channel shortly after Marcano's death. With about 100 residents on the channel, Rutherford said they found solace in relying on the community.
"I've witnessed people on Discord literally offer to sit with other residents while they get their maintenance order filled, just so they wouldn't have to be alone," Rutherford said. 
While other tenants showed up in support of the cause, some shared their stories of their negative encounters with maintenance staff. Katie Preiner, a sophomore health sciences major, said Caballero came into her apartment a few hours before deputies said Marcano was kidnapped. 
Preiner said she was alone and in the shower when she heard the front door open. As she tried to get dressed quickly to see who it was, Preiner said she walked out to find Caballero in her kitchen.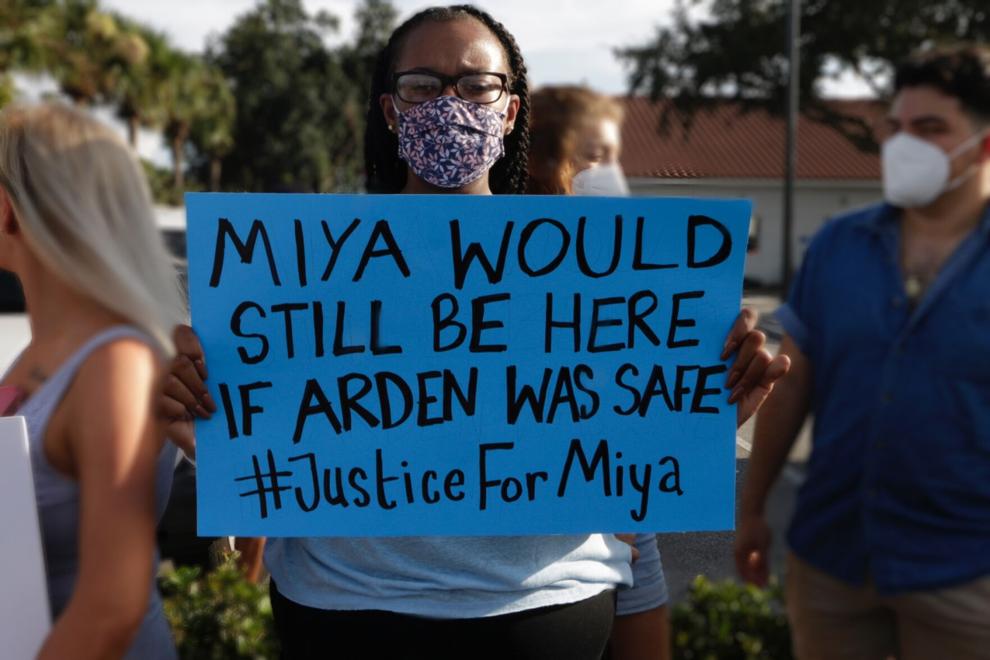 Preiner said she and her roommates had put in a maintenance order, but Arden Villas had checked off the order as "complete" before arriving. What was most eerie, Preiner said, was that Caballero tilted his head at her and smirked silently before leaving. 
The disappearance and death of Miya, Preiner said, has made her more aware of her surroundings, and she seeks to hold Arden Villas accountable.
"Ever since this happened, I'm afraid to live life," Preiner said. "I don't feel safe, and I know nothing is going to change unless we make the change for them." 
Side by side at the protest, Preiner's roommate, Siearah Brousseau, said she was out of town the day Marcano went missing. Brousseau, a junior biochemistry major, said she's been living at Arden for about two years, and she never imagined something like this could happen.
"All she did was reject him," Brousseau said, referring to Marcano denying Caballero's advances. "And if I had done the same thing, I would've ended up with the same fate." 
Democrat Rep. Carlos Guillermo Smith also stopped by the protest and told residents they have rights as tenants. 
"You have the right to feel safe in your own home, in your own community," Smith said. "And we know the demands you are asking of Arden Villas' management team are reasonable demands."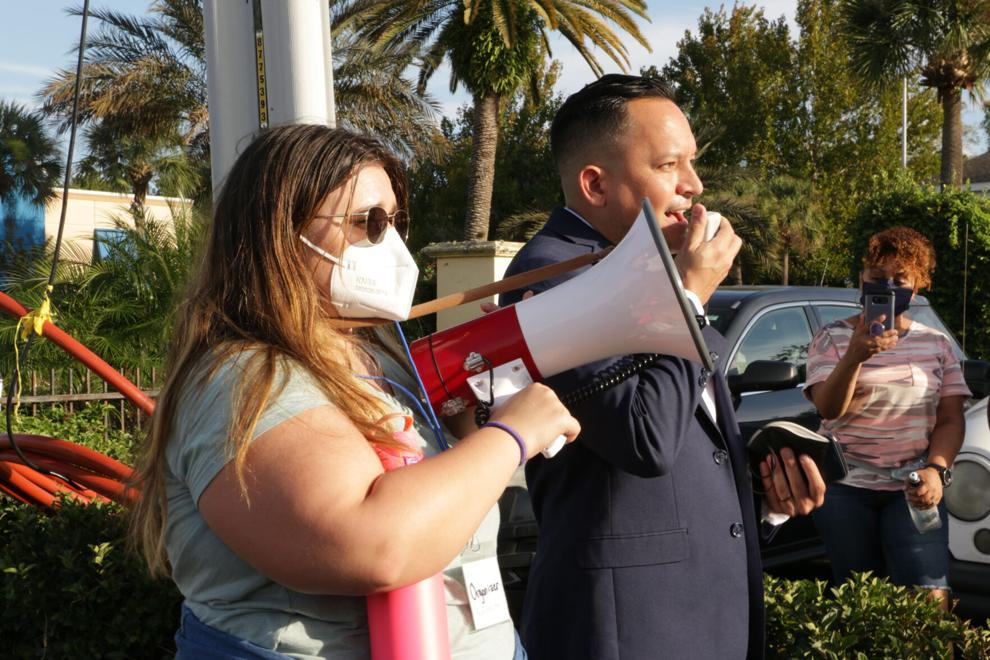 Residents are requesting all property gates be closed and monitored 24/7, much like UCF-affiliated housing Knights Circle; they are also requesting more lighting and security cameras around the complex, as well as adequate communications for residents and Miya's family, according to the petition's letter of demands. 
During a press conference held the same day of the protest, attorney Daryl K. Washington, who serves as Marcano's family attorney, said some fault lies with Arden Villas. 
"We do believe that there was negligence that took place," Washington said. "There was negligence in hiring, so there is some liability on the part of this apartment complex."
Genesis Millington, one of Marcano's cousins, said she was touched by the protest's turnout, seeing residents and the local community stand together on the sidewalk off University Boulevard.
"I believe that it's beautiful," Millington said. "Community is what holds us together."