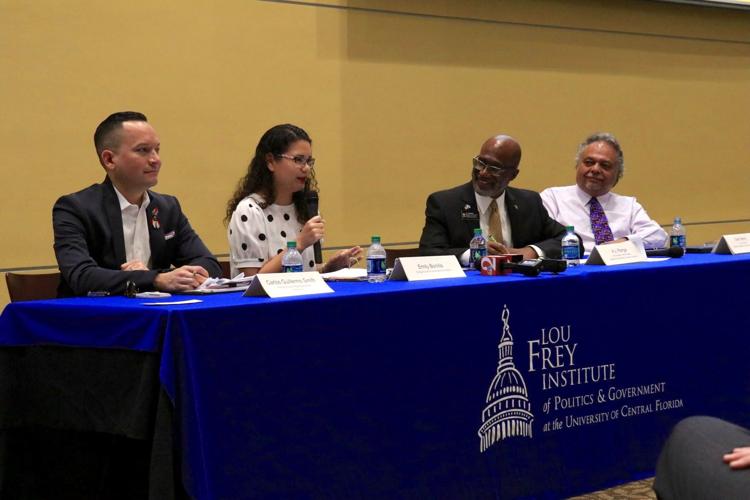 When Orange County District 5 Commissioner Emily Bonilla was in community college, she got by couch-surfing as a homeless student.
When she received her associate's degree, she transferred to UCF mainly for the dorms because she needed a place to live. She said she was so broke while living in student housing that one day she and her roommate pawned their microwave to buy some groceries.
"Let me tell you," Bonilla said. "That ham and cheese sandwich was the best ham and cheese sandwich I'd ever eaten because I was so hungry."
Bonilla said she knew her story was not unique and that many UCF students go through similar experiences.
She was one of five guest speakers at the Affordable Housing Town Hall in the UCF Morgridge International Reading Center on Tuesday night. There, panelists discussed Orlando's dire need for more affordable housing with a special focus on how it impacts UCF students.
Bonilla shared her story as well as her own views on the issue. She said the situation has worsened for students through the years, as tuition costs have risen sharply and graduate students are often burdened with paying back student debt.
"The increase in tuition has gone up so much and so fast," Bonilla said. "And when you are out of college most of your income goes to paying off that student loan, which increases your chances of needing affordable housing even more after you graduate. So, you're in this perpetual situation and there doesn't seem like there's any way out."
Rep. Anna Eskamani, District 47, joined the conversation as one of the panelists. The "proud UCF grad," who is currently pursuing a doctorate degree at the Downtown campus, said she knows first-hand how hard-working families struggle to make ends meet.
Eskamani said over 53,000 students in Florida are considered technically homeless and that the issue is a lot more urgent than many know or care to acknowledge.
"A homeless student could be sleeping on someone's couch, so they may not think they're homeless, but really they are," Eskamani said. "I think there's a myth that if you can afford tuition then you're not homeless. I think we need to dismantle that and realize that there's probably homeless students in this room right now."
Both Eskamani and Rep. Carlos Guillermo Smith, District 49, said that a big part of the problem is the state legislature unscrupulously dipping into the Sadowski Housing Trust Fund, which provides about $325 million per year for affordable housing needs and openly asked the legislature to stop it.
"The legislature steals hundreds of millions of dollars out of that fund to pay for other things not related to housing," Smith said. "That has to stop because we have a crisis."
Both Eskamani and Smith addressed renter's rights, saying they will be reintroducing their Landlords and Tenants bill for 2020 as Florida is too much of a "landlord-friendly state."
They also have filed legislation to repeal Florida law that preemptively prevents local government from getting involved as far as to offer incentives for or even debate the issue of rent control.
"We know it has very little chance of passing, but – though controversial – we want to have the conversation," Eskamani said.
Eskamani also said that more creative solutions have been part of the discussion among housing task forces, like developing duplexes, triplexes and tiny homes — a new housing concept that has been growing in popularity worldwide.
Another panelist, UCF Assistant Vice President A.J. Range, offered students help and support through Neighborhood Relations and Safety Education, a website created to assist students living in off-campus locations, but acknowledged that more had to be done and that having this conversation was a great start to formulate a plan of action.
"Affordable housing in Central Florida is a challenge," Range said. "We're not doing everything we can do to support low income, middle income families, so we really need to work together cooperatively across the political lines to make sure that the need is met."
Katie Seymour, ambassador at UCF and Interim President Thad Seymour's wife, attended the event and took the opportunity to speak as they opened the floor for audience questions.
Seymour said that at any given time, UCF has 300 to 500 students reaching out for help to meet their basic needs. She said she wanted feedback from students regarding the possibility of shared living spaces from the Southern Scholarship Foundation.
"It offers rent-free housing to students if they are willing to live in a cooperative-style program," Seymour said. "[Students] pay $1000 per semester, including utilities, and in exchange they do share rooms, they share bathrooms, they help with the cleaning and they help with communal dinners. So I'd love to hear from students about what you think the pros and cons would be."
To Seymour's point, and considering the restrictions on local government plus the Florida laws that favor landlords and developers, Bonilla said she is tired of task forces and conversations. She said she wants action and that the solution lies within the universities themselves. 
"I hope UCF doesn't get mad at me for saying this, but we really do need the university to build more student housing, more dorms, in order to be able to provide that affordable student housing," Bonilla said. "Like I said, I was couch-surfing and the solution for me was a dorm. So some of the universities should start building more. We need that to continue forward."