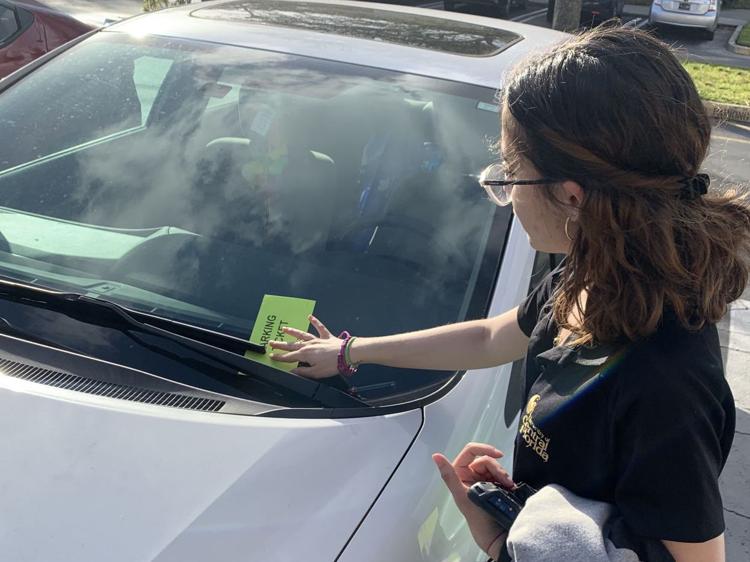 Lake Claire residents now have more places to park on UCF's main campus.
New parking spots are located adjacent to the performing arts buildings in lot H-4 and were made available at the start of the semester to help support the parking needs of Lake Claire residents, UCF spokeswoman Rachel Williams told NSM Today.
Over the years, UCF's student population has grown and, according to the school's website, it's now more than 69,000 students. While the number of students increases every year, the size of the campus remains the same: 1415 acres. 
Last semester, there was an increase in the number of parking permits Lake Claire residents purchased, whereas the number of permits sold remained constant for most communities like Nike, Hercules and Apollo. The Libra parking garage and lots B-7 and B-8 can accommodate overflow parking in those areas, Williams said.
Despite the new parking spots, freshman biology major and Lake Claire resident Emily Garcia said she still struggles to find parking everyday.
"I feel like new parking spots might be a little help but I'm not willing to park in the new spots because they're kind of far," Garcia said. "I go around the parking lot at least two times just to find an empty parking spot."
In response to Lake Claire getting more parking spots, Neptune students said they want more parking availability in their communities, as well.
According to a campus resident parking guide, Lake Claire has five allocated parking lots: lots H-5 through H-9. The Apollo, Hercules, Libra, Neptune and Nike communities collectively have three parking lots: B-7, B-8 and B-15, as well as the Libra garage.
However, there aren't plans to add new parking spots to any more housing communities, Williams said.
"Nike and Neptune are definitely the ones that have the most parking issues and where most people get parking tickets," said Melany Socorro, a junior communication major and parking enforcement patroller. "Last semester, we got a lot of calls because non-residents were parking in residential parking."
She said that when people play sports at the Intramural Fields, they park in residential parking because there aren't enough spots for visitors.
Some commuting students who typically park in lot H-4 are frustrated that parking has been taken away.
"There has been instances in the last two weeks where there's been empty spots here [new Lake Claire parking spots] that I could have parked in and gone to class on time but I couldn't because I can't park there anymore," senior graphic design major Mallory Sippell said.
Socorro said students are turning to various methods to avoid getting parking tickets. 
"Students try to hide the expiration dates on their parking passes or print their own and make them look realistic to avoid getting tickets," she said. 
According to UCF's Parking Violation Fees, the fine for unauthorized or fraudulent use of permits is $100.
UCF public records state that $1.3 million was collected from nearly 40,000 parking tickets issued to students in 2019. The reasons ranged from "Parked on sidewalk" to "No valid parking permit."