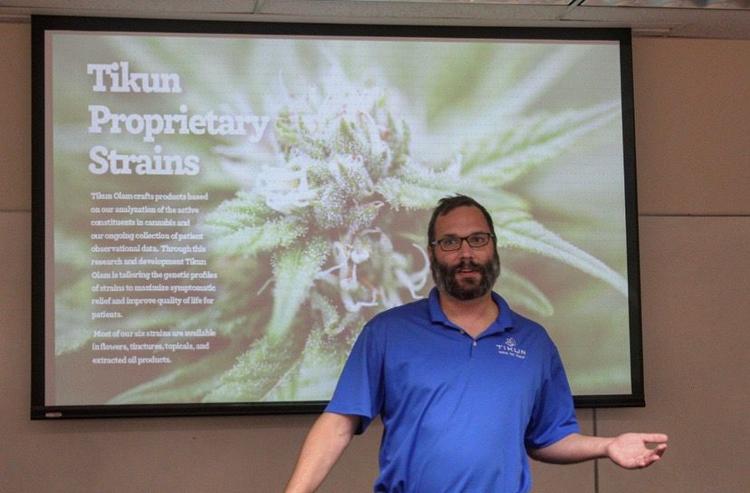 UCF Knights for Israel educated students on the benefits of medical marijuana at an event called "Medicinal Marijuana in Israel and America" Monday. 
Tom Grebenstein, director of commercial operations for the medical marijuana company Tikun Olam, came to visit students in the Business Administration building to talk about the usage of cannabis within the medical field.
Tikun Olam is a company founded in Israel that began as a non-profit, but in 2010 officially became a limited company that grows and supplies medical marijuana for those who are in need.
Growing six different strains and providing five different application methods, Tikun Olam tailors the treatment to the various patients' symptoms. Illnesses such as cancer, anxiety, manic disorder and depression have been treated using medical marijuana.
Grebenstein said Tzahi Cohen, founder of Tikun Olam, dealt with a severe case of PTSD after retiring from the Israeli air force and turned to cannabis to help ease his symptoms. After having a breakthrough, Cohen decided to share his success story with those in need, such as other veterans dealing with PTSD and even Holocaust survivors.
After more individuals started seeing positive results through the healing of cannabis, Tikun Olam created its first strain of medical marijuana called "Erez," which was the foundation of their institution.
"This company is here because we wanted to be able to help people," Grebenstein said.
Students raised questions about the various diseases of their loved ones and how cannabis strains could assist in their physical and mental comfort.
"My father uses medical marijuana because he was in a car accident and it has helped him a lot," said Khali Clarke, a graphic design major. "He's pain-free, so I'm definitely for it."
Knights for Israel President Jonah Keehn expressed that students in the U.S. should be properly educated on medical marijuana.
"The results are real and this meeting showed all the data behind it proving it can actually make a difference," Keehn said.
In previous years, various board members of Knights for Israel were less interested to bring the topic of medical marijuana to campus, which left students full of questions. 
Natalia Correa-Ferro, vice president of Knights for Israel, resonated with the idea of having an open conversation among students about medical marijuana on campus. 
"Now that we have countries wanting to support the usage of marijuana for medical reasons to cure these chronic illnesses such as anxiety and depression, it's starting to bring hope that you don't have to feel alone," Correa-Ferro said.
At the close of the meeting, Grebenstein opened the floor to students to ask questions about what medical marijuana can do for those they know who may be struggling, leaving students feeling comfortable enough to have an open conversation on such a sensitive topic.
"It's okay to admit that you're not okay when talking about medical marijuana," Correa-Ferro said. "It opens a conversation about mental health and that's something that every college student struggles with."
Correction: A previous version of this article stated that the student's name was Haley Clark. Her name is Khali Clarke and the story has been updated to reflect that.