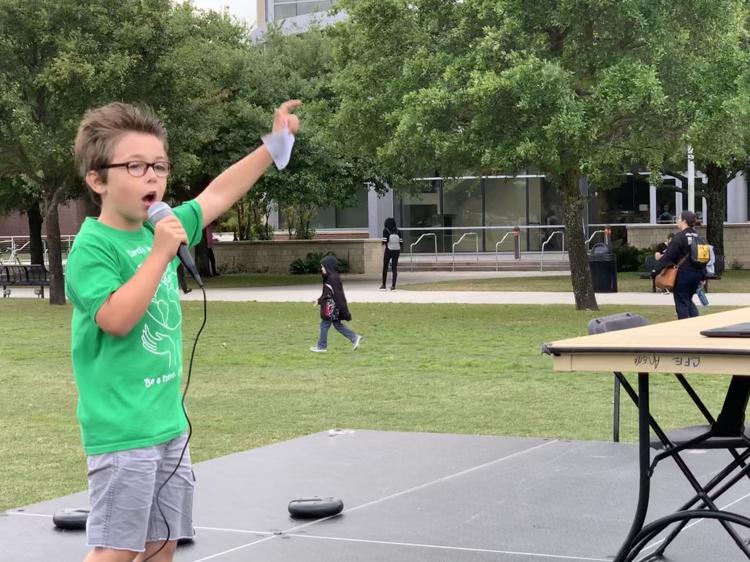 Senior integrated business major Emily Sarasa said she originally thought veganism was extreme. However, Sarasa — who had been a vegetarian for 10 years — said that changed once she went to college. 
"I learned more environmental aspects of the milk industry and the egg industry, so it wasn't just about killing animals, it's about every aspect of using them," she said. 
Now, as president of Knights for Animal Rights, Sarasa said she decided she did not want to contribute to that type of lifestyle or animal suffering anymore.
"That's why we're here, and we are just trying to encourage a plant-based, healthy lifestyle," Sarasa said. 
KAR is a registered student organization with a mission "to raise awareness against all forms of cruelty to animals and improve animal welfare through use of advocacy, public policy reform and education," according to the university.
Hundreds of people gathered with Sarasa on Memory Mall Wednesday to celebrate and promote the same vegan way of living she shares — by taking part in her organization's second annual VegFest. 
With 30 vegan vendors, nonprofits and other UCF registered student organizations in attendance, junior communication sciences and disorders major and KAR event coordinator Brianne West said the festival was the organization's largest event of the year — larger than their first festival last year. 
West said despite last year's "smaller-scale" event, the first VegFest received a lot of foot traffic.
"We thought it would be a really good idea to just bring a lot of vegan options on campus [to kind of] show the students at UCF how it can be really accessible and all the amazing options they have around here," West said.
However, West said she believes there are not enough vegan options on campus. 
"There's like a few places in the Union that have food options, but as far as like the dining halls go — which I know is like really important if you're living on campus as a freshman — there's like not enough options," West said. 
People for the Ethical Treatment of Animals, or PETA — which, according to its website, is the largest animal rights organization in the world — gave UCF a "B" rating on its "Vegan Report Card" for offering at least one vegan entree at every meal, among other criteria. However, PETA said the university "does not promote vegan options" and only has a "30 percent of student satisfaction" rating.
PETA said UCF's rating is based on public information records and student feedback about vegan options on campus.  
Even some Valencia College students share the same opinion as West about their own university.
Valencia sophomore biomedical sciences major Dominique Zuluaga said she believes there are not any vegan options on campus.  
"Even the salads are filled with cheese," Zuluaga said. "I don't eat at school — like ever. I will always bring my own lunch, or if I don't bring my own lunch, then I have to go out, and I have to take time out of my day to go find somewhere else that is vegan."
In addition to food vendors, Wednesday's event also included vegan-themed merchandise, raffles and main stage speakers, including 8-year-old vegan activist and social media personality Evan "VeganEvan" LeFevre. 
LeFevre said even the smallest animal's life matters. 
"If you can connect with those bugs then you can connect with the bigger animals," LeFevre said. 
While Sarasa said she believes the festival's purpose is not to make people go vegan, she said it may open their eyes to vegan options.
"[It's about] making them realize how easy it is to simply move your hand over when you're shopping and buy almond milk instead of dairy milk and see that it's just as tasty and even affordable as regular food," Sarasa said.
Sarasa said the organization will be planning a climate strike with other progressive organizations on Earth Day, but the VegFest has been the "pinnacle" of its semester.