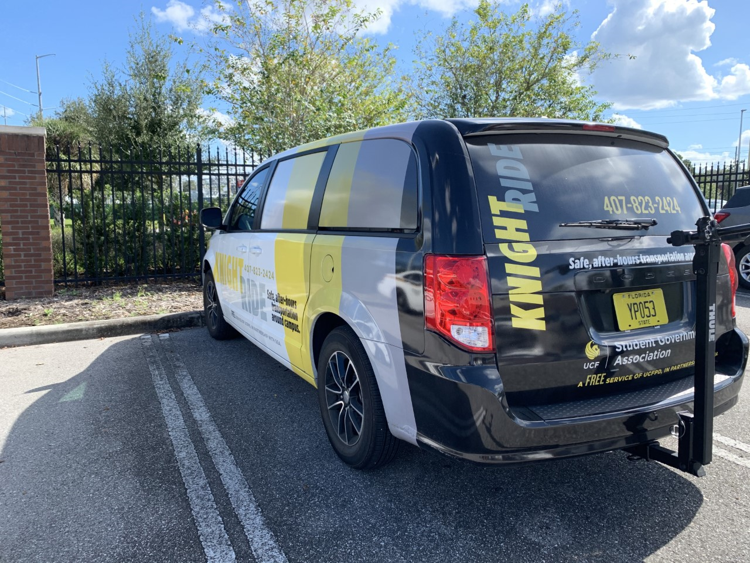 Earlier this year, Student Government and UCF Police Department launched a new safety service called Knight Ride.
Knight Ride was launched in January 2019 replacing the Safe Escort Patrol Service. The van was purchased by SG in an effort to increase the productivity and safety of the student escort service. As the year nears to an end, the program seeks to make improvements.
SEPS drivers used golf carts to pick up and drop off UCF students but the Knight Ride van is more enclosed, can escort numerous passengers and is not easily damaged, said Emmett Davy, SG safety and transportation coordinator.
As of October, there have been 1,579 Knight Riders. Davy said this number is substantially low compared to the number of students who used SEPS.
"More students used SEPS because the golf carts were able to go to various locations as opposed to the Knight Ride route," Davy said.
Amanda Sellers, public information officer, believes that after viewing the data for this inaugural year, UCFPD and SG will decide on ways to improve the service. 
Currently there is only one Knight Ride van that has a wait time of about 30 to 40 minutes with designated pick-up and drop-off spots around campus.
Andrew Geml, senior environmental studies major, said he could get an escort in nearly half that time with SEPS. 
"It seemed like I wasn't waiting more than 15 minutes for a ride. It was pretty quick, and it got me across campus safely," Geml said. "I had a pretty positive experience."
Geml said although he has not used the Knight Ride service, he thinks SEPS was a better service because they can come to you. He said he believes it offers more safety because they do not have assigned routes, unlike the Knight Ride van.
Courteney Grant, senior integrated business major, said while she has not used Knight Ride, she misses the convenience that SEPS offered.
"I used to stay in Towers, which everyone knows is one of the furthest housing areas on campus, and to get almost anywhere after a certain time was a hassle," Grant said. "It would get dark fast so I would use SEPS…they would come to where I was, and it was extremely convenient for me."
Grant said "anything can happen to a young lady at night," and having SEPS drop students off directly in front of their housing communities was a great advantage of the service.
Davy said SG is working to make improvements in the various areas of concern so that the Knight Ride service is beneficial to students.