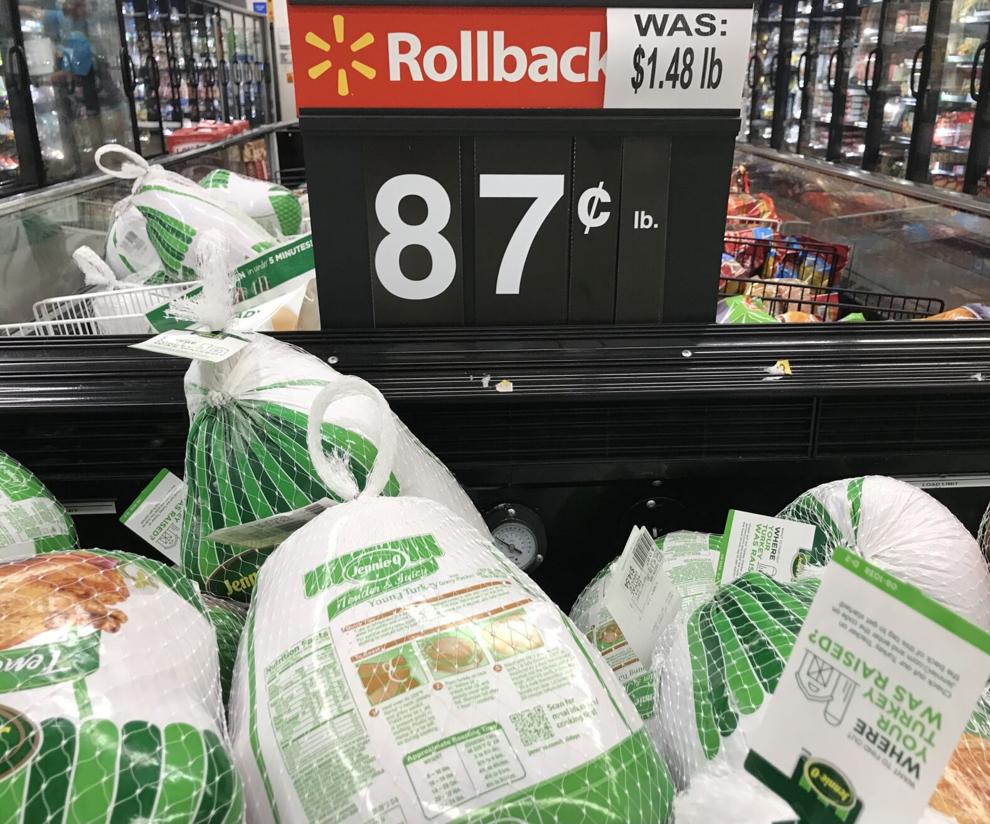 Nadia Crispin usually picks out a large bag of ripe cherries when she goes shopping at the grocery store. However, in recent months, rising grocery prices have made her hesitant to purchase her favorite snack.
It isn't just the cost of cherries that Crispin is worried about. The health sciences sophomore said she commutes almost an hour every day to campus. With gasoline prices on the rise, her frequent trips have risen to $40 per week.
Due to these mounting expenses, Crispin has had to reduce her weekly therapy sessions from twice a week to once a week, and she is unsure if she will be able to visit her mother over the Christmas break.
"Prices are a big deciding factor now," Crispin said. "It's stressful: There's a lot of concern."
With the holidays around the corner, many students are experiencing the effects of rising prices as they prepare to return home for Thanksgiving.
The U.S. Bureau of Labor Statistics reported inflation of consumer prices is at a 31-year high, and the American Farm Bureau Federation reported that this year's Thanksgiving meal is the most expensive on record.
Richard Ajayi, associate professor of finance, said the problem of rising prices can be attributed to a variety of issues in the manufacturing, transportation and distribution of goods. As students grapple with increasing expenses of food, gas and household products, the nation's economic recovery from the COVID-19 pandemic is being dramatically slowed by the inefficiencies of the current global supply chain. Ajayi said these supply chain issues can be traced back to the onset of the pandemic, when factories around the world implemented lockdowns that caused a period of near stagnation in production. 
Demand for goods and services also plummeted during March and April of 2020, as consumers became afraid to leave their homes, according to the U.S. Bureau of Economic Analysis. However, during the summer of 2020, demand for goods spiked, according to data from the Federal Reserve Economic Data. People were no longer spending their money on services and experiences, such as going to the gym or on a vacation, so they spent all of their excess money on material goods, thus straining a global supply chain already weakened by pandemic-induced logistical challenges.
Ajayi said a number of factors are contributing to the massive delays and backlogs of goods: a national shortage of truck drivers, bottlenecks at major U.S. ports in California and continuing lockdowns in foreign countries, such as Russia and China. Coupled with record levels of demand, consumer goods across the board are becoming more costly and difficult to find. Ajayi said increasing prices boil down to a simple matter of supply and demand. 
"If some products don't get somewhere on time, the seller raises the price," Ajayi said. "So, it's a temporary bump."
This fundamental rule in economics is the reason why common household goods, groceries, cars, computers and gasoline are now more expensive. With the holidays coming up, Ajayi said holiday shopping may be a challenge for some.
"Between now and Christmas, we still have to wrestle with higher prices," Ajayi said. "Since many people haven't been together for two years, this year people will actually want to buy more, and this is the year of shortage, so … you better buy things on time. Otherwise, if you order something, it could arrive in January or February."
However, Ajayi said he is confident the issue is a temporary one and reassures students that many of the logistical challenges plaguing the supply chain will likely be resolved in the next three months.
"If we progress toward normal conditions, goods will start to be available (and) then competition will drive the prices back down," Ajayi said. "It's a temporary disruption. We'll pay a bit more, and gradually, this logjam will ease out and the ports will be cleared."
In the meantime, increasing prices will likely hurt a number of college students in their budgets and meal planning, said Chef Robb Seltzer, director of food and beverage operations at the Rosen College of Hospitality Management. With Thanksgiving coming up, he said the price of turkeys has almost doubled over the course of a year.
"It doesn't seem like much, but for a 10-pounder, a small turkey, that's another $5," Seltzer said. "And for students, $5 can be substantial. … Already, about 50% of college students live with food insecurity." 
UCF has sought to address this disparity through its Knights Helping Knights Pantry, a donation system designed to keep students from going hungry by allowing them to take five free food items per day. The pantry is fully stocked for Thanksgiving, and Volunteer Manager Nicolas Aixala expects more students will take advantage of the free supplies this year.
"There has definitely been an increase in the number of students coming to the pantry compared to last year," Aixala said. "We've had a record number of students coming, and I expect that will continue to increase by a lot."
Aixala said the pantry also plans to give out free Thanksgiving gift bags to students on campus during the week leading up to the holiday. Other students have found creative ways to deal with their increasing expenses. Marlena Dietrich, a criminal justice sophomore, recommends other students install GasBuddy onto their phones, an app that directs users to nearby gas stations with the cheapest prices. 
"I actually got it (GasBuddy) because the gas prices started going up," Dietrich said.
Dietrich also encourages students to shop at a Walmart Neighborhood Market instead of Publix if they are looking to save a little money. Other students are editing their Thanksgiving menus to accommodate the climbing food prices. Crispin said her family's celebration this year most likely will not be as traditional.
"We probably won't have a big meal," Crispin said. "(We) might skip out on the Thanksgiving turkey (and) have a normal dinner. I would say this is different from last year." 
Seltzer advises students to remember the real reason they are celebrating the holidays.
"It's more about the people, and that's (coming) from a chef," Seltzer said. "I would like to say it's all about the food, but it's really all about the people, especially in these times."