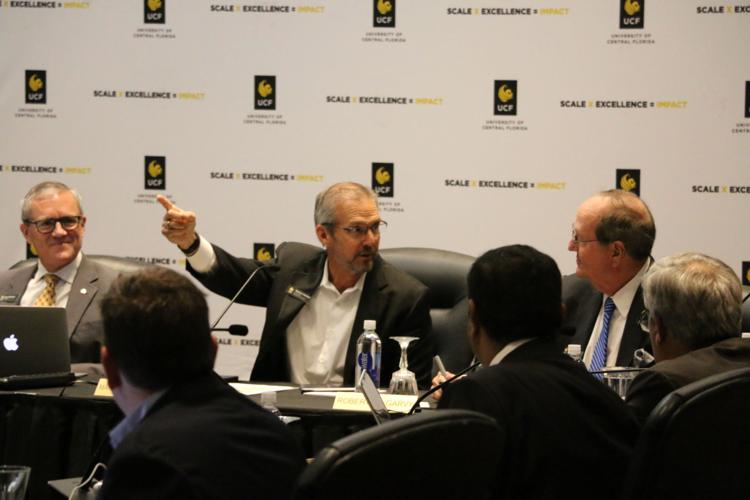 The external investigation into UCF's misuse of funds is still ongoing, but the Board of Trustees did not have further updates during Thursday's meeting at the FAIRWINDS Alumni Center.
University officials admitted in September that $38 million worth of state funds were misused on the construction of the new Trevor Colbourn Hall building on UCF's main campus. It was later found that an additional $10 million was misused on other campus construction projects.
Bryan Cave Leighton Paisner LLP is conducting an external, independent investigation into the issue. Board of Trustees Chairman Marcos Marchena asked the law firm in September to find out if anyone other than UCF's former Chief Financial Officer Bill Merck was involved in the misuse of funds. Additionally, he asked for an investigation into whether or not anyone personally profited from it.
"Our investigation is active and ongoing," Beverly Seay, chair of the audit and compliance committee, said in her brief update during Thursday's meeting.
Seay said the law firm is continuing to review emails, reports and financial documents with targeted searches being conducted on accounts of specific university employees. Interviews are also ongoing with current and former employees, though none were named specifically.
Florida's Board of Governors, the governing body that oversees the state university system, is heavily involved in the investigation. Its inspector general, Julie Leftheris, is receiving copies of the reports and documents as well as information from the interviews, Seay said.
Seay said there will be a new update from the law firm at the Board of Governors meeting in January.
Alex Martins, chair of the facilities and finance committee, said Trustee David Walsh proposed an expansion of the investigation during Thursday morning's committee meeting. Martins said Walsh was interested in the possibility of the investigation probing further into UCF's past funding. However, Martins told the board that questions were raised during the morning meeting about whether an expanded investigation would delay the release of the law firm's findings. As a result, the proposal did not pass.
Three projects already approved together by the board were brought back for individual approval on Thursday "in an abundance of caution," according to Martins. The projects mentioned included renovation and expansion for the John C. Hitt Library, the Student Union and the College of Optics and Photonics. All three projects were approved.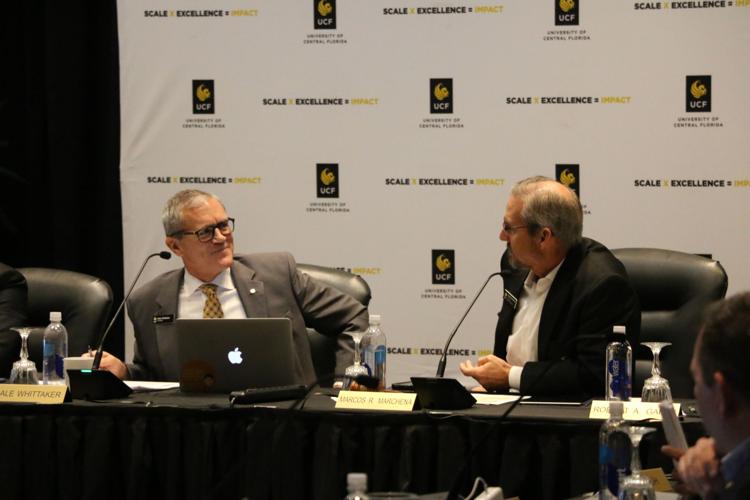 During the public comment portion of the meeting, three students from the UCF College of Business Administration individually voiced their opinions and concerns about the reduced-seating format of their classes. The new format requires students to attend only five classes per semester, which means the bulk of their learning occurs on their own.
The students said the lack of face-to-face class meetings with their professors has severely reduced the quality of education in the school. Two of the students went as far as to say that they didn't feel like they could apply for internships because they were not prepared enough.
Joshua Boloña, UCF's student body president and student representative on the board, said he knows how big of a problem the format has been for students.
"I could call up my roommate right now and ask him his professors' names and I guarantee you he wouldn't know," Boloña said. "And he's doing fine in his classes."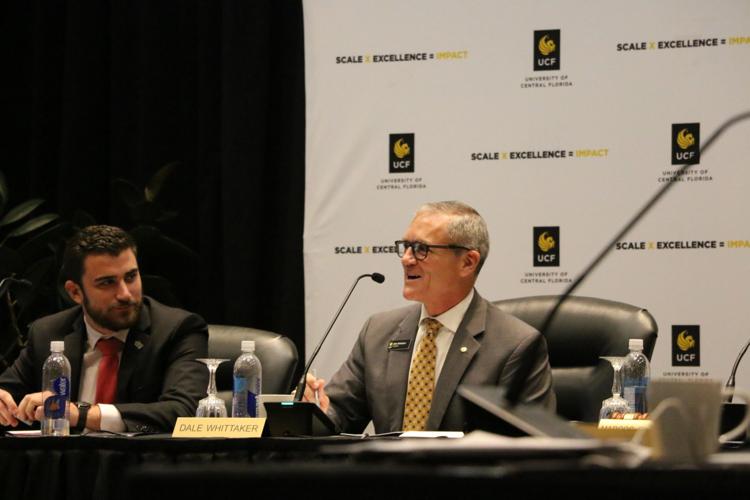 Upon hearing the students' complaints, Marchena and UCF President Dale Whittaker agreed to further evaluate and discuss the format of classes at a later date, but did not specify when.
Mixed in between the issues at hand during Thursday's meetings was plenty of celebration. Whittaker's opening comments included praise for UCF Athletics, the university's freshman class and the student body as a whole.
Whittaker gave specific praise to UCF's football team, which will host Cincinnati in a top 25 matchup on Saturday night. The game will be on prime time television at 8 p.m. on Saturday, but before that, ESPN's College GameDay will broadcast live from Memory Mall from 9 a.m. until noon. Thursday's board meeting even included a short break around 2 p.m. to give attendees the opportunity to walk outside and watch the GameDay bus make its way in to campus.
Big smile from @UCFWhittaker as the @CollegeGameDay bus makes its way in pic.twitter.com/Z9CfKDFE4U

— Bailey Adams (@BaileyJAdams22) November 15, 2018
"This is an incredible opportunity to showcase UCF to the rest of the country," Whittaker said. "It gives our university such a platform to tell our story."
After shouting out the UCF women's volleyball and UCF men's soccer teams for their conference championships, Whittaker touted the university's academic success.
Whittaker said UCF hit two marks that should help in the school's quest to be granted preeminent status, which is a recognition granted by the state to its highest-achieving universities.
The first mark Whittaker noted was a six-year graduation rate of 72.6 percent, which ranks UCF nationally in the top 40 universities. The second was a first-year retention rate of 90.4 percent, which marked the first time UCF surpassed a rate of 90 percent.
"This is a student body that doesn't feel entitled," Whittaker said. "They work for everything they get."
Following Whittaker's remarks, Provost Elizabeth Dooley echoed the praise.
"UCF is the heartbeat of what a public university should be," Dooley said.