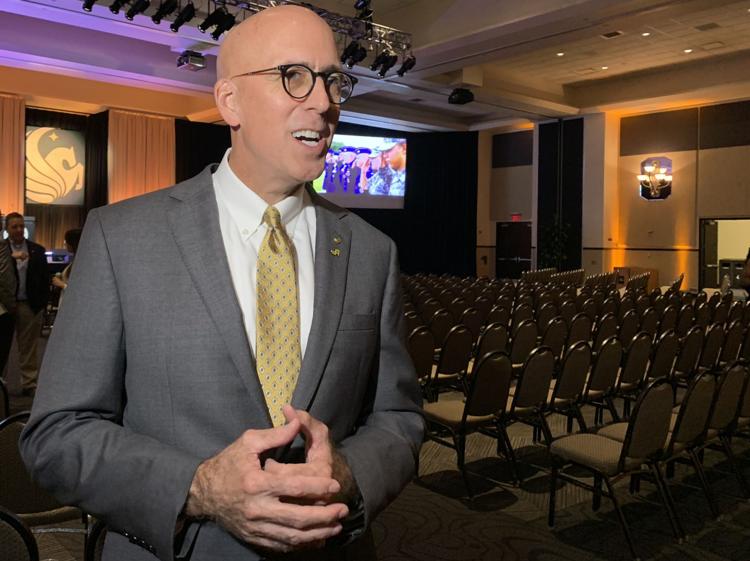 Interim President Thad Seymour Jr. announced a UCForward plan during the 2019 State of the University Address on Wednesday.
The initiative was developed over the summer and highlights three priorities for the 2019-2020 academic year — strengthening UCF's operations, expanding resources and investing in excellence. 
"I created a set of priorities to rebuild trust and build upon our areas of distinctive excellence," Seymour said during the address.  
Students, faculty and other Orlando professionals attended to witness the celebration of UCF's accomplishments and learn about plans for the future. 
Seymour's first priority, strengthening UCF's operations, focuses on innovative leadership, efficient operations and resource management. This includes launching a new university budget allocation model and implementing operational improvements, which will produce $25 million in annual savings, according to Seymour.
To fulfill the second priority of expanding UCF's resources, Seymour emphasized the need to achieve approval for new recurring state funding during the 2020 Legislative Session.
UCF will also need to attract $25 million in major gifts from new donors and build a highly respected athletics program with at least $85 million in annual revenue within four years. 
Seymour said universities nationwide can be known for their top-performing academic programs, sports programs or rankings. The last priority, invest in excellence, will work toward answering the question "What will UCF be known for?"
With over 68,000 students, UCF has a lot of programs to offer. To Seymour, one of the things he wants UCF to be known for is its contribution to the aerospace industry.
UCF is the No. 1 supplier for the aerospace and defense industry for the fourth year in a row. The university collaborates with aerospace companies such as Blue Origin, Space X, Virgin Galactic and United Space Launch. 
On a recent trip to Kennedy Space Center, Seymour said he was made aware that 30% of KSC employees are UCF alumni. He also said the university is currently involved in nine active NASA missions and last year it took over management of the Arecibo Observatory in Puerto Rico, the world's largest fully operational telescope. 
"I believe it's going to continue in the decades ahead to be a growth industry where a lot of students are going to want to grow and peruse careers there," Seymour said. 
During the address, Board of Trustees Vice Chair Alex Martins also gave an update on the presidential search. He said the final candidates will visit the campus this spring and the new president will take office sometime during summer.
In the meantime, students will have a seat at the table during the search. Martins said students will be part of the search committee, which also includes the Board of Trustees, a Board of Governor's member, faculty, staff and other members of the Orlando community.
BOT Chair Beverly Seay will select qualified students to join the search committee based on a recommendation process, Student Government president Kyler Gray said.
"I'm sure once they finally close the nominating time, if they haven't already, we'll make sure that we have a good amount of diverse students on that committee to really give the perspective of students in this next presidential search," Gray said. 
A transitional year in search of a new president can create risk by slowing down a university, but Seymour said it will push UCF forward.
"I believe it's really important we use this year to accelerate and build momentum so when the new president takes over next summer, it's not a parked car," Seymour said. "It's actually accelerating and we just keep building on that."