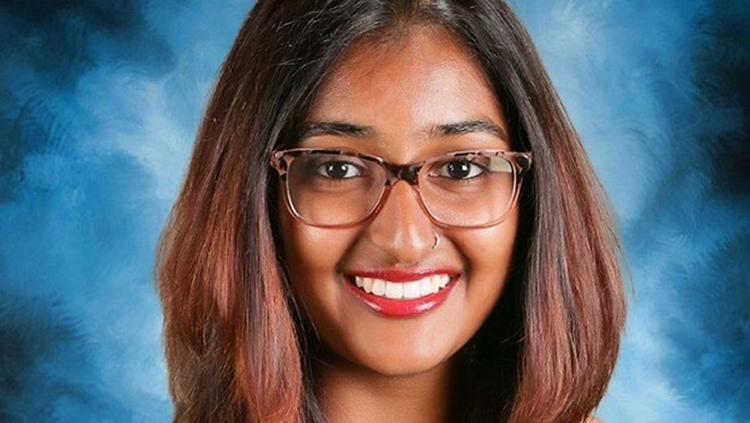 When Kriya Naidu, incoming freshman computer science major, found out she would be University High School's valedictorian, she felt proud that her hard work paid off. But little did she know, the hardships were not over. 
Just hours before walking the stage, administrators from the Orlando high school told the 18-year-old valedictorian she could not give her speech at the graduation ceremony at the Addition Financial Arena Tuesday. 
"I was really upset because I worked on it for weeks," Kriya Naidu said.
Disappointed and angry, Kriya Naidu uploaded the speech hours later on YouTube. In less than 24 hours, the three-minute uncensored video gained 2,000 views and spread on social media platforms, grabbing the attention of friends, family and Orange County Public Schools.
Wearing her cap, gown, medals and cords, she began her speech telling how her parents immigrated from South Africa and rose from their hardships.
Later in the video, she joked about one of the senior class' most memorable day in school when someone set a fire in the bathroom. That day, the class stayed in the gym and put on a talent show to pass time. 
She also made a joke about bribing teachers and ended her speech with a quote from Cardi B where the rapper said, "Knock me down nine times, but I get up 10."
"I know a lot of people in the audience can relate to facing hardships," Kriya Naidu said. "I wanted to show that if you overcome [hardships], then you can continue to do that for the rest of your life and succeed." 
However, the high school did not find the remarks appropriate and asked her to remove the three lines.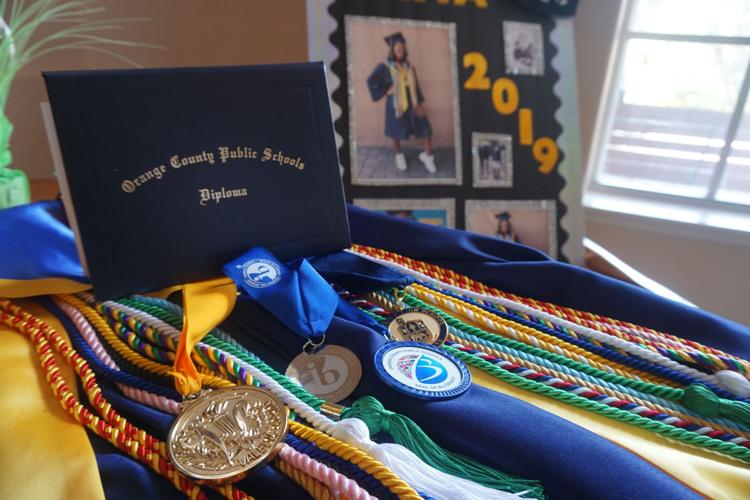 After editing the speech, Kriya Naidu received a call from UHS Assistant Principal Tony Roman and asked her to record the speech the Friday before graduation. She said she was unable to do so because of Advanced Placement exams and her part-time job.
Her mother Kavitha Naidu said she called the school multiple times to ask why her daughter had to prerecord the speech, but she received no answer. 
"It was very disheartening to go through all of that," Kavitha Naidu said. "It's sad that, at this day in age, she's a young adult and being cheated in this way for no apparent reason." 
According to a statement by Orange County Public Schools, "University High School administrators worked closely with the valedictorian providing her guidance after reviewing her speech. She was then given the opportunity to pre-record her speech as is the practice in some of our high schools. We were disappointed that she chose not to do so."
However, Kriya Naidu said UHS has never prerecorded the valedictorian speech and she did not receive an ultimatum. The family is still confused about why she was not allowed to give her edited speech at the ceremony. 
"I did what they asked me to do," Kriya Naidu said. "So, what was the issue?"
Angie Gallo, Orange County school board member, spoke in replacement at the ceremony. 
The Naidu family was also disappointed when Kriya's name was mispronounced, and she was not the first one to walk across the stage at the ceremony, like other valedictorians have in previous years. Frustrated and angry, the family left before the ceremony was over.
"I was sad because it was supposed to be a joyful occasion and it turned out to be something that was stressful and frustrating," Kavitha Naidu said. "Watching her not get to do something she was looking forward to upset me."
Barbara Jenkins, superintendent of Orange County Public Schools, was "deeply saddened" and apologized to the family in an email to Kavitha Naidu. She also invited Kriya Naidu to give her speech at the next school board meeting on June 11.  
"Additionally, we can tape her speech in our studio and post it on our website and social media," Jenkins wrote in the email.
Here is the email that @SuptJenkins sent to @kreeyuh77's mother apologizing for the mistakes made. pic.twitter.com/VAWWTzvCmk

— OCPS News (@OCPSnews) May 30, 2019
Prior to receiving the email, the Naidu's were planning on attending and speaking during the public comment period of the meeting. The valedictorian hopes to get a personal apology from the principal and assistant principal and wants the school board to set up clear guidelines for future speeches.
The incoming UCF Knight graduated with a 5.5 GPA and begins her first semester in the fall with a Provost scholarship. She will join the the Burnett Honors College, dedicated to the highest achieving students.
Kriya Naidu has been a member of her high school's Robotics team for the past four years. She was named head programmer her sophomore year and had the honor of being captain of the team her senior year.
To continue her passion for programming, she decided to pursue a bachelor's degree in computer science. She hopes to one day start her own business or takeover and expand her family's.
"I learned a lot from this experience. Things don't alway go your way or how you would expect," Kriya Naidu said. "I don't want this to happen again."