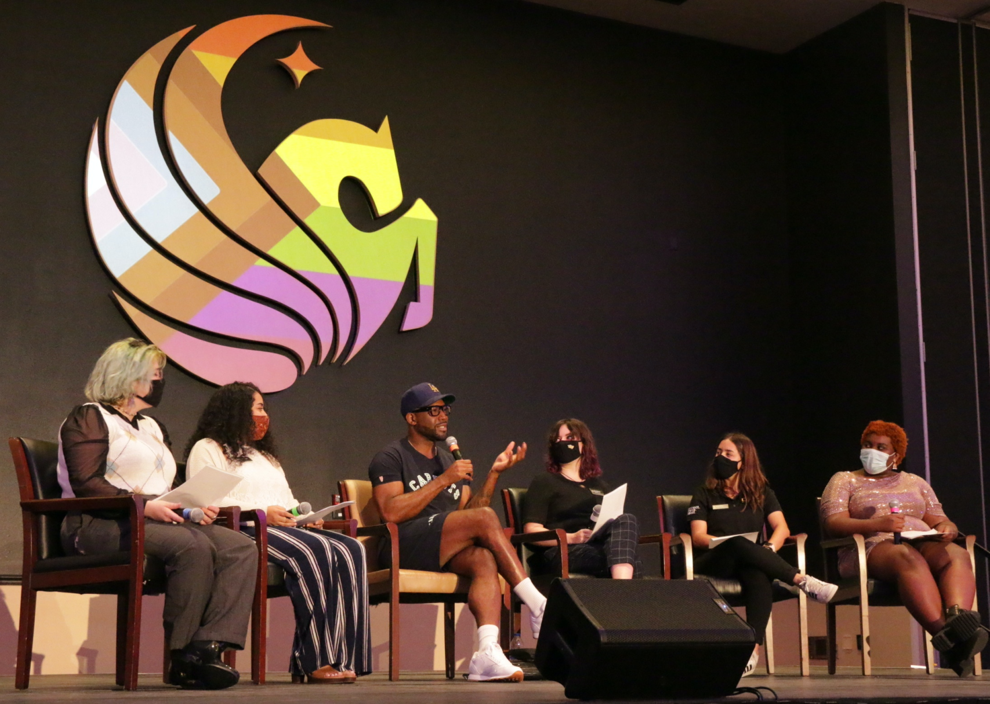 Karamo Brown, the culture expert on the Netflix reality series "Queer Eye," spoke to UCF students about love, acceptance and identity during a Q&A session at the Student Union Tuesday.
The UCF Campus Activities Board, Multicultural Student Center and LGBTQ+ Services invited Brown to host "Kiki with Karamo Brown" as the first event in honor of LGBT History Month.
Among the questions Brown received from students were on his personal experiences as a queer man and advice for accepting their own identities in their households.
"I usually love when I have these questions because I get to know the person — do you mind being open and vulnerable right now?" Brown said to an attendee at the event. 
LGBT History Month, which spans October, highlights and celebrates the achievements of the LGBTQ community. UCF is ranked as the top Florida college for LGBTQ students to attend, according to BestColleges and the Campus Pride Index. 
"Queer Eye," a reboot of the 2003 Bravo reality television series, follows nominated contestants, also known as "heroes," as they receive lifestyle and fashion makeovers from the LGBTQ-based Fab Five, a group of experts tasked with helping contestants change their lives.
Brown's ties to the Sunshine State run deep, as an alumnus of both Marjory Stoneman Douglas High School and Florida A&M University, according to the Professional Convention Management Association. Before transitioning into media, Brown said he worked as a licensed social worker, primarily working with LGBTQ youth within the foster care system. He was also the first openly gay Black man to appear on reality television when he joined the cast of the MTV series "The Real World" in 2004, according to PCMA.
"I realized that my journey is my own, and these intersections give me challenges, but they also give me knowledge and strength that I need," Brown said.
Throughout the Q&A Session, Brown shared his own positive and self-love phrases and had the audience repeat them back to him. Some of these phrases included: "I am perfectly designed;" "Comparison is the thief of joy;" "Not everyone is emotionally available or emotionally intelligent." 
"When you start to learn by practice, loving yourself authentically and just believing in who you are, the pain starts to minimize a little bit," Brown said. "You start to fill your heart with a love of yourself, and that takes time, but once you get there, it's really good." 
MSC Pride Director Mariette Tomlinson said she started planning Brown's visit during the summer, which was also her first major event as pride director. CAB, MSC and LGBTQ+ Services had another member of the Fab Five, food expert Antoni Porowski, visit UCF virtually last year.
"I knew an event like this was possible because I go to a campus that's very queer-friendly and uplifts the queer community," Tomlinson, a sophomore social work major, said. "Having Karamo visit during LGBTQ+ History Month creates a big open door now for more people to come and speak here on campus."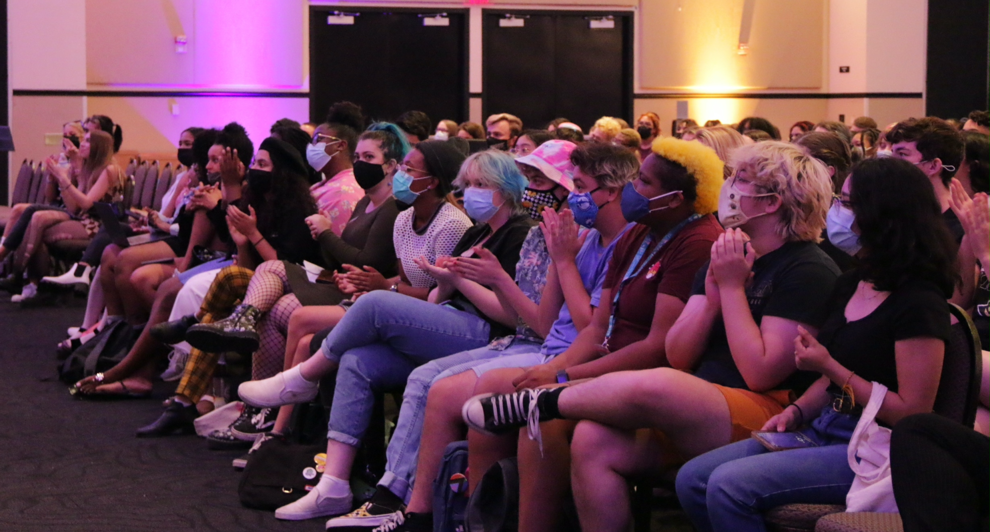 Brown also gave advice on coming out, which he called a "process of letting people in." From coming out, to love, to his experiences on "Queer Eye," students enjoyed interacting with Brown, Tomlinson said. 
"Just continue to find a community that the people around you love you and others back," Brown said. "We're going to accept you for how you are and who you are." 
Junior anthropology major Alexandra Maldonaldo, a third-year member of LGBTQ+ Services, said Brown's visit is more than just a celebrity visiting campus.
"He's a role model to a lot of students who embody those intersections, so people who are both queer and a part of marginalized groups," Maldonado said. "I value how much effort UCF puts into empowering and uplifting those voices of LBGTQ+ students. It makes Karamo's visit more powerful."
Marine and aquatic biology freshman Nexus Green said Brown's visit continues to break down boundaries between identities.
"It was a really great representation and a show of diversity for the university to have examples of diverse voices," Green said. "'Queer Eye' is about representation for the younger generation to know they aren't alone."
Freshman writing and rhetoric major Hollis Humphrey said Brown's event was a great way to celebrate the start of LGBT History Month.
"'Queer Eye' is a great way to start a conversation between queer people and the people who haven't lived those experiences," Humphrey said. "It's a middle ground and starting point to work through that."
Toward the end of the event, 10 students won signed copies of Brown's book, "Karamo: My Story of Embracing Purpose, Healing, and Hope," as part of a raffle. Brown also revealed exclusive information to audience members on his two upcoming books.
Students clapped and cheered as Brown said, "Go Knights, Charge on!" Brown said he hoped his words would be something audience members could take home from the event and use positively.
"Broken crayons can still color, and that sticks with me," Brown said. "The moments where I feel the most challenged and when I feel like the world is trying to break me (are the) moments I tell myself that a broken crayon can still color."