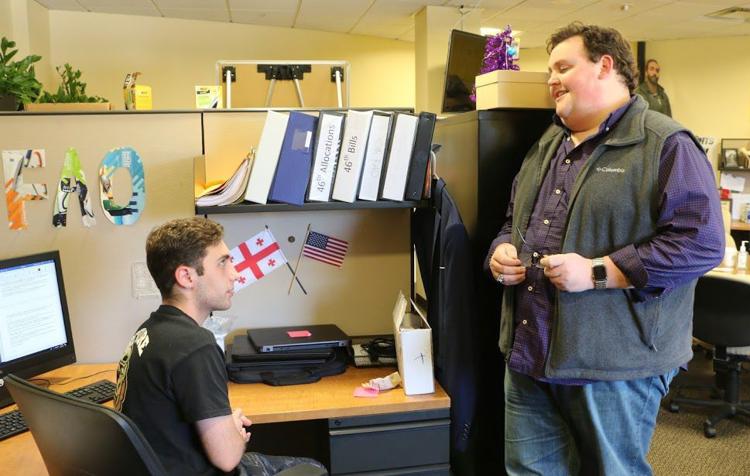 If there's anything newly inducted Student Government Association President Kyler Gray wants students to know, it's that he gives a damn.  
"I get the most joy out my life from helping," Gray, public administration major, said. "I care about UCF. I care about the people within UCF because we do something that no one else does." 
Gray was elected SGA president March 6 with his running mate Madeline Mills. He is also a member of inter fraternity council Phi Delta Theta on campus.
From the moment he stepped out on campus, Gray said he wanted to be involved in school and join clubs, as well as get to know the students.
Helping people and making their lives better has always been apart Gray's life as well, and he said it's what he was put on Earth to do. 
"I started helping people when I was a health science major, and I worked in a nursing home and hospital as a nursing assistant," Gray said. "Then I changed and started this role of leadership and administration. I think it was what I was intended to do." 
He said he always thinks about one case from his time as SGA attorney general. A student had alcohol and marijuana charges after getting caught with friends who were under the influence. No one had believed the student, who said he was sober during the incident, until Gray listened to his story.
"I took him under my wing and helped him through the process," Gray said. "Luckily, we were able to get a majority of the charges dropped, and he still regularly texts me, and now he's involved in Greek life and in organizations because of my mentorship." 
Gray said it's those cases that impact him the most and taught him to hear the stories of those around him.
Despite coming from "the middle of nowhere" and raised in a moderately conservative family in Live Oak, Florida, he was always taught the importance of relationships and has since befriended a variety of people at UCF — especially while campaigning for SGA president.  
"At our campaign event, I watched him interact with every individual that arrived if he knew them or not and made them feel included and welcomed," Mills said. "Kyler always thought deeply about the concerns that were presented to him."
He said his goal now is to build off of Josh Boloña and Jad Shalhoub's administration's work by listening to students on campus and rebranding SGA, starting with a logo and culture change. His goal is for students to know that SGA is a resource from the second they enroll. 

"How do we make it where students feel comfortable and are knowledgeable of us," Gray said. "I would love for my office to be flooded with phone calls every 10 minutes with students asking questions." 
Gray said he also likes helping and building up relationships around the SGA office.
One of the most notable figures around the office is SGA Office Manager Sandi Briggs, or as Kyler calls her, "Miss Sandi." When walking around the office, Gray stopped at her desk to see if she wanted to get a photo with him. 
"You always look so good," Gray said. "You always look so fresh." 
"Not today," Briggs said. "Catch me on another day." 
"Cash me outside," Kyler said, prompting Briggs to burst out laughing. 
When he's not working in the SGA office or talking with students, he's writing his novels and creating stories. Specifically, historic fiction and romance novels. He said it was after seeing the Nicholas Sparks movie "The Notebook," which made him fall in love with writing. 
"I've been writing novels for the past three years, and I've never published them but it's a goal of mine," Gray said. "The last thing people would think I would write is romance. But I watched 'The Notebook' one day when it was one and oh my god it tore me up. This has to be one of best books ever writing and I'm only seeing the movie!" 
After he graduates from UCF spring 2020, he said he plans on attending the University of Florida for it's dual-doctorate program in higher education and administration. His goal is to put an end to problems within the school system as the president of a university or superintendent of a district.
"The same things that we see in public education where kids don't have access to resources and you're constantly combating poverty, that just doesn't go away with college," Gray said. "So many students have financial burdens." 
Overall, Gray has dedicated his life to assisting others and helping them achieve success in their own way.
"I want to live on this world to give people an opportunity, "Gray said. "The legacy I want to leave is that I cared."