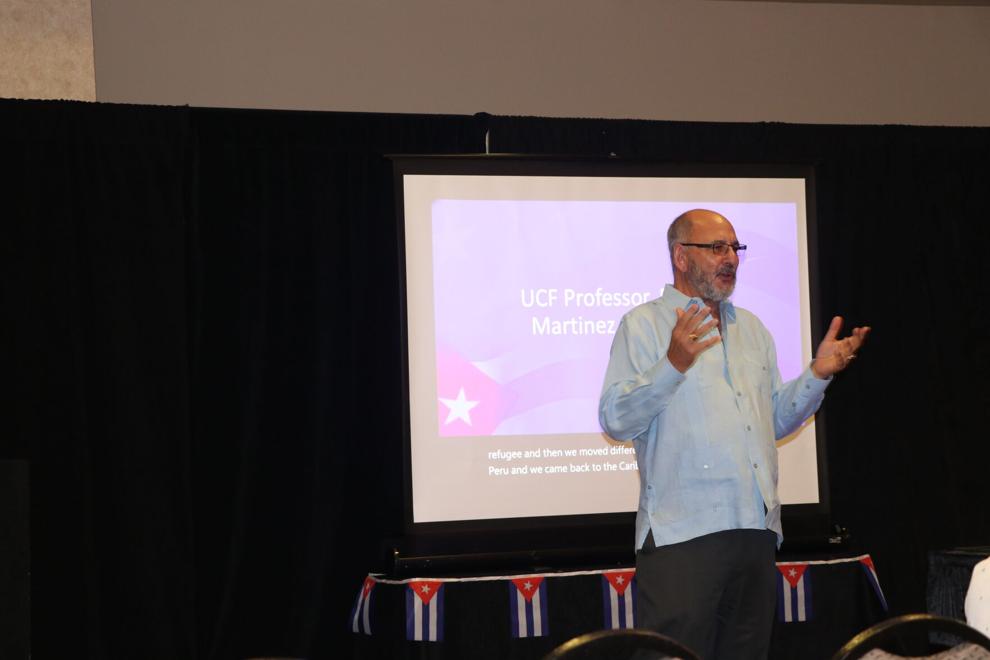 To kick off Diversity Week at UCF, the Cuban-American Student Association hosted an event in the Student Union's Key West Ballroom Monday to educate fellow UCF students on what it means to them to be Cuban.
CASA showcased Cuban heritage and culture through stories about their personal and family experiences in Cuba. The event embodied Cuba's history and cuisine, as well as descriptions of what living in the country was like. Students and faculty were welcome to present at the event, which hosted about 20 attendees. 
History professor Luis Martínez-Fernández was born in Cuba but fled to Miami Beach, Florida, as a refugee in 1962. During the event, Martínez-Fernández presented the history of the island and spoke about the protests against the Communist Party that took place in July. 
"The citizens were crying out for help and freedom," Martínez-Fernández said. "They want the president to step down and for their fellow citizens to stop being killed, imprisoned and enlisted into the army."
The event's coordinator, Karen Rodriguez, is a UCF alumna and Cuban American. She presented context about the protests and more information on the aftermath of them, even though she's never lived on the island. 
Rodriguez said, in recent months, Cubans have been trying to show the world they are ready for change on the island. She said Cubans have been denied basic human rights and are tired of the communist way of living.
"The biggest threat against the regime is information and education," Rodriguez said. "The Cuban government has no choice but to act when there is so much international attention on them, so that's why I work so hard to educate everyone I can."
UCF is designated by the U.S. Department of Education as a Hispanic Serving Institution, according to UCF Today. Cuban students who attended the event were reminded of not only their families but of others who share similar experiences living in the country. 
"I lived on the island, and I saw the struggle," said Carlos Lopez, computer science senior. "My expectation of moving to the United States was like the movies. It was not the same, but it was better.
"You feel the freedom," he said. "You see how much you're missing out on when you live in a dictatorship."
Martínez-Fernández said he wants to return to the island and help his fellow Cubans.  
"I left Cuba when I was 2 years old, and I did not return until 1994," Martínez-Fernández said. "I wish I was in Cuba. Our brethren on the island are suffering, and they need our support." 
On the other hand, there are students like business management junior Daniella Lopez, who feel guilty they call themselves Cuban but weren't born in the country. Lopez said not having been born on the island is a privilege many do not receive.
"I know and try to understand the hard work my parents put in to give me a better life," Lopez said. "I honor every single one of the sacrifices that my family made."