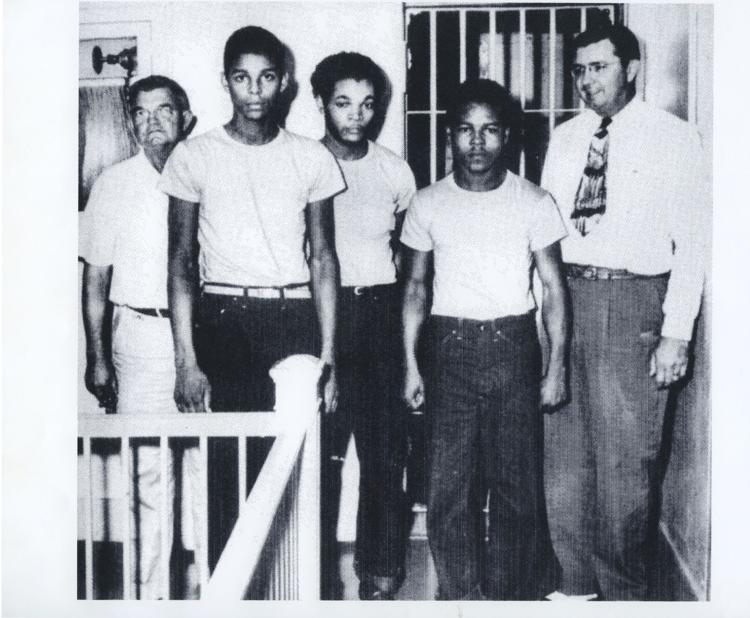 In 1949, four African-American teenagers were convicted of raping a 17-year-old white woman in Groveland, Florida. Now, 70 years after their arrest, Gov. Ron DeSantis pardoned Ernest Thomas, Charles Greenlee, Walter Irvin and Samuel Shepherd – now known as the Groveland Four – Friday.
"For seventy years, these four men have had their history wrongly written for crimes they did not commit," DeSantis wrote in a statement on the governor's website. "As I have said before, while that is a long time to wait, it is never too late to do the right thing."
But 18-year-old Alisha Taylor, a freshman business management major and a member of the Black Student Union, said she's angered by DeSantis' pardon of the Groveland Four because she felt the decision was not necessary.
"[Their pardon] is not going to benefit anyone because they're not here, and I just feel there is no purpose for it," Taylor said. "It just makes me mad. Just the thought that you would wait until after the fact that it happened to try and do anything with the case overall." 
After granting the Groveland Four a pardon during Friday's Executive Clemency Board meeting, DeSantis said in a livestream that a full pardon forgives guilt for a conviction but "the determination of guilt or innocence is not a prerequisite."
UCF Associate Professor Anthony B. Major, a former director for the university's Africana Studies program, said although he believes the pardon was a "good thing," DeSantis' action doesn't help the negative effects that have followed the four men's families for decades.
"The family having to go 70 years of injustice and the effect that it had on them, and they don't get the privilege to have the psychological relief or psychological wherewithal to help them through a process," Major said.
Major also said he thinks Friday's announcement restores their families' names.  
"This case, and by the governor doing it, gives them a sense of relief and also a sense of name recognition that they can now be proud of who they are and their name," Major said.
Author Gary Corsair, who detailed the teenagers' story in his novel "The Groveland Four: The Sad Saga of a Legal Lynching," said he believes the pardon doesn't indicate the Groveland Four will be exonerated.
"The state still hasn't said the crime never happened," Corsair said. "[They] just said we're sorry your family members were mistreated." 
Corsair said mistreatment followed the teenagers after their arrest and retrial. 
He said after their 1949 arrest, Thomas escaped custody and was shot and killed by a large posse, or "a hunting party," who followed him and "riddled him with bullets." 
"He never had a chance to explain why he'd run," Corsair said.
The other three teens were convicted, but after an eventual appeal to the Supreme Court, a retrial was ordered and said, according to their opinion, their conviction was "one of the best examples of one of the worst menaces to American justice." 
Ultimately, Corsair said Lake County Sheriff Willis McCall shot Shepherd and Irvin while they were being transported to begin a pretrial hearing in Tavares, Florida. Shepherd was killed, but Irvin survived and was released from prison in 1968, only to die a year later. Greenlee, who was paroled in 1960 after partially serving a life sentence, died in 2012.
"I believe the rule of law is society's sacred bond," DeSantis said. "When it is trampled, we all suffer. For the Groveland Four, the truth was buried. The perpetrators celebrated. But justice has cried out from that day until this."
Despite this concession, Major said it would have been significant to pardon the Groveland Four while they were still alive.  
"Those four people are dead, so the right thing to do would have been to have justice served while they were there," Major said. 
It's an opinion that Corsair, who had a chance to meet "his friend" Charles Greenlee while he was still alive, shared.
"It would have meant a lot more [for Greenlee] if somebody could have personally said to him, 'hey you're not a rapist anymore we took it off the books,'" Corsair said. "I don't know why it took so long." 
DeSantis said during the meeting that "while this act cannot right the wrongs done to them many years ago, I hope that it will bring peace to their families and their communities. I am confident the people of Florida would not want this injustice to happen again."
The pardon followed the state Senate's 2017 resolution that urged then Gov. Rick Scott to pardon the men because they were the "victims of gross injustices and that their abhorrent treatment by the criminal justice system is a shameful chapter in this state's history."
DeSantis' office was unable to comment for further information at the time of publication.