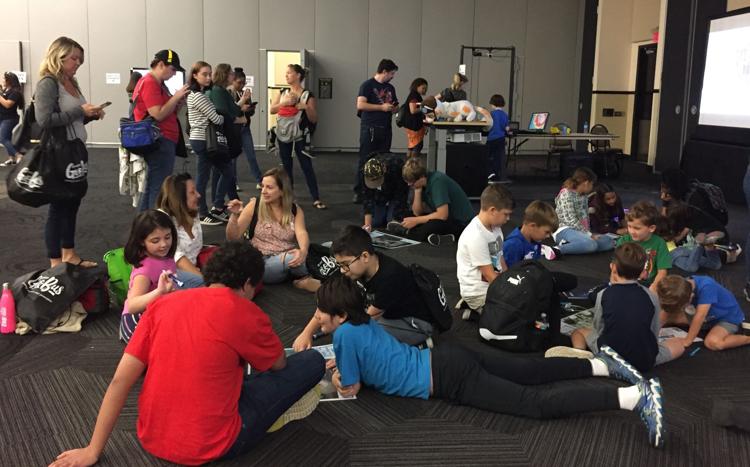 About 400 elementary and middle school students tested out drones, drew their own maps and used a sandbox to learn about topography on Geographic Information Systems Day Thursday.
Taking place in the Pegasus Ballroom, the second through eighth grade students learned about mapping through several interactive activities including flying mini drones through an obstacle course and using apps to map kindness and sustainability.
The event was set up by Timothy Hawthorne, an associate professor of GIS and the founding research director at Citizen Science GIS, an international award-winning organization at UCF that develops maps and uses drones to map various locations including coastal regions. 
"There's all these different learning stations that the kids went through, so they've done mapping apps, got to fly mini drones, walked across Florida on a giant map from the National Geographic [and] flew over a Lego city hurricane disaster model with mini drones," Hawthorne said. "We're hoping that they will be UCF students one day and experience these really awesome technologies."
The main purpose of the event was to get students used to these technologies and understand the opportunities they present said Elise Lorenzo, sociology graduate student and graduate coordinator for the event.
GIS includes anything that uses location services and the internet, Lorenzo explained. Programs like Google Maps, Pokemon Go and maps on Snapchat are examples of GIS.
"These are things that we use on a daily basis but never sort of put two and two together, and that's what we're trying to do," Lorenzo said. "Just make students aware of GIS, that it's a career possibility that they can fly drones as a job, make maps."
Despite the event being targeted toward elementary students, there were some younger kids, including a 4-year-old who got to play with the drones. She came with her mom to the event along with about 20 other students that were part of Sunshine State Homeschool Academy, a home-school group.
"We have kids of all ages that come here," said Chrysalis Wright, director of Sunshine State Homeschool Academy and a psychology lecturer at UCF. "The kids think they're playing. For them it's all fun and it's games and stuff even though they are learning while playing."
On a carpet map of Florida, students learned to find locations using coordinates to help them learn how to use a map.
Lorenzo explained that they "mapped" acts of kindness by asking students to mention an act of kindness they experienced and the geo-location where it occurred and put it on a map. In the end, students had mapped points all over the world.
Lorenzo said her thesis project is using GIS to map the perceptions of vegans and vegetarians about food options on campus. Even though she is not in a technological field, she found a way to incorporate it into her studies. She said she hopes to continue work in the GIS field.
"I honestly don't think there's a field out there that can't use GIS," Lorenzo said. "I can't believe I do this as a job. I mean, this is the greatest event. I'm very grateful."
Citizen Science GIS is working on a project to help make these types of technologies more accessible to students to try them out. Hawthorne said they plan on opening up the first ever GEO bus in the U.S. next spring. This bus will have a science lab on board that would visit schools and kids can enter and learn more about these technologies.
Hawthorne explained that in addition to mapping coastal regions, the organization helps with mapping locations that are difficult to reach by satellite, such as an island in Belize.
"We went up to islands that with satellite imagery they are so small that they don't show up on satellite imagery because the resolution is so poor," Hawthorne said. "So we go out with drones and basically put them on the map."
Hawthorne said what he likes most about his job and this event is working with kids.
"I'm a parent and a professor," Hawthorne said. "Just working with kids and getting them excited about the things I get to do and the students — that's what it's all about."