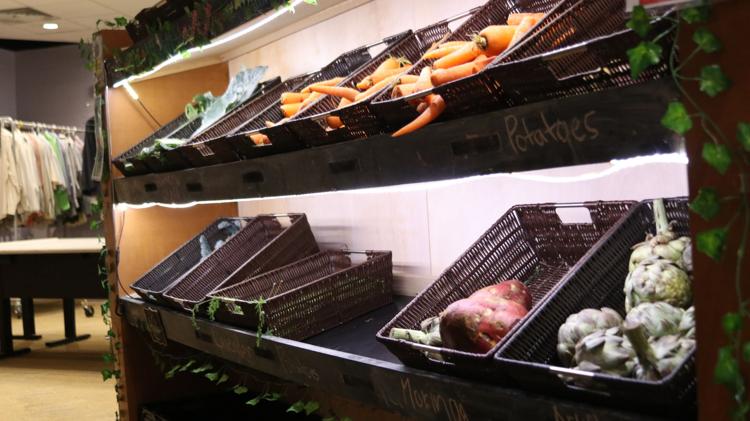 For four months, 20-year-old Emilia Kosonen parked her Ford F250 van in a residential neighborhood, climbed into the back of that van and settled in for the night — falling into a fitful sleep with the rushing sounds of nighttime traffic.
In the mornings, Kosonen chose an outfit from the clothes line she'd hung across the back of her van, made the drive back to campus, showered at UCF's Recreation and Wellness Center, maybe made herself something to eat in one of the Nike community kitchens and headed to class.
An uncomfortable living situation and a fallout with roommates resulted in Kosonen joining the growing number of college students experiencing a form of homelessness nationwide from November 2018 to April 2019.
In 2013, approximately 58,000 college students across the nation — including about 3,500 in Florida — reported being homeless on the Free Application for Federal Student Aid according to Schoolhouse Connection's webinar, an online slideshow presentation addressing student homelessness and financial distress at UCF.
"I didn't officially 'move out' until December, but by November, I was already roughing it out in my van," Kosonen said. "I felt so uncomfortable and unwelcome in my home — it felt easier."  
Kosonen shifted between crashing on friends' couches and parking in friends' driveways and residential areas. She said she even spent the night in one of UCF's parking garages.
"You kinda learn where the good places to spend the night are," she said. "After spending the night in a few shady places, I've memorized the good places."
For Kosonen, living in her van was a conscious choice she made to save money and liberate herself from a stressful living situation. She said she could have taken a gap year or found another temporary, potentially bad living situation, but that she chose not to prioritize her housing.
"Living in my van was a result of my living situation — not a consequence," she said. "It's always something I'd wanted to do anyways."
At UCF, struggling students are encouraged by the university to fill out a homeless waiver that provides them with access to specific grants and other resources. On top of the waiver, UCF's Student Care Services works to tackle concerns such as homelessness, mental health and food insecurity.
Student Care Services and Student Account Services started a homeless student committee in May 2013. The committee now also includes Student Financial Assistance and Housing and Residence Life.
"We're able to assess their student account, what's going on with their financial aid package and what's available to them," said Angela Williams, Student Care Services coordinator, in the webinar. "We discuss housing options — on and off campus — and our area follows up with them."
The committee aims to educate students on topics such as loans and scholarships.
Despite its abundant resources, Student Union Associate Director Jeannie Kiriwas said there is no formal way to track the student homeless population because of students like Kosonen, who either do not know how or choose not to disclose his or her status to the university.
Kiriwas oversees the Knights Helping Knights Pantry, which is a student-run food pantry located in Ferrell Commons.
The pantry, created in 2009, receives biweekly donations from the Second Harvest Food Bank, Lucky's Market and other local pantries to provide students with everything from baked goods, to produce, to clothing for free.
In 2018 alone, over 35,000 students visited the pantry and almost 70,000 pounds of food and over 5,000 items of clothes were distributed, Kiriwas said.
Despite its best efforts, Kiriwas said it is difficult for the pantry to serve as the primary resource for homeless students because there are items it still can't provide.
Kiriwas recalled a situation in which a homeless student was living outdoors in a tent and was in search of bug repellent to keep insects from getting to her food supply. Every homeless students' needs are specific to them, and there is often a shortage of beneficial supplies, she said.
"Every student need is different," she said. "If I'm living in a van, it's different from if I'm living in the woods versus if I'm couch surfing every week. In theory, I'm inside, but I don't really have a place where I can leave my things long term." 
Kiriwas said she remembers a student struggling with homelessness following a death in the family. The student stayed with a friend but was in need of pillows and bedsheets — items the pantry doesn't normally have in stock.
Kiriwas and the rest of the pantry staff and volunteers were able to find those items for the student with the help of donations from partnering organizations.
Pantry managers Naseeka Dixon and Elias Valentin also recalled similar situations throughout their work there. Dixon said she believes all students experience hunger and homelessness in one way or another because circumstances can change in an instant.
"Sometimes students are experiencing hunger and homelessness at the extreme and [are] sleeping on a bench," Dixon said. "But with a lot of college students, it's needing a blazer for an interview or needing produce or dairy to maintain a healthy diet. There's a range."  
Both Dixon and Valentin have come in contact with other students like Kosonen who have chosen forms of homelessness for themselves.
Dixon said most of the time it's tied to high living and education costs.
"A lot of students ... come into this environment with only so much [money] just to be here," she said. "They just have enough money for tuition and books. That's it."
The cities of Kissimmee, Sanford and Orlando are now ranked No. 1 among the largest metropolitan areas for the most severe affordable housing shortage in the country, according to the National Low Income Housing Coalition.
The Orlando metro area only has 13 affordable and available rental homes for every 100 extremely low-income renters, according to the National Low Income Housing Coalition.
Kosonen said that although she saved approximately $3,000 by living in her van, she doesn't recommend choosing to disrupt a stable housing situation because of the toll it took on other aspects of her life — particularly her education.
"It definitely gave me a lot of freedom," she said. "But I ended up exerting so much of my energy trying to figure out of how to live in this lifestyle that I wasn't focusing on things like my classes and the actual body of work I had in front of me."
Kosonen stressed that although the lack of stability was difficult to manage at times, she was very much in control and never felt trapped by her situation, which is not necessarily the reality for all students experiencing homelessness.
In 2016, Hunger on Campus reported 32% of 3,765 sampled students believed that their hunger and housing problems had an impact on their education, 81% reported not performing as well in a class as they could have and 25% reported dropping a class altogether.
According to its website, Hunger on Campus is an organization committed to ending hunger and homelessness by educating, engaging and training college students on the resources available to them. 
Despite having picked up a few tricks of the trade while living in her van such as fitting her entire wardrobe in an ottoman and a few hangers and investing in a good cooler for her produce, Kosonen said nothing beats the life she leads now.
"Now I feel so much gratitude towards having a good home," she said. "I never appreciated it until I didn't have it anymore."
This month, Kosonen celebrates nearly a week of living in a home where she feels safe — a space she shares with friends and cooks big meals and, most importantly, where she feels free to dance and sing around her new room.