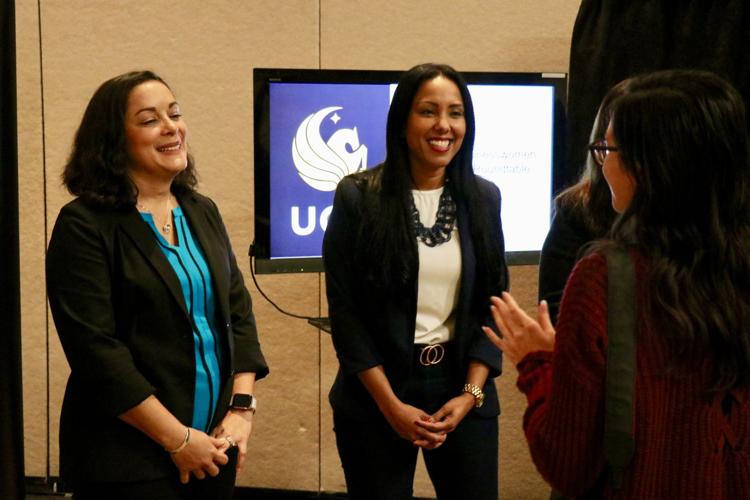 A panel of four successful Hispanic women came together on campus to share their paths to success with students Tuesday.
This panel was comprised of Marisol Romany, director of minority and business development for Orlando Health; Lillian Garcia, executive vice president and chief human resources officer for Tupperware brands; Evelyn Costa Andrade, vice president of human resources for Quick Weight Loss Centers; and Angela Alban, president and CEO of SIMETRI.
Provost and Vice President for Academic Affairs Elizabeth A. Dooley prefaced this panel discussion by sharing her thoughts on UCF's accomplishments with its Hispanic students.
"It is one thing to brag about what UCF accomplishes," Dooley said. "It is another thing to truly understand the heart of UCF and I believe that what we are doing here today speaks to the heart of UCF."
UCF ranks sixth in the nation for all private and public universities in the number of bachelor's degrees awarded to Hispanics, with one in four students being Hispanic, according to Dooley.
Common themes shared throughout this discussion included the need to remain motivated, the importance of being in a career one is passionate about and choices needed to get where one wants to be.
A driving point of the question and answer section was the concept of sacrifices.
"Sacrificing not being in your comfort zone always brings you something great as long as you know what your purpose is," Andrade said.
These businesswomen made many sacrifices along their career paths, which led them to the opportunities they have received. Cristina Saenz, a half-Colombian first year student pursuing a doctoral education degree, resonated with this concept of sacrifices, as she is balancing her education with being a single mother.
"Hearing these women talk about the challenges they faced as choices rather than sacrifices connected with me as a single mom," Saenz said.
The women of the panel stressed the importance of realizing that although something at one moment may feel like a sacrifice, in the end that choice can help put people on the right path.
"What some people may see as sacrifice might be a wonderful opportunity if you set your mind to it," Romany said.
Romany lived in Trinidad and Tobago as a result of an opportunity to teach in an international school which put her in a position to have to learn the British education system with her children. This opportunity gave her family the chance to broaden their knowledge of certain communities.
Going into this opportunity, Romany felt that she had a lot to lose by being a light-skinned Hispanic woman coming into a new school system without speaking British English.
"People started to want to be exposed to Latin American culture," Romany said. "And who was the bridge to that? It was the light-skin Hispanic woman who came to the country from a different background and different school system, but she was the bridge for what they wanted to accomplish business-wise and education-wise." 
Another concept that resonated with students was the need to remain motivated with one's opportunities.
Ruthie Figueroa, senior integrative general studies major, found the concept of saying yes important.
"Having the confidence to say yes and figure out the next step is one of the biggest things I took away from this panel," Figueroa said.
The panelists stressed that whether going out into the workforce after graduation or continuing with one's education growth can happen, especially if one stays motivated and takes every opportunity they are capable of handling.
Every woman on the panel was aiming to motivate students to get to the highest position they want to achieve. 
"Women that are in leadership positions are spread very thinly, but it is even harder when you cannot control how that is done," Alban said. "That is why I chose to start my own company."