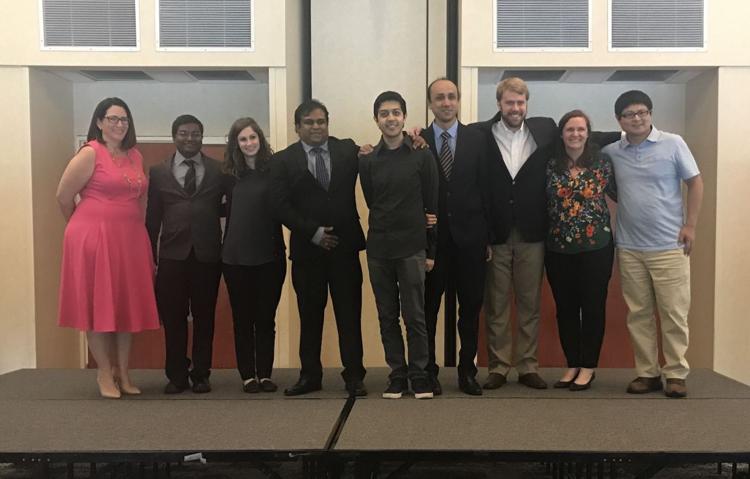 Originating in 2008 at the University of Queensland in Australia, the Three Minute Thesis competition celebrates research conducted by doctoral students by giving them the opportunity to develop their presentation and research communication skills.
Since then, the competition has expanded to over 600 universities across more than 59 countries worldwide.
Approximately 70 people gathered in Live Oak Ballroom Wednesday afternoon to witness 10 graduate students compete for the first time at UCF.  
One attendee, Marissa Salas, said she plans on going into the text and technology doctoral program at UCF in fall 2019 and thought the competition would be a good opportunity to see what was going on with the College of Graduate Studies at UCF.
"I wanted to see what was going on at the university because usually you're in your own department and don't have exposure to what the rest of the university is doing," Salas said. "It's interesting to see what's going on so I can see what I might be able to add to their particular research and how I can possibly partner with them in the future."
The 10 contestants had just three minutes to present their theses.  
Albert Manero, president of Limbitless Solutions, Danya Shea, CEO of FervorWorks, Eric Burris, meteorologist at WESH, and John Weishampel, senior associate dean for the College of Graduate Studies, served as the four judges for the competition.
Audience members also served as judges and received a ballot where they could cast their vote for People's Choice Award.
Judges scored the contestants based on their ability to "effectively convey the essence and importance of their research in an engaging way to a non-specialist audience in just three minutes with one PowerPoint slide."
John Konvalina, also a conservation biology doctoral student, was named third place prize winner for his research on movement, habitat selection and population genetics of the American alligator.
"The next step for my research is to get permits to transport gators from Louisiana back to UCF," Konvalina said. "Hopefully, I'll run the experiment this summer, and we'll see what happens."
Katrina Phillips, conservation biology doctoral student, was named second place prize winner and People's Choice Award winner for her research on juvenile sea turtle dispersal.
"My research focuses on the early stages of the sea turtle life cycle, which are often called the lost years because we know so little about them," Phillips said. "Sea turtles are on the endangered species list, so by knowing more about their biology we can have the information we need to better serve them."
Qitian Ru, optics and photonics doctoral student was named first place winner for his research focused on frequency combs that can detect trace molecules in a person's brain.
"My research will allow you to simply just breathe into a machine at a doctor's office — no scan or needles required — and receive results within one minute," Ru said. "I believe my research will not only save the patient's time and healing in their pain, but will also be more accessible to everyone and save more lives."
Ru said the Three Minute Thesis Competition is a great event for doctoral students to participate in.
"This event makes you talk in a language familiar to people like your parents who don't know your research and who don't know the jargon," Ru said. "It's a very good way to practice how to talk to more general people without losing the importance of your research."
Ru said he has been working on his research for five years now and is excited to have been named first place winner and take his research to the next level.
"I'm going to try to build the device to have a broader spectrum range and diminish the size to make it more portable for the doctor's office," Ru said. "If everything goes as planned, I hope the device can go into use within two years."
Correction: A previous version of this article incorrectly stated Katrina Phillips was the third place winner and John Konvalina was the second place winner. The article has been updated to reflect that Phillips was the second place winner and Konvalina was the third place winner.