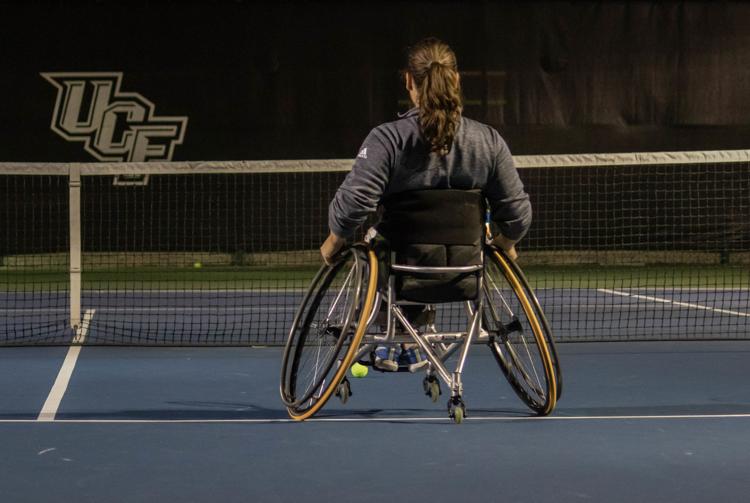 A Paralympic gold medalist coached UCF's first wheelchair tennis practice Monday evening.
Mackenzie Soldan huddled with players who joined the practice at 6 p.m. They got comfortable in their wheelchairs, testing cushions of various heights to find an optimal playing position. Others figured out how to strap themselves into the chairs, pulling the safety straps over their laps and locking them into place.
Before, students who wanted to practice wheelchair tennis had to go to Lake Nona every Thursday for a clinic hosted by the United States Tennis Association.
It took a lot of coordination from UCF Adaptive and Inclusive Recreation to start these practices on campus, every Monday from 6 to 8 p.m. on the UCF Tennis Complex, including hiring the Paralympic athlete.
Soldan has won medals for both wheelchair tennis and wheelchair basketball. She has represented the United States in two Paralympic Games and other competitions including the Parapan American Games in 2011.
Andrea Snead, assistant director of inclusive sports, has been behind inclusive recreation on campus and said this was a dream that was years in the making.
"It was trying to get the students, making sure we have students and making sure we don't just have students who are able-bodied coming out in the chairs and really focusing and helping, but also students who are in chairs who want to actually be competitive and be on the team," Snead said.
Soldan said she was happy with the turnout of the first practice even though most of the attendees were able-bodied. She said students were respectful and supportive.
"I thought it was pretty good," Soldan said. "I would like to see more wheelchair players coming out. I know there's a few more people that said they were interested, so I hope they would at least give it a try."
Tennis Club @ UCF joined the practice session and experienced a different perspective. Jason Hsieh, senior marketing major and the president of the club, was glad to see the wheelchair tennis players practicing on the courts and decided to try it.
"It felt difficult at first — it wasn't easy," Hsieh said. "I still can't do it really well, but for the coach it looked like it was natural to her. It was awesome. Paralympic sports are not easy. It's definitely harder than it looks. Just try it out and see how difficult and taxing it is to the body."
Of all the students who attended, Sebastian Ortiz, a junior mechanical engineering major, was the only player who uses a wheelchair in his everyday life. He usually trains in swimming, but tonight Ortiz was enthusiastic to see Soldan coaching his back-hand technique.
"I got a text message from somebody telling me that the coach is going to be here today for the first practice and I was like, 'no way,'" Ortiz said. "I was like, right after class I'm going to go there because we need to use this opportunity to get the word out there."
Both Soldan and Snead hope to get more students in wheelchairs out to the practices, even if they've never done it before.
"We really need them to build this program, to have the participation to build upon it or else it's just going to be where it is now, and I think we could do better," Soldan said.
Snead said the idea behind the practice is to motivate students who never thought or considered playing wheelchair tennis to want to compete. This will help students represent UCF in the 2020 collegiate nationals for wheelchair tennis.
Mackenzie Soldan is excited to be a part of the new program and to work with Snead who she says is very passionate and enthusiastic.
"A lot of things are aligning," Soldan said. "I'm so excited to be part of that and to be alongside someone like that. I think it's just the right time for UCF and I think it's about time."