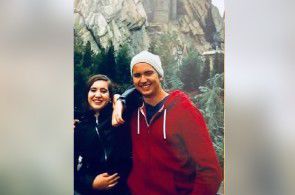 Valentine's Day will never be the same for many families and students from Stoneman Douglas High School, where a gunman opened fire and killed 17 people – fourteen students, two coaches and one teacher.
Robert Schentrup, a freshman at UCF, is one of many who will never think of Feb. 14 the same again. His 16-year-old sister, Carmen, was one of the 17 victims.
In response, his fraternity Phi Gamma Delta will help raise money for the family show their support by creating and selling customized bracelets. Cody Breon, the fraternity's treasurer, worked with corresponding secretary Daniel Oberle to create the bracelet design and set up a PayPal account for donations.
Breon describes the fundraiser as a "donor drive with an incentive" because every donator will receive a bracelet in return. The red and gray bracelets are five dollars each and say "Schentrup Strong #DouglasHS".
Oberle said Schentrup was sitting in their fraternity house with friends when he first heard about the shooting.
"It was just all over the news, and Robert and our other brother Patrick [Curtis] were texting family and talking to everyone," Oberle said. Schentrup and Curtis went to Stoneman Douglas High School together before starting at UCF.
Hours later, Schentrup's family still had not heard from Carmen and Schentrup asked in a Facebook post if anyone knew her whereabouts. The next morning, Schentrup made another Facebook post, but this time it was only for his fraternity brothers.
"My two younger sisters went to school there today," he wrote. "Only one made it back home. I appreciate all the support I've received … Love all my brothers."
A statement released by family said, "Carmen was blessed to have great friends. The kind of friends that, in our family's hour of need, scoured the local hospitals searching for our little girl and stayed with us until our worst fears were confirmed."
The statement also described Carmen and her many accomplishments, including being a National Merit finalist, an honor made known in an award letter that arrived the day after her death.
Breon and Oberle originally placed an order for 300 bracelets and said their fundraising goal was $1,000. Some donations were as high as $200 and in just a few short days, they raised nearly $2,000.
"With the way it's looking now, I'm probably gonna have to order some more [bracelets]," Breon said.
Phi Gamma Delta brothers hope the money will help the Schentrup family with any expenses they might have in the coming weeks.
Andrew Helmy, Phi Gamma Delta Sophomore, says he knows Schentrup's positive attitude will keep him strong.
"Robbie always has a smile on [his face]," Helmy said. "You can never see Robbie and he's just upset – he is always joking and having a good time."
Several members of Phi Gamma Delta plan to go to Coral Springs for Carmen's funeral on Tuesday.
Oberle said coming together for Schentrup has only made their brotherhood grow.
"We always say during rush – 'we have the strongest brotherhood on campus' – and I fully believe in that," he said. "I believed it when I rushed and now it's just strengthened even more."
The first order of bracelets will be delivered Feb. 26.